Vizio PQ65-F1 LCD Ultra HDTV Review
PRICE
$2,100
AT A GLANCE
Plus
Exceptional Value
Effective full array local dimming
Brilliant HDR
Minus
Limited off-center viewing angle
So-so sound
THE VERDICT
Three years ago, Vizio's flagship 65-inch Ultra HD set carried a $6,000 MSRP. Today's P-Series Quantum, the most advanced and highest-performing model in the company's lineup, retails for $2,100. That's a boon for consumers—and a serious throwdown to the competition.
Founded in 2002, Vizio is an American company headquartered in California that aims to offer top-quality TVs at prices appealing to a wide range of consumers. Vizio came close to being bought out by Chinese company LeEco in 2017. But that purchase fell through for a number of reasons and the company remains American-owned. HDTVs and UHDTVs remain its primary focus, but Vizio also markets a competitively-priced lineup of soundbars.

Out of the Box
Vizio's new PQ65-F1 P-Series Quantum set is the company's premier 2018 offering. Available only in a 65-inch size, it shouldn't be confused with the Quantum-less P-Series. Available in 55-, 65-, and 75-inch screen sizes the P-Series is spec'd for a wide color gamut offering about 93% of the P3 color space. P-Series Quantum expands that range closer to 100% through the use of Quantum Dot backlight technology. The regular P-Series models also offer less brightness (1,000 nits claimed maximum vs. the 2,000 nits peak claimed for the PQ65-F1) and fewer local dimming zones (up to 120 for the P-Series vs. 192 for the PQ65-F1). As with most Vizio sets, the PQ65-F1 has full-array backlit local dimming or, as Vizio calls it, Active Full Array Max.
The PQ65-F1's sleek design features an inconspicuous, wafer-narrow black bezel. Since its feet are located near the far sides, a TV stand needs to be a minimum of at least 56-inches wide for a table mount. There are no special provisions for cable routing.
The PQ65-F1 is compatible with the three most common HDR formats: HDR10, Dolby Vision, and HLG (Hybrid Log Gamma). It can't do HDR10+, a format that may be significant in the future but currently is vaporware.
The Vizio's HDMI 2.0a inputs (numbered 1 through 4) offer upscaling of non-4K sources to fill the panel's 4K resolution. HDMI input 5, limited to HDMI 1.4, is optimized for gaming but offers no scaling or HDR capability. HDMI ARC is available on input 1. Since the set's HDMI inputs in their default mode will not fully accommodate all the features of Ultra HD sources (4K, 60p, 4:2:2 subsampling, 10-bit color, HDR), you'll need to go to Menu>Input Settings>Inputs and enable Full UHD Color.
The Vizio offers all of the smart features you could want from a modern UHDTV. These can all be controlled via the provided remote, Vizio's SmartCast Mobile app, or by voice using either a Google Home or Amazon Echo (not included), both of which are compatible with the PQ65-F1. I used only the provided remote, which was non-illuminated and so thin that it was prone to make a dash for gaps in my seat cushions. Even so, it was easy to use by feel alone in total darkness—at least for frequently used functions.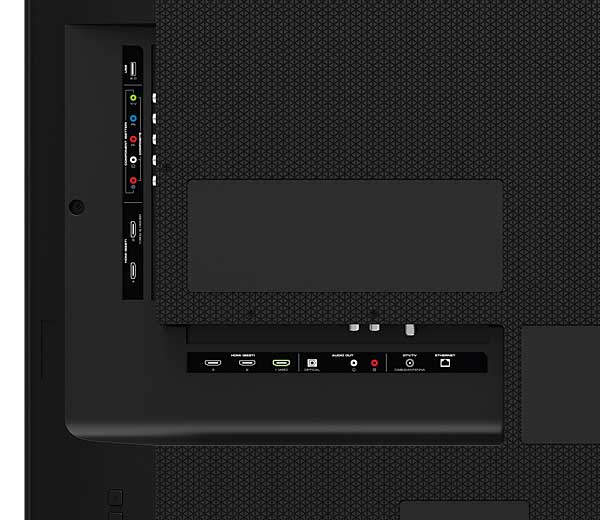 Setup
There are six selectable picture modes on the PQ65-F1, all of which can be individually adjusted—sort of. Calibrated and Calibrated Dark appear to be linked in their Color Tuner settings, which offer 2-point and 11-point white balance plus full color management system (CMS) adjustments. In other words, color can't be calibrated separately for those modes. The Standard picture mode's Color Tuner can be set separately from Calibrated and Calibrated Dark, but its Color Tuner settings are linked with the Vivid mode. Ditto for another pair of modes: Game and Computer. Picture mode settings can be adjusted separately for HDR (high dynamic range) and SDR (standard dynamic range), however, so if you use the same mode for both the set will then automatically switch settings when it senses whether the source is HDR or SDR. The one variable is Gamma, which you'll need to go into the menu and switch manually if your preferred gamma setting is different for HDR and SDR viewing (it was for me).
Got all of that? I imagine not. But the menu offers six picture memories in which you can save your desired settings. I recommend using these, and also avoiding all of the Picture Modes apart from Calibrated and Calibrated Dark (plus Game for gaming). However, the Vizio's picture memories aren't separately configurable for each input under the same name: If you set one up for HDMI 1, then select it for Input 2 and make a change, that change will reflect back on the Input 1 settings as well. The set does have a lock feature, but that didn't appear to prevent this.