Vizio M65-D0 Ultra HD Display Review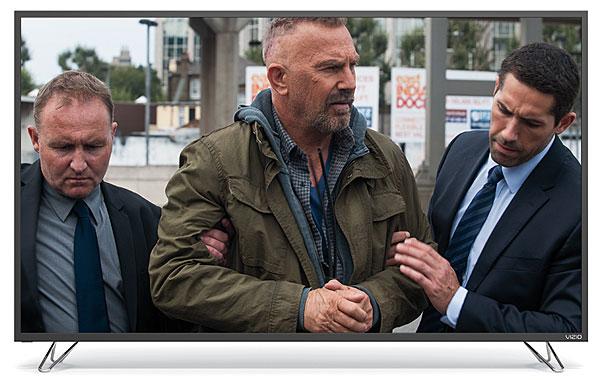 PRICE
$1,299
AT A GLANCE
Plus
Impressive contrast and shadow detail
Handles both Dolby Vision and HDR10
Affordable price
Minus
Wi-Fi sync issue with included tablet remote
No extended-color-gamut capability
Some halo artifacts from local dimming backlight
Only one HDMI 2.0a input
THE VERDICT
Vizio's budget-minded display handles both flavors of HDR and, a few quirks aside, delivers impressive performance.
When is a TV not a TV? When it's an Ultra HD Home Theater Display. With the new M series, Vizio has chosen to shake up conventional expectations of what a TV should be and should do. One key change is that each M series set lacks a tuner to receive over-the-air digital TV broadcasts—hence, the company's use of the term Home Theater Display. Another change is that Vizio has scrapped the typical full-featured IR remote control and replaced it with an Android tablet. Future-savvy or future shock? Read on and find out.
Vizio's changes might seem random to some, but they actually make sense. With the current ATSC 1.0 digital broadcasting system scheduled for an overhaul to version 3.0 in early 2017, why saddle 2016 sets with a soon-to-be-obsolete digital tuner that few people use anyway? (It has been speculated that the ATSC 3.0 digital tuner may take the form of a dongle that will plug into a TV's USB port, and in any event the majority of viewers still use pay TV service with a cable or satellite box.) Also, with streaming services supplanting conventional cable and satellite TV for many viewers (myself included), why not give users a high-tech device with which to organize and control their media-streaming universe?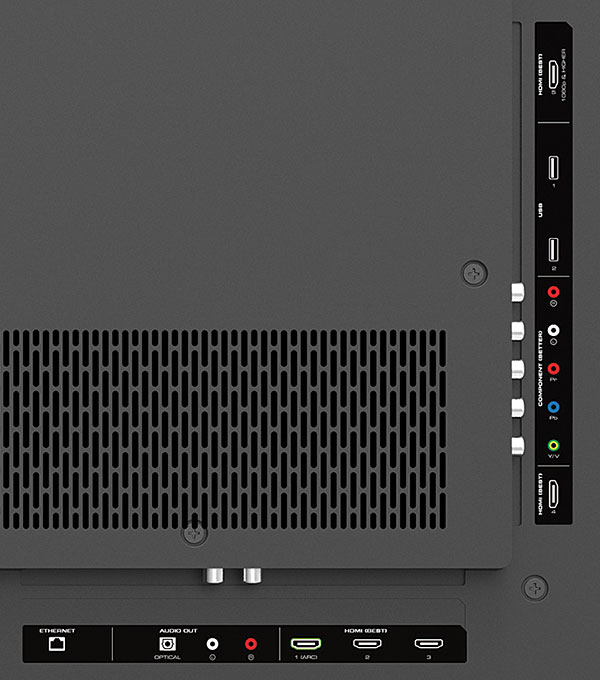 Before covering the details of Vizio's streaming platform, I'll briefly hit some other highlights of the M series. This budget-oriented line is available in screen sizes ranging from 50 to 80 inches, with the 80-inch model selling for a mere $4,000. As with all of Vizio's current sets, the M65-D0 does not do 3D. But all of the M-series models support both the Dolby Vision and HDR10 high dynamic range (HDR) formats and have a full-array local-dimming backlight with 64 zones. They also feature built-in Google Cast support, which lets you stream content directly to the display from compatible apps on your smartphone or tablet, or from the Google Chrome browser on your computer. A few examples of Cast-friendly apps I used during my evaluation include Netflix, Vudu, YouTube, and Spotify.
Vizio's own streaming platform is called SmartCast, which comes loaded on the included Android tablet and can also be downloaded as an app that runs on other Android or iOS devices. While I mostly used SmartCast to control general features and adjust picture settings, it's designed as a jumping-off point to search and collect content, so you don't have to scroll through individual apps. For example, type "Star Trek" into the SmartCast search window, and it will give lists of relevant movies and TV episodes and route you to apps where they can be streamed or bought. As for Vizio's Android tablet, it has a 6-inch screen and comes with a sturdy magnetic dock to park the device and recharge it when not in use. Vizio also includes a small IR remote that provides basic controls to power the set on and off, switch inputs and picture presets, and adjust volume.
The 65-inch M65-D0 itself has a sleeker, more modern design than that of previous Vizio sets I've tested. The screen is surrounded by a thin, matte black bezel, and the panel's sides are capped with textured aluminum. Thin metal feet splay out toward the edges at the screen's bottom, creating a sturdy yet unobtrusive base. Keep in mind, though, that the widely spread feet will require a wide surface on which to rest the set, something that comes up less frequently with traditional pedestal stands.
Inputs include a single HDMI 2.0a/HDCP 2.2 and four HDMI 1.4 ports. In my case, having only one HDR-compatible HDMI 2.0a jack ended up being a bit of a drag: I needed to plug and unplug cables to switch sources between a Samsung Ultra HD Blu-ray player and my UHD- and HDR-capable Roku 4 streaming player. Fortunately, most of the apps I regularly use on the Roku are supported by Google Cast, so I went that route instead.
Setup
I started out calibrating the M65-D0 in the set's Dark Calibrated picture mode—and right off the bat, I ran into problems with the Android tablet remote. It repeatedly lost sync with my Wi-Fi network, forcing me to wait until sync was reestablished so I could continue with my adjustments. Abandoning Android, I downloaded the SmartCast app to my iPhone and got better results, allowing me to continue my calibration without loudly spewing expletives. Fortunately, Vizio issued at least two SmartCast app updates during my time with the M65-D0, which reduced (though didn't fully eliminate) the Wi-Fi sync issues that I initially experienced with the tablet.
Setup options in the Picture menu were straightforward. I selected the Normal Color Temperature and then Active LED Zones to switch on the set's local-dimming backlight. Vizio's picture presets default to the Low setting for both the Reduce Signal Noise and Reduce Block Noise adjustments. After finding that both softened pictures noticeably, I made a point of switching them off. Other settings I selected during my standard dynamic range (SDR) calibration included Auto Color Space and 2.2 Gamma. I also made adjustments in the Color Tuner menu, which provides an 11-point White Balance plus a full color management system to precisely dial in grayscale, gamma, and color points. The M65-D0 is a 10-bit display but can only push color a bit beyond Rec. 709, so there aren't any color space settings beyond what you'd see on a typical HDTV.