Vizio Introduces E- and M-Series SmartCast TVs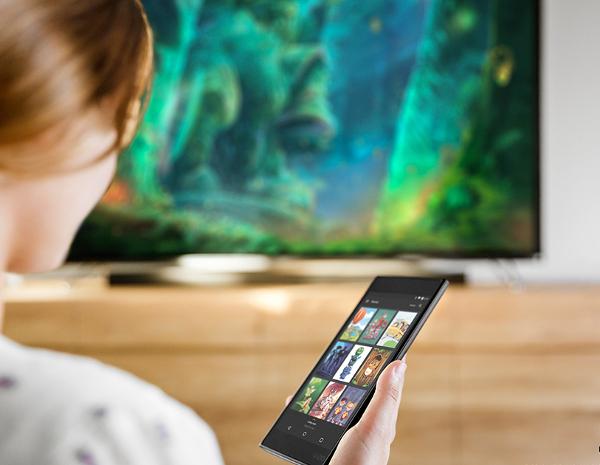 Vizio today introduced the SmartCast E-Series and M-Series 4K/Ultra HD (UHD) TVs, featuring app control, built-in Google Cast plus Dolby Vision high-dynamic range (HDR) capability in the case of the more upscale M-Series.
As with the P-Series models introduced last month, the new M-Series TVs include a 6-inch Android Tablet Remote that's preloaded with Vizio's SmartCast app and Google Cast. The quad-core tablet also functions as a stand-alone device and comes with a wireless charging dock. The SmartCast app, which can also be downloaded on any iOS or Android device, simplifies onscreen navigation, puts TV controls and menus at the viewer's fingertips so adjustments can be made from the screen of the tablet (or other device), and aggregates content across platforms. Instead of jumping between apps, viewers can search and browse content by genre across multiple apps and sources.
SmartCast also creates what Vizio calls a "smart entertainment ecosystem" that extends via Wi-Fi to other Vizio products, including a forthcoming soundbar line of standalone speakers. All SmartCast-enabled devices automatically sync up and can share content.
None of the UHD models in the E-Series or M-Series have a built-in tuner, meaning you need an external tuner to receive local off-air broadcasts. (See "Vizio Pulls the Plug on Free TV" for Ken Pohlmann's take on this omission.)
The E-Series SmartCast lineup has seven UHD models, featuring full-array LED backlighting with up to 12 active LED zones: the 43-inch E43u-D2 ($470), 48-inch E48u-D0 ($550), 50-inch E50u-D2 ($600), 55-inch E55u-D0 ($700), 60-inch E60u-D3 ($970), 65-inch E65u-D3 ($1,100), and the 70-inch E70u-D3 ($1,700). The series also includes six standard high-def models (with built-in HD tuners), ranging in price from $230 for a 32-inch to $570 for a 55-inch model.
The all-UHD M-Series SmartCast lineup has six models featuring full-array LED backlighting with up to 64 active LED zones: The 50-inch M50-D1 ($850), 55-inch M55-D0 ($1,000), 60-inch M60-D1 ($1,250), 65-inch M65-D0 ($1,500), 70-inch M70-D3 ($2,000), and the 80-inch M80-D3 ($4,000).