Vizio E65-C3 LCD HDTV Review
PRICE
$1,000
AT A GLANCE
Plus
Accurate color
Good contrast
Inexpensive
Minus
So-so shadow detail
THE VERDICT
Vizio's E65-C3 is a very good HDTV that delivers considerable bang for the buck.
Let's hear it for the good, old-fashioned HDTV. You know, the sort that once wowed us with its ability to display crisp, highdefinition broadcasts, Blu-ray Discs, and other next-gen sources of home entertainment. In recent years, however, HDTVs have been upstaged by Ultra HDTVs— fancy-pants upstarts that promise compatibility with all manner of future innovations, from UHD Blu-ray to High Dynamic Range (HDR) video. It should come as no surprise, then, that such sets cost on average 50 percent more than their regular HDTV brethren.
Vizio's E series is the company's high bang-for-the-buck, entry-level HDTV line—the only 1080p series it sells. And at $1,000 for 65 diagonal inches of screen real estate, the E65-C3 delivers fairly serious bang. The big achievement with the E series is that Vizio has managed to bring a feature usually found only in expensive, high-end sets—a full-array LED backlight with local dimming—to the company's most affordable TVs. Local-dimming zone count varies with screen size, but with the 65- and 70-inch models, that number is 16. A higher number is better, of course, and more expensive local dimmers from other manufacturers do offer more zones and more precise control of the backlight. But this is still a great feature to find in a budget television. The E series also boasts a 240-hertz "effective" refresh rate (essentially, 120 Hz with backlight scanning) plus a new six-core processor (quad-core central processing and dual-core graphics processing) for smoother, speedier navigation of its smart TV user interface, now called VIA (Vizio Internet Apps) Plus.
What wonders will you encounter as you smoothly and speedily navigate VIA Plus? Netflix, Amazon Instant Video, Hulu Plus, and Vudu, for starters, as well as Spotify, Pandora, and TuneIn Internet radio. And that's just scratching the surface; there are plenty more apps to peruse. The VIA Plus interface can be navigated in full-screen mode or via a strip running along the bottom of the screen that lets you scan selections without having to block the video you're currently viewing.
Along with its new tech enhancements, this year's E series sports a few cosmetic changes. The screen is surrounded by an all-black bezel with black trim. And the TV stand is different for 2015, with last year's wobbly central platform replaced by a set of slim feet. Overall, I find the new design to be both better looking and sturdy.
The remote control that comes with E series sets is smaller and lighter than previous Vizio remotes. It's still loaded with small, non-backlit buttons that are difficult to locate in a dim room, but at least the controls to access Amazon and Netflix are displayed prominently at the top. IR reception is considerably more sensitive than with previous Vizio models I've used; I could control the TV by pointing the remote anywhere in the general direction of the screen.
Setup
To calibrate the E65-C3, I selected its Calibrated Dark picture mode and made adjustments in the 11-Point White Balance and Color Tuner (color management system) submenus. These are also nice features to find in a value-priced HDTV, though perhaps lost on the purchaser of a $1,000 set who is unlikely to spend several hundred dollars more for professional calibration. Fortunately, the out-of-box measurements for this picture mode were very good (see Test Bench). Other advanced picture adjustments include Gamma presets, Active LED Zones (turns local dimming on/off), and a Black Detail setting. There are also sliders to independently tweak levels of Judder and Motion Blur in the image.
Turning on Active LED Zones improved the Vizio's contrast ratio dramatically, bumping it up from 3,314:1 to 17,800:1. I also found that images had significantly better shadow detail with the Medium Black Detail preset selected. Enabling judder reduction added an expected level of soap-opera effect, though this wasn't as noticeable when judder reduction was applied sparingly. There's also a mode called Clear Action that further helps reduce motion blur, though that setting limits the TV's overall brightness capability.
The E65-C3 had some glitches that I haven't experienced with other Vizio TVs I've tested. With HDMI CEC enabled, it wouldn't recognize my Oppo BDP-105 universal disc player, even after running a Device Discovery scan. (I usually like to tap this feature to control a Blu-ray player using the TV's remote.)
It also wouldn't pass a DTS soundtrack from its HDMI input to its analog audio output, a connection I usually make for the old soundbar I use when evaluating video displays. On the other hand, using my Xbox One as a source (though, oddly, not the Oppo), the Vizio successfully played both Dolby Digital and DTS soundtracks through its internal speakers and, critically, passed Dolby Digital and DTS 5.1-channel bitstreams from its HDMI input to its optical output. The latter means that modern multichannel soundbars hooked up to the optical connection will see those signals with all surround information intact, provided the Vizio's audio menu is properly set.
Performance
After transferring the E65-C3 to my home theater system—which has a preamp/processor and a multichannel amp to independently handle audio—I checked out a new Blu-ray of It Follows. This was one of the creepiest, smartest, and most visually interesting horror movies I'd seen in years, and I was stoked to watch it again.
When I viewed a scene where Jay and her date sit in a dim movie palace, shadows in the theater looked deep and black, and there was a decent amount of detail in the clothes of other moviegoers behind them. Highlights such as accent lights on the theater walls and white plastic lids of soda cups popped on the Vizio, creating an impressive sense of depth.
In a later scene outside an abandoned building where Jay and her date park, the nighttime sky in the background appeared as a uniform shade of black. Letterbox bars in the image showed no spotlights or other backlight-related weirdness, though the set's viewing angle was fairly tight, with contrast fading quickly when I moved to a seat 15 degrees or more off center. This isn't unusual with LCDs that don't use IPS (in-plane switching) panels, though the Vizio's window was a bit tighter than most.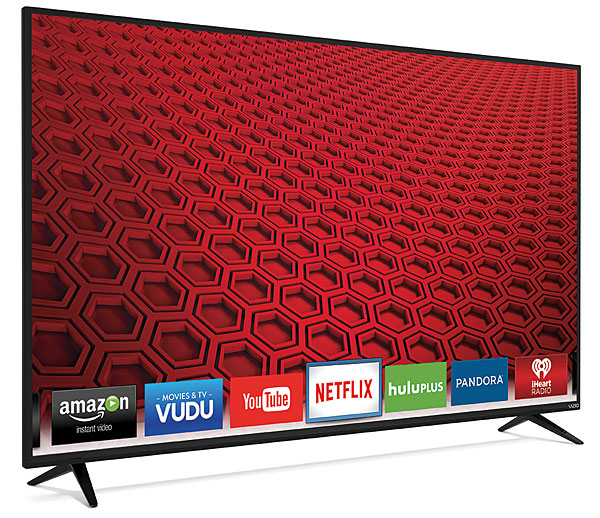 While the E65-C3 did a good job handling dark scenes, it didn't fare as well with more challenging shots having an equal mix of dark and light content. For example, in an outdoor scene where Jay and her sister take a late afternoon stroll through their suburban Detroit neighborhood, shadows in the trees lining the streets looked somewhat crushed, and that was with the Black Detail setting switched to Medium to help optimize shadow detail.
The Vizio's color rendition, on the whole, was very good. In another scene from It Follows, a car pulls up to a lake house where the teens flee to elude "It." Here, the autumn trees displayed a rich range of green, yellow, and orange hues. The lake itself came across as a natural blue-green, while the teens' colorful '80s-era clothes looked vivid. Characters' skintones were natural, showing clear differences in Jay's milky-white complexion and her sister Kelly's olive tone.
Conclusion
At $1,000, Vizio's E65-C3 is a good deal for a 65-inch smart HDTV sporting a full-array LED backlight with local dimming. I like its classy, streamlined look, as well as the no-nonsense Vizio Internet Apps Plus interface that mostly just feeds you, well, apps. On the performance side, the E65-C3's excellent screen uniformity, deep blacks, and accurate color are all big pluses. Where this set could stand improvement is in its rendering of shadow detail, though the impact of this can vary significantly with the content you're watching. Vizio also apparently needs to work out those glitches with the set's audio processing and HDMI CEC features, perhaps for a future firmware update. Overall, though, if you're on a tight budget and don't mind opting for a traditional 1080p set as the rest of the world shifts to Ultra HD, the E65-C3 is a great option.