Us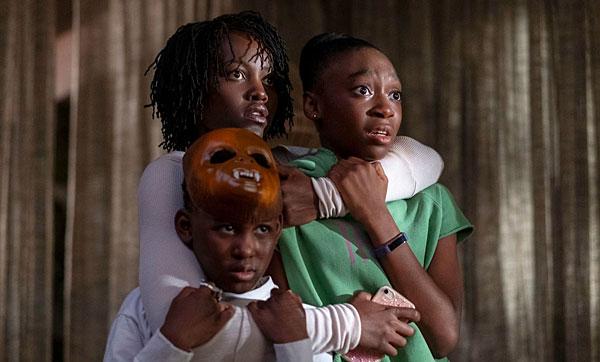 Get Out
, his first film as writer/director, Jordan Peele introduced us to a refined new form of horror. He was the only filmmaker who could do justice to his Oscar-bound script, finding just the right tone and wringing that last bit of mood from every line, every shot, every performance. Now, with
Us
, he has raised the stakes, telling a deeper story on a much grander scale. Lupita Nyong'o (my goodness, those eyes) stars as Adelaide, a loving wife and mother returning with her brood to their summer home. Thirty-three years ago, as a young girl, she had a traumatic encounter on the nearby boardwalk, and that past comes back to vex her in a most unusual way. Strangely familiar figures have arrived at the family's doorstep with mysterious intentions, and their malevolent endgame will eventually be revealed in violent fashion.
Us balances on a sublime, irresistible tightrope of "What the hell is going on?" that had me shouting at the screen more than once, which I seldom do. It's fascinating and terrifying and stays with us long after it's over. A second viewing is warranted for those curious about the symbolism and foreshadowing we might have missed along the way. Peele uses every tool at his disposal to tell his tale in the most disturbing way possible, creating something quite sophisticated and cerebral, with themes that are socially relevant without once beating the audience over the head. Owing to the relative absurdity of the proceedings, he's also unafraid to cross over into comedy when it suits him. (He is half of the Key & Peele brand, after all.) The debatable undoing of Us is not so much the underlying politics, which can be incendiary depending upon how we choose to interpret them. For better or worse, much of the meaning is left deliberately vague. Rather, the final half-hour spills all the beans, and, frankly, a lot of it just doesn't make sense.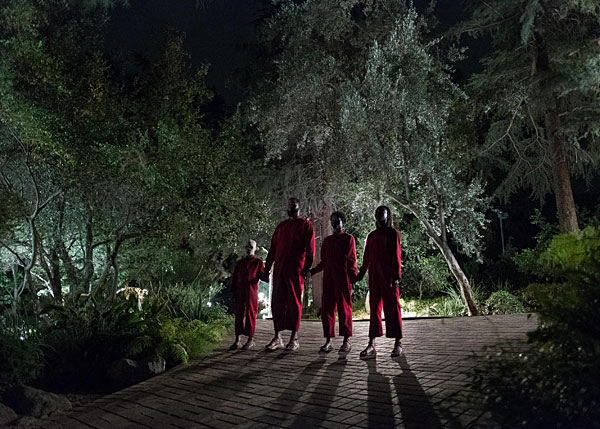 The movie was captured on video, mastered in 2K format, and upscaled to 4K resolution, but those facts feel almost irrelevant. The 2.39:1 image is so crisp, pure, and organic, it seems to defy either category, digital or analog, by representing the best of both. The use of focus, and the resulting emotional immediacy, make us wonder why every movie isn't shot this way. Pine needles, footprints in the sand, and all-important facial details are striking in their precision. But none of this is beauty for its own sake; the director and his cinematographer Mike Gioulakis instead seem to be deliberately mesmerizing us as the narrative unfolds. Dolby Vision high dynamic range is used dramatically in shots of boardwalk lights blazing against the darkness or the bold glow of a beach bonfire in the distance. The measured use of color, particularly the application of gold/yellow tints in many sequences, gives the movie a distinct visual character.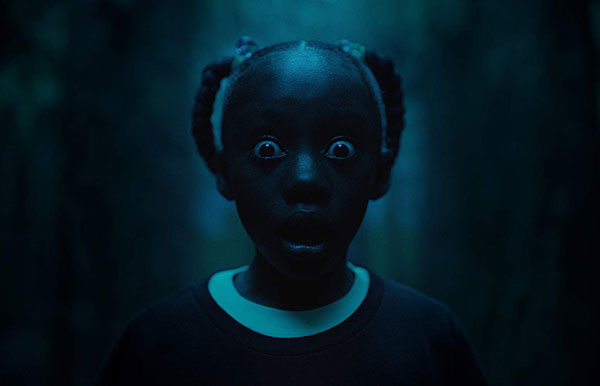 Not above drawing upon tried-and-true horror tropes, Us employs bursts of scary music, courtesy of composer Michael Abels, and a creepy chorus of chanting kids. The Dolby Atmos soundtrack renders rich audio environments that draw us into every location, while voices display an almost crystalline clarity. Low-frequency effects are strong and punchy, from a would-be intruder pounding on a home's front door to the unsettling musical thumps. Top soundtrack marks are warranted not for flash or demo-caliber moments, but for succeeding so brilliantly at what it sets out to accomplish.
Be warned that the extras, which are actively pushed on the main menu page, give away all the film's secrets. There are several overly promotional vignettes, scene explorations that highlight some amazing technical highlights that might otherwise be overlooked, extended outtakes with funnyman Tim Heidecker, plus deleted scenes and an uninterrupted presentation of the elaborate dance number. I, for one, think that the haunting, boundary-pushing Us deserved a feature-length "making of" documentary.
Ultra HD Blu-ray
Studio: Universal Studios, 2019
Aspect Ratio: 2.39:1
HDR Format: Dolby Vision
Audio Format: Dolby Atmos with Dolby TrueHD 7.1 core
Length: 116 mins.
Director: Jordan Peele
Starring: Lupita Nyong'o, Winston Duke, Elisabeth Moss, Tim Heidecker, Shahadi Wright Joseph, Evan Alex

With