Two Award-Winning Home Theaters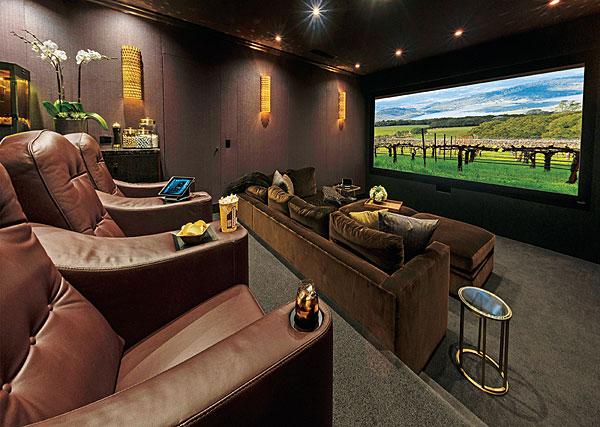 The music industry has the Grammys to recognize outstanding contributions to the art of song composition. The Custom Electronic Design & Installation Association, aka CEDIA, which you might know from our coverage of the annual CEDIA Expo, has the Electronic Lifestyles Awards to honor the creativity and technical skill behind some of the most advanced home entertainment and home automation systems on the planet. Here we profile two of the 14 home theaters that made the cut in 2014.
Mogul Magic
Bronze Award: Best Home Theater, $450,000 & Over
The home theater gurus at Los Angeles' Bradford Wells + Associates were tasked with designing and installing a screening room for the president of a major movie studio, shown above. In contrast to what you might expect, the mogul wanted a professional-grade theater where he could view DCPs (digital cinema packages) and dailies from ongoing productions, but he also wanted a comfortable space where his family could watch TV and Blu-ray movies, play Xbox video games, and stream programs via Apple TV. The result is the elegant yet understated theater shown here.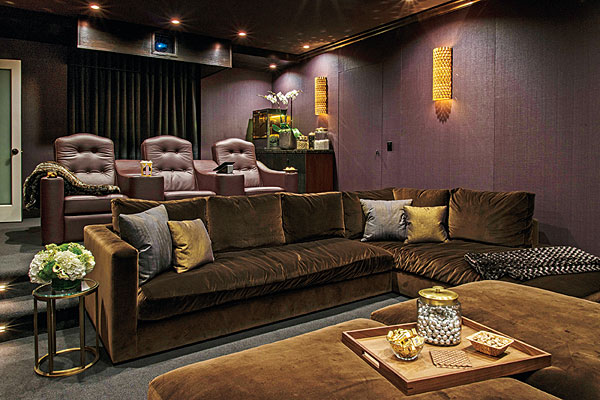 Built to exacting digital cinema standards, the acoustically treated (and isolated) room is outfitted with a secure movie server from Doremi, a DCI-compliant NEC projector (mounted in a custom "hush box"), and a 12-foot-wide Seymour Screen Excellence screen with side-screen masking to accommodate different aspect ratios. The system was painstakingly calibrated by industry experts to ensure dead-accurate audio/video reproduction, and everything is concealed to preserve the room's warm atmosphere. A suite of nine Wisdom Audio planar-magnetic speakers and eight JL Audio subwoofers reside behind the perforated projection screen and acoustically transparent wall panels, and a formidable lineup of electronics gear is housed on two racks in a climate-controlled closet. The list includes a Crestron system (which facilitates iPad theater control), Oppo Blu-ray player, Marantz AV7701 7.2-channel surround processor, Ashly DSP matrix processor/crossover, and four C Series professional amplifiers from Lab.Gruppen with a combined potential output of 7,600 watts. Lights, camera…action!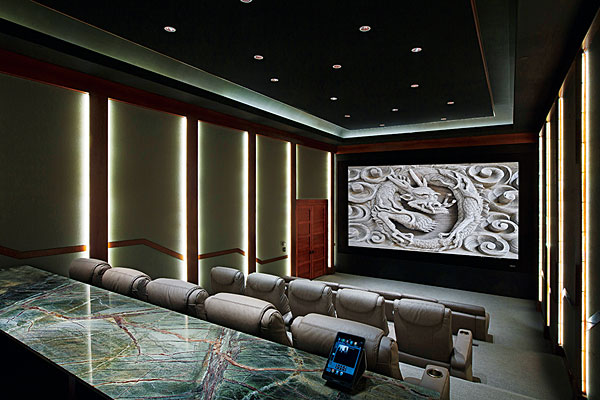 Stellar Screening Room
Gold Award: Best Home Theater, $450,000 & Over
Well before home versions of the Dolby Atmos and Auro-3D next-gen surround sound formats were even announced, the custom installation masters at Dallas' HomeTronics were busy building what would be the country's first Auro-3D-equipped home theater, pictured below—a project that took three years to complete. The homeowner wanted a dedicated space with three rows of seating and a wall-to-wall screen that could be masked for optimum viewing from any seat in the house. Beyond that, he wanted to be able to watch multiple sporting events simultaneously and support a larger-than-life multi-user gaming experience with four Xbox consoles (a multi-view processor actually allows tiling of up to eight images). Display Development's 4K Digital Film 10B projector was chosen for its impeccable picture quality and ability to display four 1080p images at once on the 15-foot-wide screen.
Knowing that sound was a top priority, HomeTronics recommended a unique 15.1-channel system based on the Auro-3D surround format that was just starting to find its way into in theaters across the globe. The owner signed off on plans for a spectacular array of CAT (California Audio Technology) speakers: 30 in-wall modules—including 17 to accommodate the height and overhead ("Voice of God") layers required by Auro-3D—are strategically mounted in an "interior acoustic wall" (photo above) along with 14 subwoofers, all powered by 55 channels of CAT power. Four of the subs are encased in resonance-killing concrete below the screen, and 10 are placed around the room to ensure uniform bass everywhere. A custom-programmed Savant system provides easy iPad control of everything, including a DirecTV receiver, Oppo Blu-ray player, and Prima Cinema server that delivers first-run movies to this stellar screening room.