Toshiba 58L7300U LCD HDTV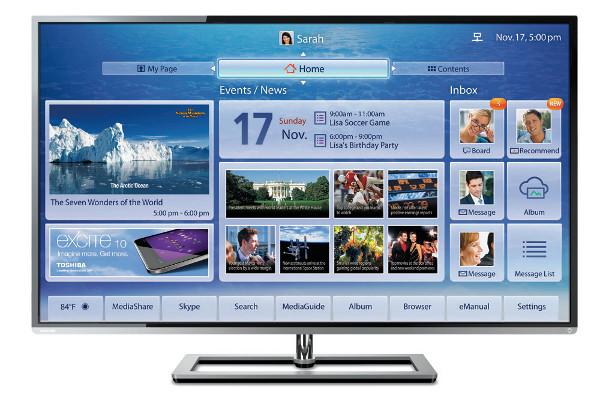 PRICE $1,099
AT A GLANCE
Plus
Accurate color (after adjustment)
Good screen uniformity
Affordable price
Minus
Half-baked Cloud TV user interface
Not-great remote control
THE VERDICT
Smart TV shortcomings aside, Toshiba's LCD offers very good picture quality at a low price.
With plasma TV tech seemingly on a path to early, unwarranted extinction, prospective TV buyers unwilling to spring for OLED soon won't have much choice other than to purchase an LED-backlit LCD TV (aka "LED TV"). And while the performance of such sets has improved quite a bit over the years, the better ones are still expensive for what you get—particularly in comparison with same-sized plasmas. So, what's a quality-conscious consumer to do? Roll over and eat the high prices? Not necessarily.
Toshiba might not be an LCD TV–manufacturing power like Samsung, LG, or Sharp, but the company does market a fairly large number of sets—including some 4K/Ultra HD models—with screen sizes ranging up to 65 inches. At 58 inches, the 58L7300U ($1,099) is the next-to-largest model in the company's line of Cloud TVs, Toshiba's catchy term for its Smart-featured sets. The main thing that differentiates it from the very similar 58L7350U is that the latter has 3D (and costs $200 more). So if you're shopping for an inexpensive big-screen LCD and you want Smart/streaming features but couldn't care less about 3D, the 58L7300U is a model you should be looking at. Let's check it out.

Key features include an edge-lit LED backlight with the company's DynaLight Dynamic Backlight control (to punch up picture contrast) and a ClearScan 240-Hz mode. Some LCDs actually do refresh their display at a 240-Hz rate, but Toshiba's labeling of this TV's refresh rate on its spec sheet as "ClearScan 240-Hz" probably indicates that it employs backlight scanning to simulate a 240-Hz display. It also has built-in Wi-Fi and WIDI (a feature that lets you mirror content from the desktop of a WIDI-compatible PC or tablet on the TV's screen), comes with a wireless keyboard for Web surfing, and is "Control4 Capable."
The 58L7300U has a conservative yet pleasant look. A narrow (0.5-inch) gloss-black bezel surrounds the screen, and there's a silver-finish strip running along the bottom. Toshiba's rectangular stand can be swiveled up to 30 degrees. Connections around back include four HDMI jacks plus component video and RGB-PC inputs, along with two USB ports and both optical digital audio and IR-repeater outputs.
Toshiba's remote control is serviceable, though nothing special. It has a flimsy feel, and other than the source-selection controls, the keypad isn't backlit. Certain buttons, including those to access the setup menu or switch picture modes, are so tiny that they don't even seem designed for human digits. On the plus side, there's a red Netflix button for jumping directly to that app.
In the Cloud
Toshiba's Cloud TV GUI consists of three panels that you can switch among: Home (which contains an onscreen calendar for posting events and an "e-mail" interface), Contents (an apps grid with Netflix, Hulu Plus, Vudu, Vimeo, Pandora, Skype, and more), and My Page (a customizable grid that can be stocked with your choice of apps and provides direct connections to the set's Web browser, MediaShare DLNA portal, and MediaGuide EPG).
I recently carried out an in-depth evaluation of Smart TV GUIs from Samsung, Panasonic, and LG—the three companies currently making the biggest push in that space. I must say that, compared with those versions, Toshiba's Smart GUI isn't nearly in the same league. My main complaint is that accessing any Cloud TV feature other than the Netflix app and Web browser requires the creation of an online account and an agreement to a lengthy term of service. (For all I know, the fine print gives the NSA free reign to monitor my viewing habits—like they need permission for that!) What a bucketful o' suck. Toshiba's is the first Smart TV I've tested that mandates any kind of initial sign-in to use its Smart GUI, though to be fair some other TVs do require account creation to access certain features.
To continue on with my Cloud TV complaints, Toshiba's interface design is bland and its app selection meager compared with those of other Smart TVs. Also, navigation was sluggish sometimes, and the system crashed on occasion, forcing me to power off the TV. Last, I can't really see the need for Cloud features such as messaging and online picture storage when there are well-established options like Facebook and Flickr that already offer those features. (I imagine that Toshiba is pushing these primarily at owners of Toshiba-branded tablets.)
Whew! Now that I've got that out of my system, I'll give props to the set's MediaGuide EPG, which you can fill with info from your TV program provider by entering your zip code during setup. The TV comes with an IR blaster that lets you change channels on your cable or satellite box or your DVR by making a selection in the EPG. Toshiba also offers a dedicated remote control app (Toshiba Cloud TV) that lets you both control the TV and navigate program offerings, but it's not optimized for the iPad, and its performance was sluggish.