Sunfire TGP-5 Pre/Pro and TGA-5400 Amplifier
Grander than ever.
While Sunfire's Bob Carver isn't quite the household name that Apple's Steve Jobs is, he absolutely qualifies as a bona fide audio legend. Carver's greatest hits range from his early high-power amplifier, the 350-watt-per-channel Phase Linear 700, to Sonic Holography, Bob's virtual-surround generator. Carver also did much to inspire the new breed of super-potent, ultracompact subwoofers with his much-copied Sunfire True. His knack for audio innovation pumped my expectations for a couple of his latest creations, Sunfire's Theater Grand TGP-5 pre/pro and the TGA-5400, a 400-watt-per-channel amplifier.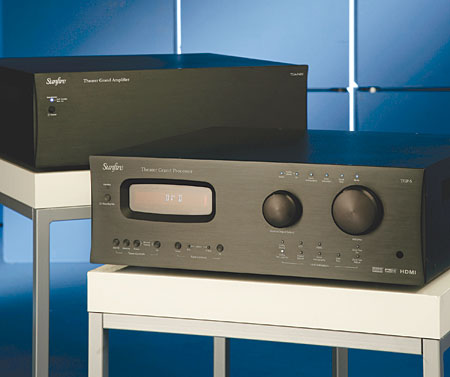 Sun Power
One of the perks of making my living as an audio reviewer is that I get to listen to my Dynaudio Special Twenty-Five speakers with an endless parade of electronics. One day, it's a $300 A/V receiver, a week later maybe a high-end tube amplifier or something as cool as this Sunfire duo. Nowadays, nearly every flyweight receiver claims to have at least 100 watts per channel, and some bad-boy amplifiers can deliver a hefty 250 watts or more, so the most striking thing about living with Sunfire's latest 400-watt amp is its unique combination of awesome power and unerring refinement. No matter what, the Sunfire components pushed my speakers to play louder and deliver more visceral dynamics than I've ever heard before. And it wasn't just me. In the midst of writing this review, my upstairs neighbor swore she heard the New York City subway rumbling below her apartment, and she lives on the 12th floor of our building.
The TGA-5400: An Enigma Wrapped in an Amplifier
This superlative amp's 400-watt-per-channel rating (into 8-ohm speakers) makes it easily the most powerful multichannel amp I've ever reviewed for Home Theater. Sunfire claims that this beast delivers 800 watts into 4 ohms and an astonishing 1,600 watts into 2 ohms—for each of its five channels. More incredible still, the powerhouse weighs a good deal less than your average monster amp—a very manageable 38 pounds. It is also the most formidable amp I know of for this kind of money.
The green technology that makes all of this possible is Bob Carver's Tracking Downconverter circuit. Conventional fixed power supplies waste a lot of power by converting it to heat—even at idle (that is, without any signals passing through the amp). The Tracking Downconverter, on the other hand, draws just enough AC from your wall outlet to produce the watts required at a given instant to let you feel King Kong's most outrageous high jinks or the White Stripes rocking out at a healthy volume. The Tracking Downconverter is so efficient that the Sunfire TGA-5400 doesn't need massive heat sinks or fans to dissipate wasted energy. Even after many hours of heavy-duty home theater fun, the amp was never even warm to the touch. Bob Carver's amplifiers break all of the stereotypes associated with high-end finery.
The TGP-5: Effortless Control
Feature-packed pre/pros are often unfriendly to operate, but not Sunfire's. They have always been remarkably intuitive devices. So, I doubt that the TGP-5 will ever leave you stranded without sound on a Saturday night because you wound up in a weird submenu buried layers deep in the user interface. The familiar LCD remote is just as user friendly as the TGP-5's front-panel controls.
This is the first processor I've reviewed with HDMI switching, but those capabilities apply only to video; the TGP-5 doesn't support digital audio over HDMI. I also noted that the TGP-5's video upconversion only extends to its component outputs; HDMI switching is strictly HDMI to HDMI. Compatibility with Blu-ray and HD DVD players' new higher-resolution audio formats—whether they are in the form of multichannel PCM, Dolby Digital Plus, or DTS-HD—is, for now at least, a no go. Not to worry, though; you can connect your Blu-ray or HD DVD player's standard coaxial/optical digital or multichannel analog output into the TGP-5. All of the usual Dolby and DTS surround modes are on board, with the curious exception of DTS 96/24. You can download software updates via RS-232 or Ethernet to the TGP-5's flash memory from Sunfire's Website. If you're technophobic, just say the word, and the company will mail you a CD with the update. Oh, and the TGP-5 has a phono input to keep the vinyl lovers groovin'.
Beyond the everyday, single-ended RCA preamp outputs, the TGP-5 sports balanced XLR outputs, so, naturally enough, the TGA-5400 amplifier offers complete sets of 7.1 RCA and XLR inputs. A unique connectivity option appears on the amplifier's main left and right speaker connections, which are labeled "Voltage Source," and "Current Source." Over my Dynaudio speakers, the Voltage outputs sounded more detailed with better-defined bass, while the Current connection definitely shifted the balance toward a bigger, fatter, more three-dimensional sound. So, the TGA-5400 took on some of the sonic personality of some audiophile tube amps.
The previous four generations of Theater Grand pre/pros and amps shared a gently rounded chassis design, which I always really liked, but the snazzy new ones replace the curves with crisply cornered, machined front panels. The old surround processor's flat disc controls are history; the TGP-5 has large machined metal knobs that don't look as cool, but they're a little easier to use.

Sunfire presently offers just one surround processor, the TGP-5 ($3,499), and a slate of four Theater Grand power amplifiers. There are two seven-channel models, the 400-watt TGA-7400 ($4,449) and the 200-watt TGA-7200 ($3,245). There are two five-channel amps, the TGA-5400 ($3,899) 400-watt model and the TGA-5200 ($2,725) 200-watter. Considering these components' awe-inspiring power and technical sophistication, they're surprisingly affordable. All of the models are available in a black or titanium finish.
Sunfire Sounds
The Sunfires reminded me in a hurry just how great K.D. Lang's voice is. When I sat through her Hymns of the 49th Parallel CD, I was totally enthralled by the way she poured herself into the music of fellow Canadian songwriters such as Joni Mitchell, Neil Young, and Leonard Cohen. I've loved this CD for a long time; it's just that the Theater Grands delve deeper than your average home theater component, exciting me anew. The TGP-5's Sonic Holography processing substantially broadened and deepened the soundstage on most CDs I played.
The Brecker Brothers' new Some Skunk Funk SACD sounded palpably alive, with space, air, ambience, clarity, and, best of all, a satisfying warmth that kept me up long after I should have gone to bed. The best gear always has that effect on me.
Matthew Broderick and Nathan Lane's manic insanity on The Producers DVD loomed large. The musical numbers like "Springtime for Hitler" and "Along Came Bialy" were intoxicating delights. Scaling back to Terrence Malick's latest, The New World, amply demonstrated the Grands' quieter side. Set in 1607, when the first British settlers landed in Virginia, the canopy of pristine wilderness sounds—the birds, the frogs, and the flies—were so organically vivid that my allergies started to flare up.
I have no doubt that Sunfire will sell a lot of Theater Grands to well-heeled, custom-installation customers with lavishly decorated home theaters. The Grands will also be a hit with audiophiles looking to hear new sounds from even the most familiar LPs, CDs, and DVDs. What's not to like?
Highlights
• The TGA-5400 is simply a cool-running, hugely powerful, compact, and affordable monster amp
• The TGP-5 is one of the most user-friendly surround processors around