Streams People Play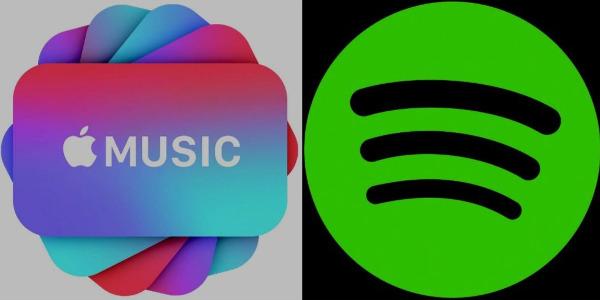 Who wins in the streaming war between Apple Music and Spotify? You do, of course.
Last month, you and I made a pact, right here in this space. What, you don't remember? (Apparently, even audiophiles have ADD.) Well, our agreement was essentially this: We the golden-ear people wholly accept streaming as another worthwhile delivery system for receiving and listening to our music, especially given the strides some of the services have been making in providing higher-quality, higher-resolution streams. (Coming back to you now?)
The point is, good music is good music, regardless of how we receive it. My corollary: Audiophiles can't discount how we choose to receive said good music if the latest format option — streaming — is up to our requisite SQ standards. Even music-biz veterans who have weathered many decades of format mods embrace the winds of streaming change.
Consider the following from Seymour Stein, the legendary 76-year-old music mogul and founder of Sire Records (Talking Heads, Ramones, The Smiths), who noted in his recent autobiography Siren Song: My Life in Music, "Does it matter if your daily hit is acquired digitally or if it's needled up from a vinyl platter? . . . With the growth of streaming services, it seems we're now moving from the old system of bottled medicine to the brave new world of hits on tap. . . . Stick to the substance and people will line up."
Now that we're on the same digital-delivery page, let's explore the benefits (and deficits) of some of the major services. First up, a fine pair: Apple Music and Spotify. In a way, these two titanic services are somewhat akin to the relationship between hip-hop and rock music — both services are quite popular, to be sure, yet one holds more mainstream sway and favor than the other does in the current music consumption climate.
Spotify has more of an international-cool feel, while Apple Music is the onetime hippest kid on the block now playing catch up with its younger upstart. Yet as 2018 continues to unfold, Apple Music is on track to surpass Spotify's 22 million-plus subscriber count in the U.S., so listeners are clearly embracing what the music-service giant has to offer, especially given the iOS power Apple wields in relation to the devices many of us use on a daily basis.
Me, I pay for both services beyond what's offered up for free, because I want artists to be getting something in return for the sonic fruits of their creative labors. (I won't go down the "artists are getting ripped off re: their streaming royalties" rabbit hole here — for now, anyway.) And, to keep with that food-group metaphor for just a moment, some think it's apples and oranges when it comes to what you prefer and/or disavow from either service, so you have to pick what's right for your specific listening diet.
On the Spotify tip, since I am a stats guy at heart, I like monitoring how their numbers game unfolds. That is, due to my paying for the Spotify Premium service, I get to see just how many streams my favorite songs have in real time. For example, as I write this, personal audiophile test tracks like Dire Straits' "Money for Nothing" total up on the higher side (92.6 million plays), while Steely Dan's "Aja" (6 million), and Styx's "Boat on the River" (5.7 million) hit more where one might expect, with Steven Wilson's "Luminol" (895,000) firmly ensconced in cult-status mode. I also enjoy seeing my Friend Activity listening habits scrolling down the right-side channel whenever I'm on my laptop. (Head Monster Noel Lee's choices are always interesting, I must admit.)
That said, I'm not the biggest fan of Spotify's mood-centric curated/pushed playlists (gag city). But I do cue up the Prog-Rock Monsters playlist to hear favored tracks like Genesis' "Firth of Fifth" (4.2 million plays) and more obscure cuts like Eloy's "Poseidon's Creation" (491,000) in a pinch.
On the Apple-byte side, as an inveterate iPhone and iPad user, I do admire the way their HomePod speaker integrates with the Apple Music platform. I'm also a fan of the curated playlists from the likes of Sub Pop, Fender, and Sonos, as well as featured playlists like New Fire, Eclectic Rock, and The A-List: Singer/Songwriter. Three words: Damn good breadth.
BTW, there's no need to compromise SQ if you're goin' mobile, something I've personally had to check and adjust on more than a few friends' iPhones of late. As you may know, Apple Music can reject playing at the higher bitrate at times based on Wi-Fi strength and other factors, so you need to go into Settings > Music > Cellular Data and toggle High Quality Streaming into the green position to maximize your listening enjoyment. To modify a phrase, I ain't gonna spend the rest of my streaming-listening life quietly fading away.
Mike Mettler, a.k.a. The SoundBard, is the music editor of Sound & Vision.