Revisiting the Concert Streaming Site Nugs.net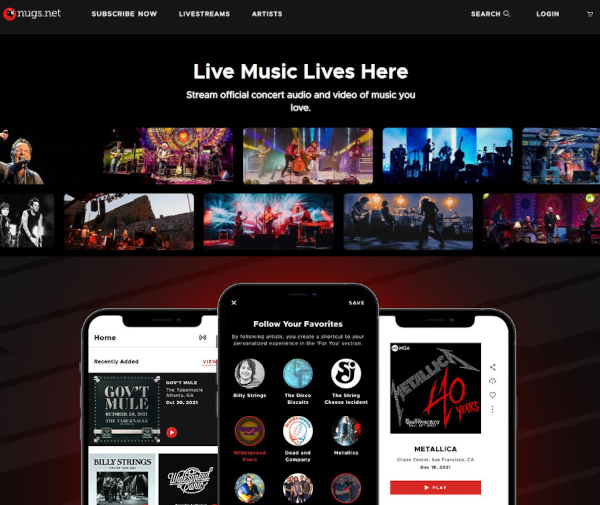 Longtime readers of this blog will recall that back in 2020 I discussed the
many benefits of nugs.net
, a top-shelf streaming site offering multiple-thousands of soundboard-quality streams and downloads from a horde of name artists. I admired how nugs.net had been able to bring live-show listening (and viewing!) into the hi-res arena where it rightly belongs. Don't get me wrong — I love my bootleg collection to no end, but if I can a) get better-SQ versions of live gigs that are directly artist-approved, and b) obtain them in such a way that benefits those artists more directly financially, even better. And that's where nugs.net shines like practically no other site can.
Since that 2020 column, I've continued enjoying the scope of nugs.net offerings whenever I can — perhaps even more exponentially so of late, given how my personal live-gig attendance has become relatively sparse (by my standards) during the pandemic era. With all that in mind, I figured it was high time to deliver an official nugs.net redux — or "redug," if you will — to let you know if the site has been able to keep up with the high-quality demands of discerning listeners/viewers like ourselves.
Since my last deep dive, the nugs.net coffers have only grown by encapsulating a broader base of artists beyond the jam-band genre, and the site now provides upwards of 25,000 live shows and counting — certainly soaring well past an earlier-cited number of 250,000 individual song offerings. Plenty of exclusive livestreamed and pro-shot HD 4K video content is also to be had, many shows of which offer multiple hi-def camera angles — the latter concept embodying an essential requirement for watching live shows at home, imo. Rather than just observing a broad-swath view of the full Dead & Company band onstage, for example, there are times I prefer the lens to focus on John Mayer's hands and fretboard activity during certain critical junctures of the livestreamed shows. Mayer's soloing and accompaniment skills are truly a wonder to behold, even beyond what I've long admired about his guitar-playing capabilities, having long-dispelled any clichéd notions of his Dead-level prowess.
Following your free 7-day trial period (which used to be 30 days, back in 2020), the nugs.net Premium Streaming/Standard Sound Quality monthly plan still runs $12.99 (or $129.99 annually), while the HiFi Streaming/Lossless Audio option still goes for $24.99 monthly ($249.99 annually) — meaning, there have been no inflationary increases, at least as of this writing. Seeing how the HiFi option enables 24-bit MQA-encoded streaming in addition to 360 Reality Audio, that plan is an automatic "yes, please" in my book. Following the HiFi trial period, additional benefits such as a 15 percent savings on livestreams, CDs, and downloads, plus exclusive access to live audio and video recordings and on-demand ad-free streaming commence. But if you can't wait that long, you can activate your full access immediately (and get billed sooner).
Besides enjoying hi-res soundboards from the likes of Metallica, Bruce Springsteen, and Santana, I've also been able to mirrorcast livestreamed performances via my Roku Ultra — and you can too, by way of the official nugs.net app — from Billy Strings, the aforementioned Dead & Company, Widespread Panic, and Tedeschi Trucks Band.
I've also been on a Wilco kick of late, seeing how their May 2022 double LP Cruel Country is one of the best albums I've heard this year. As a refresher before their latest tour got underway, I cued up Wilco's show at the Chicago Theater in Illinois on December 19, 2021 (a.k.a. Roadcase 086). "I Am Trying to Break Your Heart" opens up acoustically before fanning out in widescreen fashion, with kitchen-sink percussion, buzzing guitars, and burbling keyboard accents all buttressing frontman Jeff Tweedy's mournful/rueful story. Listen for how the hometown crowd readily joins in singing the key word "hello" and, later, "trying to break your heart."
I was also deeply struck by the furious 10-minute take on "Impossible Germany," with a lengthy screaming guitar solo sequence honoring the Neil Young/Crazy Horse school of jamola — the amp buzz very much welcome during the track's back quarter. "Nels [Cline] is gonna sit down for a song," Tweedy quips about his lead guitarist after the song ends — much to the audience's clear delight — then adds, "I think you hit a wrong note in the 86th measure — maybe — but you did it again in the 87th measure, which was very satisfying." Meanwhile, a more recent entry from Wilco's Front of House Series — culled from Thompson's Point in Portland, Maine, on August 25, 2021 — is yet another "Shot in the Arm," to borrow the title of the snarling, galvanizing set opener.
I could go on and on (you know me), but the fact is, nugs.net continues to supply the breadth of soul-affirming content that live-music junkies like myself crave. It's more than fair to say nugs.net really is the next best thing to being there — and I plan to continue accessing its fully stocked streaming cabinet as often as I can. You should too.