Hands On: Does Amazon Music HD Make the Grade?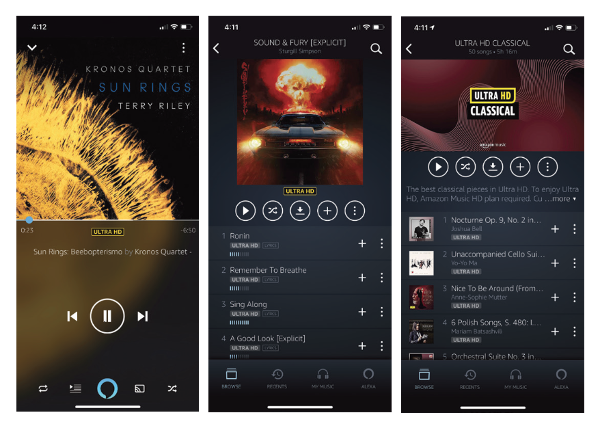 The more I listened to hi-res music with Amazon's newly upgraded streaming service, Amazon Music HD, the more I could hear the voice of Michael Palin's Cardinal Ximénez from the infamous Monty Python's Flying Circus sketch about The Spanish Inquisition, albeit with one verbal twist: "Nobody expects Amazon Music HD!"
Until now, I have to admit I'd never really accessed the standard Amazon Music service with any regularity. I'm sure it comes as no surprise that, as much as I visit brick-and-mortar record stores whenever and wherever I can, I also continue to buy a lot of physical product through Amazon. Many has been the time where midnight on a Friday rolls around with an email notifying me I can begin streaming (or downloading) whatever new album (or five) I've purchased in physical format via Amazon Prime. Rarely have I bothered following through — I mean, why bother, when I have numerous top-shelf hi-res music streaming services at my fingertips? — but it's since become a whole new world.
The reason for this sea change is that the online retail giant is now trumpeting Amazon Music HD. Here, Amazon offers two tiers of hi-res: 1) High Definition (HD), which claims to have over 50 million lossless audio tracks at 16-bit/44.1kHz; and 2) Ultra HD, with "millions" of lossless songs up to 24/192. To access it all, Amazon Music Unlimited offers a full 90-day free trial listening period to both current Amazon Music subscribers and newbies alike — and that alone should be incentive enough to sign up, if you haven't already. Following the trial, renewal offers vary. The Individual Plan HD runs $12.99 a month or $129 a year, while the Family Plan HD (which can accommodate up to six members) goes for $19.99 a month or $199 a year.
"Listen to any song, anywhere," boasts the Amazon Music Unlimited tagline, so I took 'em up on that pledge immediately after commencing my 90-day HD starter window. I was indeed able to access "any" song via my HP laptop, the app on my iPhone XS, and through my Roku, all with relative ease.
I already have scores of albums in my Amazon Music library, so the More Albums You May Like zone — which takes its cues from the parent site's recommendations engine — was filled with albums I found I liked very much. Ditto with what appeared under Related Playlists and Related Stations, most of which related to what I found myself listening to and sampling. Navigation was fairly intuitive, which was refreshing.
Naturally, I took the suggestion about following the Best of Ultra HD playlist immediately. There were many great choices here, including the all-out gallop of Miranda Lambert's "Locomotive" (in 24/48), which charged ahead like the lady and Aerosmith were sipping spiked sweet tea together on her back porch. The impact of the vocal echo, harmonica blasts, and the killer slide solo were all intact, and quite palpable. (Remind me to never get on her bad side.) Meanwhile, The Weeknd Feat. Daft Punk's "Starboy" (24/44.1) was atmospheric to the core, with his super sleek, smooth 'n' soulful lyrical flow set to a backing track that amounted to nothing less than an electronic master class. (One word: "Ah.")
Next, I shifted gears and cued up Van Morrison's seminal 1968 offering, Astral Weeks (24/48). So many haunting, moving choices here, but the final track, "Slim Slow Slider," has always been a particular favorite. I loved how John Payne's counter soprano saxophone line wafted from the right channel into the left, playing off Van the Man's otherworldly vocal delivery. Even the notable string buzz at 2:50 sent a chill down my spine.
Recently, I caught a rerun of Saturday Night Live hosted by comedian Chris Rock from November 2014, which featured the late Prince as the musical guest. The uninterrupted 8-minute medley performance by The Purple One and his then-backing band 3rdeyegirl was beyond electrifying. Would Amazon HD have each song from said medley in HD? Must be a sign o' the times, because they sure did, so I created a Prince SNL playlist to give them all a proper spin.
"Clouds" (24/44.1), from 2014's Art Official Age, is a true funk de force, with Prince's occasional falsetto lead vocals keenly doubled with a millisecond delay. Next, Prince & 3rdeyegirl's "Plectrumelectrum" (24/44.1) title track head-banged and crunched in all the right ways, backed with some mean but crisp cymbal rides. Both tracks are bittersweet reminders of who, and what, we lost too soon.
My free 90 days will have long passed by the time y'all read this column, but rest assured — being a lifelong Individualist like Todd Rundgren means I've already locked in my monthly billed Individual Plan HD. After all, I've got some prime Amazon HD listening ahead of me, and no amount of fear, surprise, or nice red uniforms will stop me from doing so.