Exploring 3D Audio for Headphones on Amazon Music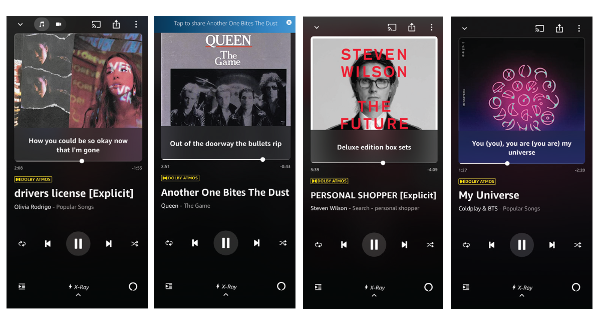 Whenever people say I have my head in the clouds, I often take it as a compliment — even if they don't mean it that way. (I can usually tell they don't, especially if there's an expletive modifying the word "head" and/or "clouds.") Chances are, you have your own "head in the clouds" moments as well — probably after having donned your favorite pair of headphones to envelop yourself in the musical silo of your choice at the highest of hi-res levels possible. Fact is, headphone listening often gives us that singular sense of being enmeshed in a sonic cocoon of our own making that is equal parts comfort and joy.
Over the years, more than a few attempts have been made at what I'll refer to as 3D audio for the mind, or music encoded for the 360-degree listening experience with headphones on. During the first half of 2021, Apple Music launched a library of Dolby Atmos music tracks that could be listened to with any headphones, not just the company's AirPods line. Later, in mid-October 2021, Amazon Music Unlimited subscribers were essentially granted that same favor by being given the official greenlight to stream the service's spatial audio content via its iOS and Android apps, with headphone listening most specifically intended. As with Atmos on Apple Music, this could be done, according to Amazon Music "without any special equipment needed, and no upgrade required" — further adding we could do this via any headphones of our choosing.
Sounds like a bleepin' awesome deal to me — and it should to you, too. For the record, the Amazon Music Unlimited Individual Plan costs $7.99/month for Prime members and $9.99/month for Amazon customers, while Family Plan users can stream Amazon Music Unlimited for $14.99/month on up to six devices. Given all the aural benefits available, locking into any of these plans is a literal no-brainer.
Following through on Amazon Music Unlimited's "any headphones" maxim, I pulled out four options to test this theory — namely, my high-end Sennheisers, wireless Marleys, Sony 'phones I use mainly for Zoom calls, and truly old-school USB Apple earbuds — to see just how the claim stacked up. I listened to a wide selection of Amazon Music Unlimited's spatial audio mixes in Dolby Atmos while I rotated through my headphone quartet connected with a variety of devices including my iPhone, HP laptop, and Roku Ultra. True, the better the headphones, the more immersively intense the listening experience was — but I can report if you wanna go the earbuds route, your experience will be relatively top-notch, and likely better than you might expect.
Naturally, I began my headphone sessions at the top of the spatial audio foodchain with a key selection from the irrepressible Steven Wilson. I cued up one of the best Atmos tracks from his January 2021 release The Future Bites, and one that wasn't used in last year's spatial audio evaluation feature — namely, the frenzied 9-minute product acquisition indictment "Personal Shopper." The all-aswirl middle section starting around 5:20 rattled around in my head like an errant aural pinball. Here, the track's special guest voice Elton John rattled off a litany of allegedly desirable consumer goods, starting from the center position before each subsequent item citing fanned out in all directions. I also picked up on some additional details I hadn't focused on in previous open-air listening sessions, such as the subversively angelic/operatic vocal lines supporting Sir Elton's declarations.
Next, I dialed into my already overflowing Amazon Music library of Queen songs. One thing I discovered that you'll also have to be mindful of is not every track on each HD album is available in spatial audio yet, so you'll need to scrutinize all track listings individually for the distinction between Atmos, Ultra HD, and sometimes "just" HD. For example, only three of the 11 tracks on Queen's June 1980 genre-shifting opus The Game are in Atmos — somewhat of a shame, since "Dragon Attack" is my favorite Queen-in-surround song besides, of course, "Bohemian Rhapsody." Nonetheless, I was impressed with the skull-pounding bass content and rotating dive-bombing effects on "Another One Bites the Dust" and the rumbling rockabilly swagger of "Crazy Little Thing Called Love."
Finally, I consulted the Amazon-curated Best of Spatial Audio playlist for some more modern offerings. Standouts include Coldplay and BTS swapping lead vocal positioning on "My Universe," The Weeknd high-harmonizing around sampled slap drums and gliding keyboard accents on the ubiquitous but still undeniable "Blinding Lights," and, yes, Olivia Rodrigo's emotive vocals that are placed upfront in the mix ahead of her supportively simple piano lines on "drivers license." Be sure to take note of the recurring, ping-ponging handclaps that commence on the second verse and the semi-subconscious exhale and foot-pedal shifting each time Rodrigo falls short of finishing the word "street."
It's little details like these that reinforce why spatial audio on Amazon Music Unlimited is worth dominating your listening time. In fact, you could say it's just the ticket for keeping your head in the clouds all day — in a good way.
THE AUTHOR
Mike Mettler, a.k.a. The SoundBard, is the music editor of Sound & Vision.