Qobuz Redux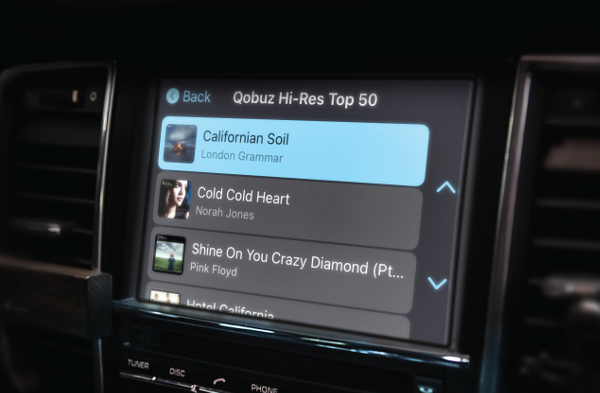 Time flies. Besides being the title of one of my favorite latter-era Porcupine Tree songs, these were also the first two printable words that came to mind after I found the answer to the question, "Say, when was the last time I did a deep dive with Qobuz?" was exactly three years ago. ("Sacre bleu!" is the PG-13 equivalent to the other choice words I thought of in that moment.) Fact is, a full 36 months have passed since I first delved into the many hi-res offerings of this très magnifique French streaming service. With that in mind, I felt it was high time for a hi-res Qobuz re-evaluation to see if the ever-expanding service has been able to continue building upon our constantly changing audiophile streaming ways.
I'm happy to report the platform has only gotten stronger and deeper in terms of content and presentation in the interim. As of this writing, the Qobuz hi-res catalog has increased to house 185,000 albums — up 15,000 albums since my last eval — and the service boasts 70 million tracks overall, almost double from before. True, a good portion of this burgeoning track total is only available at 16-bit/44.1kHz (CD quality), but more is always better, imo.
The pricing tiers are more consumer-friendly, with the full-access Studio Premier level at $12.99/month (or $129.99/year), and Studio Premier Family at $19.99/month ($199.99/year, including up to six members). Additionally, the Studio Sublime level (featuring up to a 60 percent discount on hi-res download purchases) is $15.99/month ($179.99/year) for an individual, and Studio Sublime Family is $29.17/month ($349.99/year). The free trial period is one month, sans obligation.
The Qobuz Web Player is optimized for Chrome; ditto the app for iOS and Android usage. Two new features make Qobuz ever more user-friendly. My Weekly Q is a personalized playlist tailored to highlighting musical discoveries based on similar listener profiles — so, every Friday, I expect to see a score of new and vintage prog options in mine. Then there's Apple CarPlay support, which enables iOS users to listen to their Qobuz-downloaded library in offline mode as well as access it online from their vehicle's integrated screen.


In today's listen-wherever-you-are universe, flexibility is key, and I appreciated staying hi-res audio-centric no matter how I cued things up, whether via my HP laptop, on my iPhone, in my Ford Escape, or streamed through my home theater hub. Naturally, I completely eschewed clicking on anything available at 16/44.1, listening only to 24-bit music options across the board.
Since I already had a few of my previous Playlists pre-loaded, I went directly to "Hi-Res Masters: Psychedelic Rock" to refresh myself with many of the 60 tracks listed therein. I soon found Quicksilver Messenger Service's mournful "Pride of Man" (at 24/192) and Gong's plaintive, ethereal "Tried So Hard" (24/96). Both were just as hi-res head-trippy as I wanted — and needed. Next, I zipped on over to Love for Sale, the latest collaboration between Tony Bennett & Lady Gaga, and scrolled down to "You're the Top" (24/96). Bennett remains a national treasure at age 95, and Lady Gaga's still underrated range complements him oh-so-beautifully here. The dynamic duo trade off singing leads on the cheeky verses until 1:11, when the distinct character of their enmeshed vocal blend on "But baby, if I'm the bottom / You're the top" is truly something to behold, let alone at a quality level you'll only hear once in a blue moon. That said, when I listened to Elton John & Dua Lipa's intuitive interplay on "Cold Heart (Acoustic)" (24/48), it sure gave Bennett & Gaga a run for their milk money.
Of course, I didn't find everything I wanted to hear from Qobuz in hi-res, such as the entire Dire Straits catalog — well, at least not yet. As alluded to earlier, Qobuz continues to make good on its longstanding promise to update basic-res to hi-res whenever possible. During my initial Qobuz eval, Steven Wilson's stunning 2013 benchmark The Raven That Refused to Sing (and other stories) was only available via lowly 16/44.1 — hence, I never bothered to play it. But now, Qobuz has The Raven in hand in its full 24/96 glory, meaning I can finally enjoy two of my all-time favorite SW tracks — the 12-minute-long multi-movement maestro-piece "Luminol" and the forever-haunting title cut — in the top-shelf way they're meant to be heard in their stereo incarnations. I've since found more hi-res updates of things I'd long ago banked in various Playlists and Favorites, so mega-kudos to Qobuz for following through on practicing what they preach.
Time may indeed fly, but Qobuz has spread its hi-res wings in a most magnificent fashion. Long may it buzz.
THE AUTHOR
Mike Mettler, a.k.a. The SoundBard, is the music editor of Sound & Vision.