Masterclass Acts at the Rock 'n' Roll Fantasy Camp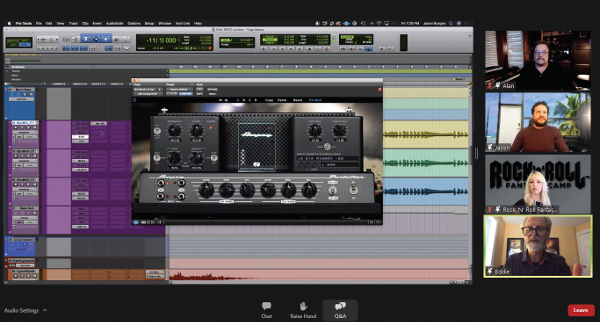 The Rock 'n' Roll Fantasy Camp changed its tune during the pandemic from offering in-person seminars with stars to streaming Masterclass sessions. In many ways, the shift broadened the scope of what the Camp has to offer.
Raise your virtual hand — or rather, your two-finger devil's horns salute — if you've ever dreamed of becoming a rock star. Come on, don't be shy. At the very least, many of us audiophiles are relatively proficient at playing an instrument or two, know how to sing on key, and/or have gotten behind the boards in home and/or professional studios to record our own and/or someone else's music. Our natural affinity for making music goes hand in hand with our love of just how good music can sound with our favorite high-end gear — and, hey, if we can actually make some good music ourselves, that's even better.
This is where Rock 'n' Roll Fantasy Camp comes into play. Not everyone can find their way to the national stage, but founder David Fishof sure knows how to bring participants as close to it as they can get. For 25 years and counting, Fishof's Rock 'n' Roll Fantasy Camp has brought budding musicians together with A-list, platinum-selling musicians for a chance to glean firsthand and face-to-face how it's all done. More than being mere fan fests, Fantasy Camps are hands-on learning experiences where the camp counselors (as they're officially known) actually know their stuff, inside out.
Thanks to the pandemic, all in-person Camp opps had to be put on hold until further notice, but Fishof and his team came up with the next best solution: virtual Camps, otherwise known as the Masterclass Series. The first Masterclass — with Mark Farner of Grand Funk Railroad fame — was streamed on June 1, 2020, and they haven't looked back since. Attendance fees vary based on the scope and subject matter of the Class at hand, all of which run no less than 60 minutes apiece. Some start as low as $25, but others can run into the hundreds. Go to rockcampmasterclasses.com to see how it all breaks down, and what Masterclasses are on the horizon.
I've virtually attended quite a few of the various Masterclasses myself over the past year, ranging from lesson-oriented classes to no-holds-barred Q&As to insider sessions with managers and promoters. Most recently, I sat in on a three-part live mixing seminar conducted by legendary producer Eddie Kramer, known for his work with the likes of Jimi Hendrix and Led Zeppelin. Each individual three-hour session was broken into two segments of roughly 90 minutes each — though some actually ran over the allotted time, something that no one seemed to mind — during which pairs of submitted songs were mixed live. Each song stem and ultimately finished mix could be heard in the moment via the hi-res 32-bit/96kHz Audiomovers Listento virtual effect audio plug-in — currently the go-to plug-in for many professional recording musicians — so you could listen to and see the mixing process and procedures that Kramer and his engineering assistant were executing in real time onscreen.
Special kudos must be given to main Masterclass host Britt Lightning. Lightning, who also plays lead guitar in the all-female hard-rock band Vixen, has shown herself to be quite adept at moving things along with panache and finesse. "I was a counselor for some of the last Camps before the shutdown," Lightning told me the day after one recent Masterclass. "I liked the idea of being able to share my expertise and my skills in this way — to be able to give something back to the community. I love what the Camp and the Masterclasses are about. There's nothing else like them."
Anyone who's ever had to manage a Zoom session with multiple participants involved — yours truly very much included — knows just how tough and maddening it can be to keep all the on- and off-screen plates spinning with as few lulls and/or glitches as possible. Lightning is an absolute pro whom I've never seen lose her cool, even in the most trying of Class circumstances. One time, while classmembers were waiting for the next rough mix to be cued up, Lightning pulled a question from the comments queue for Kramer to answer on the spot. Kramer then took a few minutes to share his insight about Jimmy Page's original mixing intentions for the infamous "ear candy" section of Led Zeppelin's "Whole Lotta Love." Fascinating details to hear directly from someone who was in the control room when it happened, to say the least.
More Masterclasses are purported to be on the way, and I couldn't recommend signing up for, well, any of them more highly. I do hope that, as we (hopefully) enter the post-pandemic era, Fishof and his Rock Camp cohorts will continue to offer a combo of options that combine the best elements of their streaming sessions with the unique character of their in-person Camps as well, which are slated to resume later this year.
So, you wanna be a rock & roll star? Then listen now to what Rock Camp Masterclasses have to say. They're sure to take you inside the music in ways that'll make your dreams come true.
THE AUTHOR
Mike Mettler, a.k.a. The SoundBard, is the music editor of Sound & Vision.