Being There...Virtually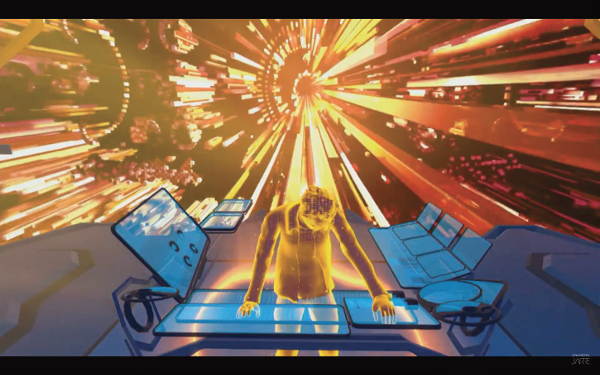 Picture yourself in a boat on a river. Floating downstream, you eventually arrive at a beautiful island locale, where upon its shores awaits your favorite band. After you disembark, the band shows you a potential set list that you approve, albeit with a few tweaks and additions. You want them to play some of your personal favorite deep cuts, and they're more than happy to comply. The band commences a long set just for you, an audience of one, and it's absolute paradise to your ears. Indeed,
this
is the kind of live experience you've been craving for months — and you didn't even have to leave your home theater to enjoy it.
Pure fantasy, you say? Well, not entirely. Welcome to the burgeoning world of virtual reality (VR) and augmented reality (AR) concerts. As the live performance industry continues to wrestle with pandemic-related restrictions, musicians have gravitated toward sharing some sort of socially distanced live experience with their fans, whether it be all-request livestreams, drive-in shows, parking lot concerts, and/or with audience space bubbles in tow (hello, The Flaming Lips!). More recently, VR and AR performances have re-emerged as a viable, creative alternative to being there in person.
I can already see some collective eyebrow-raising from those who recall the pros and cons of certain holographic "performances" of years past that literally projected images of dearly departed artists like Roy Orbison and Tupac Shakur onto stages to "sing," "rap," and/or "play" for live audiences. (This is also a case where my use of "air quotes" around certain words in the previous sentence has both literal and figurative connotations.) Even so, many of the VR experiences that have cropped up since the lockdown have been intriguingly inventive, and they most definitely portend a palatable option/alternative to EVS — Empty Venue Syndrome.
That said, I'm also encouraged by Tidal's announcement of a partnership with VR giant Sensorium for high-profile gigs expected to debut in early 2021. If any of those forthcoming Sensorium-fueled events are anything akin to Laurie Anderson's 360-degree "Midnight Moment" in Times Square or Joey Beuys and Mac DeMarco's uber-psychedelic music video "This Old Dog," then we'll be in for some major VR treats ahead.
Meanwhile, other VR tech enterprises like Noys and eyeora, as well as holographic stalwarts like Jabu, have already dipped their virtual toes into the stream by coming up with performances that merge the sights and sounds of concert gigs with full-on sensory-overloading videogames, the latter accompanied by the perfectly curated live soundtrack. And then you have things like the Fortnite phenomenon that saw hip-hop giant Travis Scott go "Astronomical" in a concert venue inside the game in April, gathering over 27 million views in the process.
I was also enthralled by the AR-meets-AI (artificial intelligence) event in June courtesy electronic music icon Jean-Michel Jarre (opening photo). Fans with VR headsets could interact with each other during his performance, and other virtual show attendees could "ingest" pills that would both serve to modify screen colors and endeavor to take you on the equivalent of a digital mind trip. Interestingly, Jarre and I had spoken about his prospective VR AI plans back in October 2018. "As musicians, we have explored the idea of presenting 3D in space for a long time — and now it's time to unite that idea with the visuals and all the possibilities technology is offering us today," Jarre told me. "This also goes with the future of artificial intelligence, and how we're going to be living more and more in the context of a VR world that offers a 3D environment."
Also at the forefront of livestream VR events is Wave, a company that's served up some truly eye-popping moments from the likes of alt-R&B popster Tinashe, violinist Lindsay Stirling, crooner John Legend, and their respective avatars. Not only that, but Wave continued upping its game with VR/AR events from Kill the Noise (requiring the audience to assist a DJ in battling a demon before the show could continue) and Imogen Heap (enabling a holographically enacted 3D performance from her home).
Perhaps the biggest triumph for Wave to date came exclusively via TikTok in August, when the perpetually innovative Canadian singer/songwriter The Weeknd put forth "The Weeknd Experience," the current benchmark for VR/AR performances. His Starboy-derived avatar put us viewers — who could vote for shifting his visual themes in real time — through mind-blowing paces for songs like "Blinding Lights" and "In Your Eyes (Remix)," ultimately garnering over two million unique viewers.
These events are only the start of the VR/AR concert revolution. If live venues continue to remain dark well into 2021, floating downstream to see your favorite artist beamed directly into your home theater may be the only way to go on a concert trip the likes of which you can't see, or hear, elsewhere.
THE AUTHOR
Mike Mettler, a.k.a. The SoundBard, is the music editor of Sound & Vision.