Exploring Quincy Jones' Qwest TV Streaming Service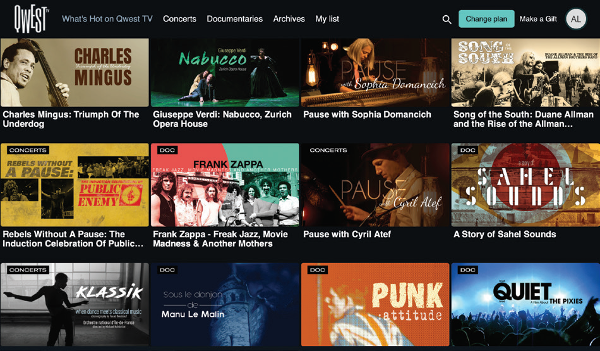 Quincy Jones has always been a maverick. The multi-hyphenate octogenarian producer/musician/conductor/director has been tireless in his decades-long quest to widen the listening base for multicultural music into as many ears and souls as he can possibly reach across the globe, genre biases be damned. At age 88, Jones continues to follow a mantra best encapsulated in a slightly modified song title from his late pop protégé Michael Jackson: don't stop 'til you get enough listeners. And now, with his burgeoning streaming service Qwest TV making continual A/V inroads, Jones is one step closer to mass enlightenment.
Qwest TV is the logical brand extension of a pair of Jones' other well-entrenched media conglomerates, Qwest Records and Qwest Broadcasting. Launched in 2017, Qwest TV's goal is to be known as the "home for jazz, soul, funk, classical, and music from around the world." In other words, while mainstream artists and their more accessible ecosystems can be found quite easily on most major streaming platforms, Qwest TV strives to dig deeper in terms of taking a more global approach to its own live performance and documentary offerings. (Currently, the service boasts over 1,300 selections to back that claim, with many more additions on the way.)
A seven-day free trial kicks off your Qwest TV journey before you're asked to lock into a reasonable choice of $4.99 a month, or $49.99 annually. If you have Comcast Xfinity, you can subscribe by saying "Qwest TV" into your handy-dandy X1 Voice Remote. Non-Comcast users can instead access the Qwest TV app on Android TVs or Roku, Apple TV, and Amazon Fire TV streaming devices. You can also watch on a computer, smartphone, or tablet (Android and iOS apps are available), but if you must go those routes, please do yourself a favor and stream what you're watching to your Ultra HDTV via Chromecast or AirPlay — otherwise, you're missing out on the high-quality Qwest TV A/V experience.
For the most part, Qwest TV succeeds in fulfilling its global leaning mission statement, something that's easily discernable the moment you land on the home page. The navigation is smooth and fluid, with Guest Curators, What's Hot, Live Premieres, and other selections taking over the featured banner area below the main topline menu pulldowns and just above nine encircled genre categories. Scrolling down past those genre markers gives you easy access to whatever personal choices you've added to "My list," with its "Resume watching" cousin nestled directly below for those times you need to pick right back up wherever your viewing ADD left you hanging.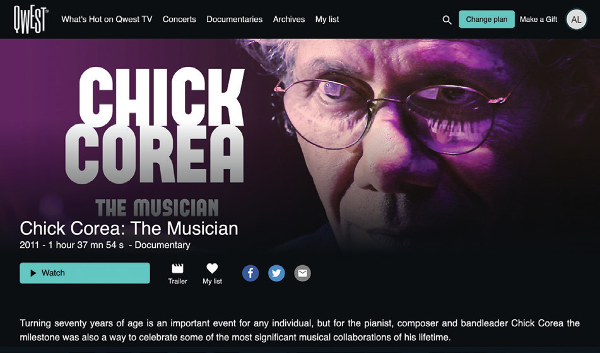 Whatever selection you intend to watch includes robust and informative critical summaries of the proceedings, as well as encircled listings of key featured performers, each of whom get their own individual bios and "also featured in" references upon further clicks. As an inveterate archivist, I find this level of attention to cross-pollinated historical and credit detail to be stellar.
Since I had a jones for, well, some of Quincy Jones' own work, I went to the Concerts drop-down menu and cued up a 24-minute selection dubbed RTBF Archives 1961 (as culled from French-speaking Belgium's radio and TV coffers). Clicking on the Settings wheel in the lower right corner, I chose the Audio Track as English @320 (why I would even consider @180?), and the Video Quality at 1920 x 1080, 4210kbps. (If you don't specify an aspect ratio preference here, the video defaults to auto.) This vintage 1:33.1 B&W RTBF clip was as clear as it could be, given its age. A V-neck-besweatered Q (as he's known somewhat reverentially in some quarters) strides down a set of stairs to conduct his top-shelf touring big band with much style and grace. Tenor saxophonists Jerome Richardson and Budd Johnson take center stage to trade riffs on Jones' own "The Birth of a Band," while the entire ensemble totally swings on Ernie Wilkins' "Everybody's Blues." It's the very definition of mid-20th century cool.
From there, I went to the Documentaries menu and immediately found Chick Corea: The Musician, a 2011 doc that includes clips of the late Corea and Herbie Hancock cutting heads during a Duets sequence and Corea later vamping on his Yamaha Motif XF8 keyboard at the legendary Blue Note. I then cast my net wider into less familiar territory by cueing up Akua Naru - Live at Rudolstadt Festival (Daisy Age hip-hop vaults into an even-more modern free-form era) and Studio 17 - The Lost Reggae Tapes (a doc about a Chinese-Jamaican recording studio in Kingston), to name but a few.
Observing how Qwest TV is streaming at a reasonable price with a focused and ever expanding library that strives to be outside the norm has been refreshing. My final assessment of Qwest TV and its head honcho is simple: Q is Grade A.
Click here to explore Qwest TV.
THE AUTHOR
Mike Mettler, a.k.a. The SoundBard, is the music editor of Sound & Vision.