Can Tidal Stem the Tide of Its Hi-Res Challengers?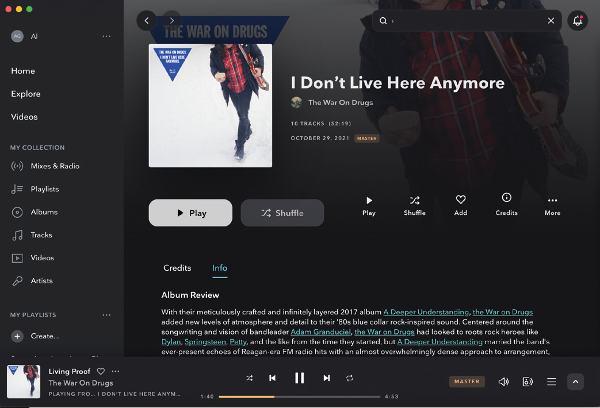 Tidal has literally rolled with the changes over the course of its 7.5 years (and counting) being nestled in our collective streaming consciousness. In recent years, the streaming giant has doubled down on the ways it offers a multi-genre cornucopia of streaming content in a number of hi-res-friendly ways. Seeing how we've yet to devote an entire Stream On column to this uber-popular platform, we felt it was high time to dive headfirst into the Tidal streaming pool.
Like pretty much every streaming service these days, Tidal offers a number of listening option tiers. Yes, there is a Free level that provides, in their words, "Good Sound Quality" for 80 million songs — but only at a most basic 16-bit/44.1kHz, mind you. An ad-free HiFi level adds 350,000 videos to the pot and runs $9.99/month for lossless offerings — all well and good for the slightly above-average listener, but not us.
We audiophiles need only concern ourselves with the HiFi Plus plan, which commences with a 30-day free trial before running $19.99/month for access to Dolby Atmos, Master Quality Audio, and 360 Reality Audio content at 24/96 and up. Discounts are applied to the plans designated as Family (up to five additional accounts for $14.99/month), Student (50 percent off), and Military (40 percent off), so you may want to consider one of those routes if any of them fit your lifestyle. Regardless, HiFi Plus is the only option to consider on the SQ table in my opinion — though, admittedly, that monthly price point may be a turn-off for the more frugal amongst us.
As I tend to do with all my streaming listening sessions, I mix and match headphone listening (over-ear Sennheisers, AirPods Pro earbuds) and free-air sessions while rotating through my iPhone, HP laptop, and Roku Ultra routines. Tidal-enabled gear is legion &dmash; the Supported Devices menu lists a cavalcade of top-tier home theater, vehicular, and mobile componentry — but if you're a phone-oholic, you can download the Tidal app and maximize your experience for Android 6 and iOS 13 usage.
Menu access is relatively easy and logical. The amount of supplemental support material is abundant, including Credits for performing and production personnel and the related Artist Info subsection with reviews sourced from Tidal and TiVo; personalized For You choices; Trending Playlists; and Suggested New Albums and Tracks among them. This info is truly helpful — especially the AI-generated personalized albums and playlists suggestions, which include new arrivals, and are mostly dead-on — fairly straightforward to manage, and quite logically accessible. A separate Magazine drop-down provides deep-dive essays and artist interviews — something I'd like to see even more of on all streaming services, to be honest — and if you look around, you'll find some exclusive music and video content too (especially in the hip-hop universe).
But now, it was prime Master Quality Audio (MQA) listening time. (MQA is a technology licensed by Tidal that allows for recordings to be streamed in 24-bit/96kHz resolution using the Tidal desktop or iOS/Android apps. Streaming albums and tracks with greater than-24-bit/96kHz resolution — typically 24-bit/192kHz — via Tidal requires an external digital-to-analog converter that supports MQA decoding.) I immediately zeroed in on the chock-full Yes Tidal Masters playlist. Being in an '80s mode, I cued up the legendary prog band's 1983 chart-topper, "Owner of a Lonely Heart." Note the subtle finger snaps and triggered keyboard sample before the middle break, and the constant volume swells accompanying Trevor Rabin's aggressive acoustic guitar attack as well as the snarl of his subsequent soundstage-rattling electric guitar solo.
Shifting gears, I next tackled "Change" by The War on Drugs, from that band's rightly acclaimed 2021 release, I Don't Live Here Anymore. Adam Granduciel's clean, uncluttered approach updates the vintage college rock vibe for the contemporary era with clear, breathy vocals and jangling, chiming guitars leading the way. Metronome-precise drumming bred from the Mick Fleetwood school of timekeeping anchors the proceedings down the middle, while the subsequent Bruce Hornsbyesque piano and keyboard break unfurls quite majestically to the fade out.
Naturally, I had to get down and all around with Tidal's 360 Reality Audio offerings. I'm hoping the breadth of selections will increase under this Sony-label-specific umbrella, especially if Tidal hopes to compete with the ever-increasing breadth of Dolby Atmos mixes Made for Spatial Audio on Apple Music, among others. Regardless, I soldiered on by first wrangling Heart's pummeling 1977 hit "Barracuda," The muscular, galloping guitar opening spreads wide and prominent across the soundstage, but Ann Wilson's lead vocals simply soar, swish, and weave throughout the full field at will to compete with and ultimately overcome the volume of the guitar attack. Marvel at how she simply owns words like the mashed-up "woontcha," the vowel extensions on "again" and "ooh," and her nuanced repetitions of "down" and "burn" — all of it reinforcing Wilson's status as one of rock's best singers ever, hands down.
I then got my freak on with The Edgar Winter Group's 1972 No. 1 instrumental monstrosity known as "Frankenstein" (albeit mislabeled here as being by just "Edgar Winter"). Winter's ARP 2600 synthesizer sizzles and wailings swirl all around the mix, and the full-channel call-and-response percussive battle between Chuck Ruff's drumming and Winter's own synths and timbales collectively serve to ensure "Frankenstein" comes fully alive in 360.
Bottom line: As long as the monthly HiFi Plus nut is not a deterrent to your e-wallet, then the hi-res Tidal wave is definitely one worth riding. But even if you opt out of the hi-res tier, Tidal still offers plenty for music fans to love.
THE AUTHOR
Mike Mettler, a.k.a. The SoundBard, is the music editor of Sound & Vision.