A Star Is Born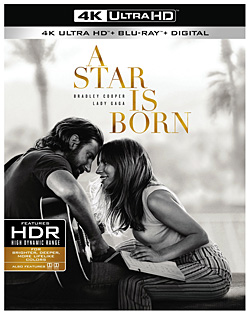 The 2.4:1 image here is extremely sharp, allowing us to practically count every face at the teeming concerts. Director of photography Matthew Libatique uses light in a striking manner, at times exposing stark detail on Jack as his true self is revealed. Dolby Vision high dynamic range brings many subtle improvements in color grading and overall contrast versus the bundled HD Blu-ray, particularly in the frequent shadowy scenes. Ultimately, however, A Star Is Born does not absolutely demand to be viewed on Ultra HD disc.
The tunes are undoubtedly the highlight of the disc's Dolby Atmos track, which has a TrueHD 7.1 core. "Live" performances tend to be bass-heavy in a good way, imparting a you-are-there effect, but perhaps sounding a bit too clean to be fully convincing. The dense mix helps to convey the expanse of enormous crowds, even if discrete cues are somewhat sparsely throughout. Regardless, the clarity of the soundtrack provides a good showcase for Ms. Gaga's stellar, always-radiant pipes.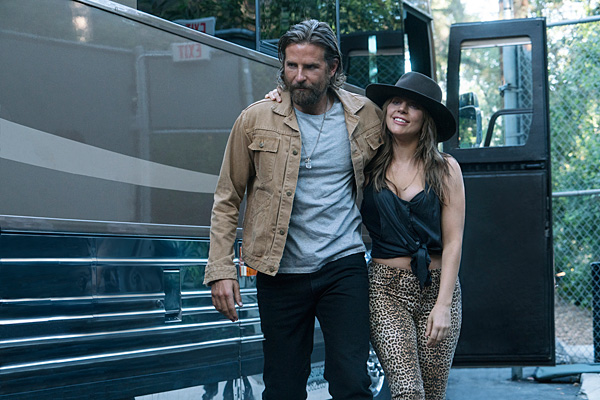 The Ultra HD disc features eleven "Musical Moments" that provide direct access to the movie's songs. These are repeated on the Blu-ray and joined by more music, including polished videos and informal jam sessions. The real meat comes in the form of a 30-minute behind-the-scenes documentary, but a commentary is conspicuously absent considering that this was obviously a passion project for director Cooper.
Ultra HD Blu-ray
Studio: Warner Bros., 2018
Aspect Ratio: 2.40:1
HDR Format: Dolby Vision and HDR10
Audio Format: Dolby Atmos with TrueHD 7.1 core
Length: 136 mins.
Director: Bradley Cooper
Starring: Lady Gaga, Bradley Cooper, Sam Elliott, Andrew Dice Clay, Rafi Gavron, Anthony Ramos
A Star Is Born manages to rise above the nigh-unavoidable clichés of the music drama genre through the sheer, undeniable force of Bradley Cooper's love of his craft. Were this not already the third remake of the 1937 film, the potential cinematic pitfalls of this tale of frustrated singer/songwriter Ally (Lady Gaga), who struggles amid the boozy, druggy stumblings of entrenched headliner Jack (Cooper) would still be many. It could have turned out like a well-produced episode of VH1's Behind the Music, but instead we're given a deeply felt and surprisingly original update driven primarily by the raw, unrestrained performances of the two lead actors. Their complicated, beautifully explored relationship forms both the heart and backbone of the movie. Plentiful dialogue-centric scenes give these memorable characters a chance to shine, and the many songs in a variety of styles are quite enjoyable.