Special Report: Get Your Game On!
5.1 speaker suites for every fragger.
We've long extolled the wonder and tangible benefits of 5.1 audio in the video-gaming realm. It is a major feature of the Sony PlayStation 2 and the Microsoft Xbox and is a mandatory element for all Xbox 360 games. While some folks simply drop a console into their fully equipped home theaters, many are new to 5.1, so I present here an assortment of exemplary powered speaker suites for video-game use.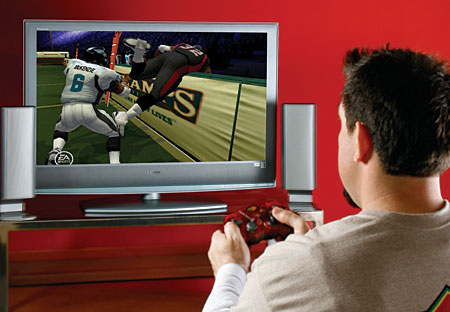 Remember that games, like DVDs, require the proper decoding. If you are a PC gamer, chances are you have a multichannel sound card installed and are ready to rock. But standalone consoles need processing to achieve true surround sound, so consider a bundle that offers Dolby and/or DTS decoding, which is also handy when you decide to spin a DVD instead of a game disc.
Spherex Xbox 5.1 Surround Sound System
This first Xbox-branded audio solution will work beautifully with any gaming system that provides a digital audio output, broadening its reach to Xbox 360 and PlayStation 2. At the heart of the system is an 8-inch, dual-vented subwoofer-cum-amplifier that is built like a tank. This is where all of the decoding takes place: Dolby Digital 5.1, DTS for the handful of DTS Interactive PlayStation 2 titles, and Dolby Pro Logic II, which works wonders with the Nintendo GameCube's analog stereo output. This Spherex system can even serve as the sonic foundation of a semiserious home theater, as its ample inputs—two digital optical, one digital coaxial, one analog stereo—will also accommodate a plain old DVD deck. Typically, I would not recommend a gaming system for home theater use, but the satellites' effective dispersion makes this a surprisingly room-filling treat.
Working from API's unique Mirage Omnipolar design, each two-way monitor satellite spreads the sound in many directions, as opposed to the controlled directionality of most loudspeakers. The satellites also exploit room reflectivity to their advantage. As such, you need to place each speaker flat on its back, be it upon a tabletop, speaker stand, or the ceiling. The result is a less localized sweet spot, meaning that all gamers in the room can benefit from the improved audio. Waves MaxxBass software in the sub and sats helps add the perception of low-end power to the entire system. All of the hardware is color-coordinated with the Microsoft Xbox's black and green tones. Even the comprehensive infrared remote control is a stylistic match. It communicates with a little breakout box wired to the sub. Still, it would be even better if it controlled the Xbox itself, not just the Spherex system. But, in offering a generous 10-year warranty, these guys seem pretty confident that their gear will outlast the competition.
• $329
• www.spherexinc.com
Klipsch ProMedia Ultra 5.1 Speaker System
Using much the same design as Klipsch's coveted home theater loudspeakers, the ProMedia line has rapidly become a standard in the realm of high-end computing. Alienware has long offered Klipsch speakers to complement their best gaming PCs, some even in custom colors to match their extreme motifs. Klipsch's top-end Ultra 5.1 bundle consists of four identical satellites and a horizontally reconfigured, magnetically shielded center-channel speaker. It also includes a subwoofer/amplifier and breakout control box for the desktop. The bass-reflex subwoofer is significantly larger than the first-generation ProMedia, housing twin, side-firing 8-inch woofers. The remarkably crisp satellites utilize metalized polymer tweeters, Klipsch's exclusive MicroTractrix high-frequency horn, and fiber-composite midrange drivers.
With a stunning 500 watts at its disposal, the Ultra 5.1 is powerful enough to blast any stray papers off the desk and annoy people in the next room. It's even mighty enough for some modest traditional home theater applications, with the necessary full-range subtlety for the best DVD soundtracks, too. Unfortunately, it doesn't offer the proper inputs for this. The sub/
amp's rear-panel inputs mate perfectly with the three-cable output of any standard 5.1-channel sound card, although you would need a preamp/decoder of some sort for non-PC use. Klipsch no longer sells their branded pre/pro box that offered console-friendly digital optical audio input, among other features. This was a handy bridge across the computer/home entertainment gap. The Ultra's control module does offer easy adjustment of main, center, surround, and LFE volume, plus minijacks for portable audio in and headphone out.
The package comes with 18-gauge speaker wire, but Klipsch also sells a 16-gauge Monster Cable upgrade kit specifically for this system. And, if you're inclined to trick out this rig, keep in mind that the amplifier still has its legacy port to connect one or more of Klipsch's erstwhile SWS subwoofers (100 watts each) for those who can't get enough low end.
• $350
• www.klipsch.com