Soundbar Roundup LG NB3730A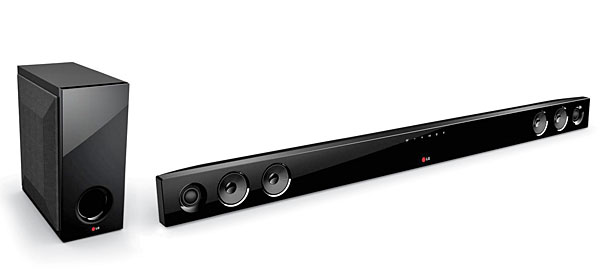 LG NB3730A
Price $399
As I mentioned in the intro, all of the soundbars tested here offer Bluetooth wireless audio for easy connection of smartphones, tablets, and computers. But the NB3730A adds something extra: built-in Wi-Fi with built-in video streaming from Netflix, YouTube, Hulu Plus, Vudu, and CinemaNow. Most A/V aficionados already have these services in their Blu-ray player, TV, streaming box, phone, tablet, or microwave oven, but I expect those who don't will eagerly embrace this "smart soundbar."
Besides the streaming, the NB3730A is pretty standard stuff for a 2.1 soundbar. The 40.8-inch-long bar's left and right channels each incorporate a 1-inch tweeter and two 2.25-inch woofers. The sub has a 6.5-inch woofer. Total system power is spec'd at 300 watts.
The only thing weird about the NB3730A is the input/output setup. For wired connections, there's just a single TosLink optical input plus an HDMI output that connects to your TV. Through ARC, the HDMI connection can carry audio from your TV to the soundbar. Of course, thanks to Bluetooth and Wi-Fi, plus a front USB connector that allows playback of media from USB sticks, this soundbar doesn't need a wired connection to make sound. Still, it'd be nice to have a 3.5mm analog input to make the NB3730A compatible with more TVs.
The LG has Dolby Digital and DTS 2.0 decoding built in. It offers numerous proprietary EQ/surround listening modes.
Despite the addition of Wi-Fi, setup was pretty simple, just like setting up a Wi-Fi-equipped Blu-ray player or TV. The soundbar can't learn commands from a TV remote, but through ARC, the TV remote will control the NB3730A if you use the HDMI connection. The remote LG supplies is large, basically a TV remote, but many of the extra buttons are needed to control the video streaming, and they can also control a connected Bluetooth device.
In my opinion, the NB3730A is a mixed bag. It has its upsides, including pretty good max output (I measured 95 dB average/98 dB peak on loud scenes), punchy and powerful upper bass, and a 3D Sound mode that produced a nice sense of envelopment with movies. It also gave me surprisingly good sound with music, with a nice, open sound on voices and a pleasing tonal balance in the mids and treble.
But on movie dialogue, the NB3730A sounded to me like there was an emphasis in the mid-midrange, which made voices sound coarse. Geoff and Lauren both heard a mid boost, too, and both felt it made the NB3730A's treble sound comparatively dull at times. The subwoofer seemed to produce a load of upper-bass output, but not much in the lower and midbass regions; that sounded OK with most music but led Geoff to describe its sound as "thuddy" with movie soundtracks.
While the sound of the NB3730A is nothing to get excited about, the streaming features might make it popular with people who need that. Although with streaming devices costing as little as $35 for the Google Chromecast or $49 for the Roku LT, there's really no reason you need these services in a soundbar.
Test Bench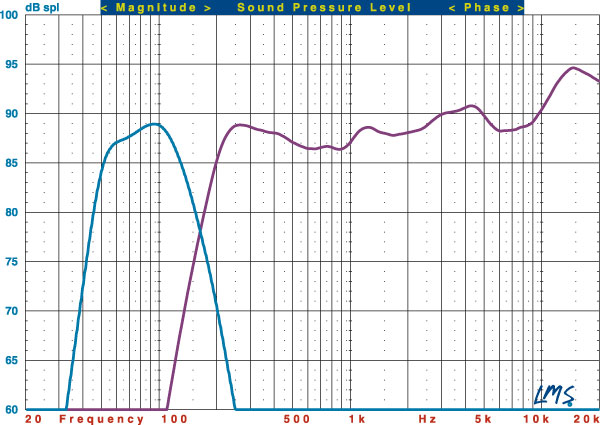 LG NB3730A, left (purple) +2.76/–2.85 dB from 200 Hz to 10 kHz; –3 dB @ 202 Hz, –6 dB @ 174 Hz.
Subwoofer (blue) Normalized to level @ 80 Hz: lower –3 dB @ 52 Hz, lower –6 dB @ 48 Hz; upper –3 dB @ 187 Hz; upper –6 dB @ 128 Hz. —MJP
Info
Price: $399
LG
(800) 243-0000
lg.com