Soundbar Roundup Sony HT-CT660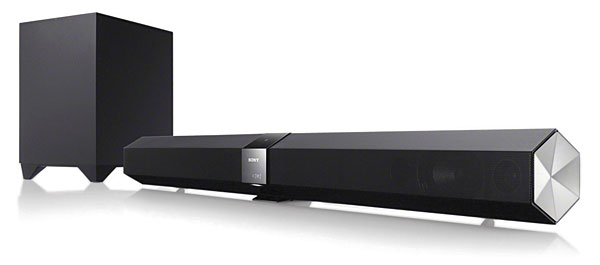 Sony HT-CT660
Just as manufacturers figured out how to get Dolby Digital into their soundbars so they'd work with LG's TVs (which have only Dolby Digital output, no PCM digital), Sony announced the HT-CT660, a $399 soundbar that
not only includes Dolby Digital and DTS, but also DTS HD-Master Audio and Dolby TrueHD, the lossless high-resolution formats commonly used on Blu-ray Discs. "That's it, I'm getting out of the soundbar business," one company president told me. And he did.
The HT-CT660 also features a bold hexagonal design—and by "bold," I mean "certain to be a deal-killer for some buyers." Each channel, left and right, has a 0.5-inch tweeter and a 1.5 x 3-inch oval woofer. The sub has a 6-inch woofer. Total system power is specified at 330 watts. The bar measures 40.5 inches wide by a rather chunky 3.7 inches deep. Inputs include three HDMI, TosLink optical, and 3.5mm analog audio.
The HT-CT660's remote looks almost just like the one that came with the 20-inch Sony TV I owned in the mid-1990s; I'm not sure whether to applaud Sony's consistency or attack its lack of creativity. If the soundbar is connected through HDMI, it can be controlled through the remote of an HDMI-equipped TV. The Sony can't learn TV remote codes, but its remote is preprogrammed with TV control codes from Sony and seven other brands, so it's likely the soundbar's remote can control your TV. Good thing, because the control buttons on the bar itself are mounted on the rear where they're tough to see.
So the big question is, does adding DTS-HD Master Audio and Dolby TrueHD make a noticeable difference in a 2.1 soundbar? Not that I heard. The sonics of the HT-CT660 remained consistent no matter which input I used. Any differences were so subtle as to be not worth mentioning, less than you'd get by moving your head a couple of feet.
The fundamental sound of the HT-CT660 didn't thrill us. To my ears, the bass had an exaggerated sense of punch, although sometimes this turned out to be a mild plus for music. The lower treble sounded exaggerated, and the top was a bit sizzly at times, sometimes making voices sound rather coarse. "There's just too much treble," Geoff said. The HT-CT660 does have bass and treble controls, but we think a soundbar should be tuned for the best sound quality right out of the box.
In the Movie mode, the surround effect was dramatic but disembodied, sort of like a 5.1 system with its left and right speakers disconnected. I also couldn't get it to play loud enough with most movies; on the same loud scene I used with the other soundbars, it gave me only about 86 dB average and 90 dB peak output.
The HT-CT660's certainly packed with audio features you won't find on any soundbar in its price range, but we think the fundamental quality of its sound isn't sufficient for those features to deliver a clear benefit.
Test Bench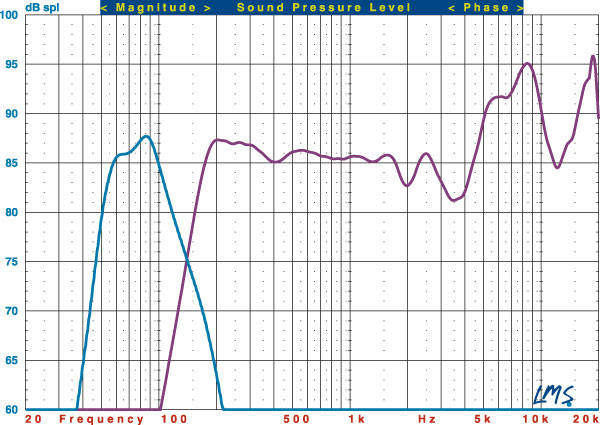 Sony HT-CT660, left (purple) +9.05/–4.84 dB from 200 Hz to 10 kHz; –3 dB @ 165 Hz, –6 dB @ 155 Hz.
Subwoofer (blue) Normalized to level @ 80 Hz: lower –3 dB @ 56 Hz, –6 dB @ 52 Hz; upper –3 dB @ 102 Hz.—MJP
Info
Price: $399
Sony
(239) 768-7547
sony.com