Soundbar Roundup JBL Cinema SB400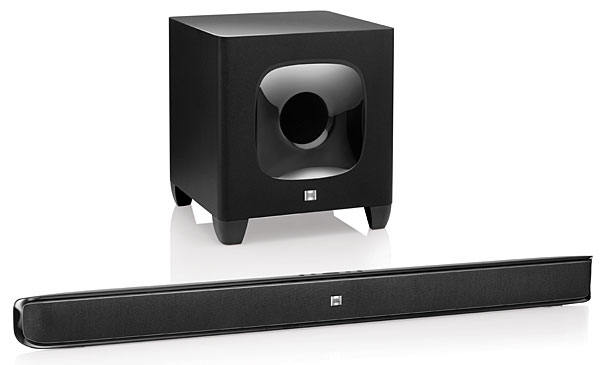 JBL Cinema SB400
JBL's pedigree is pure pro, revered for recording studio monitors and P.A. speakers. These days, though, a huge number of JBL products take the form of consumer-oriented stuff like portable speakers, iPhone/iPad docks, and yes, soundbars.
No need to worry that the $550 SB400 might drag the brand down. The subwoofer has an 8-inch driver powered by a 200-watt amp, which should provide more oomph than the 6.5-inch woofer and 75- or 100-watt amp typically found in a soundbar subwoofer. The 43.3-inch-wide soundbar packs a 1-inch tweeter and two 2.25-inch woofers for each channel (left and right).
Another major SB400 feature is its three HDMI inputs. If you like, you can connect your source devices (Blu-ray player, cable box, etc.) to the SB400, then connect a single HDMI cable from the SB400 to your TV. Hooked up this way, the SB400 will even play the sound from your TV, through the HDMI Audio Return Channel (ARC) feature (assuming your TV is ARC equipped), and the TV's remote will control the SB400's volume.
The SB400 can also learn commands from your TV remote, so you've still got some degree of integration if you choose to use the 3.5mm analog or TosLink optical digital input instead of HDMI. (Good thing, too, because you're gonna lose the SB400's cheezy little credit-card-style remote in short order.) Through the HDMI and TosLink inputs, the SB400 can accept and decode Dolby Digital signals, and it includes a surround mode called Harman Display Surround Technology.
You have to set the subwoofer level using a knob on the back of the sub. If memory serves, every other one of the 40-plus 2.1 soundbars I've tested lets you set subwoofer level from the remote. Also, you have to set the subwoofer's crossover frequency—something JBL should have determined itself and preset into the product.
In my hands-on tests, I had a great time with the SB400. The sound was basically pretty good, although it was definitely on the bright and trebly side. This tilt in the tonal balance made voices sound more distinct, but it often made them sound somewhat lispy, too. Geoff and Lauren noted this brightness when they checked out the SB400, although both of them liked it pretty well overall.
I can't say the subwoofer blew away the others, but it was the only one that had enough output to shake my chair (just barely) in the bass- heavy opening scene of Star Wars, Episode II: Attack of the Clones. The soundbar played plenty loud enough for me; I measured about 96 decibels average output on loud scenes from my listening chair, peaking out around 99 dB.
Harman's seemingly simple surround mode delivered exactly what I hoped: It expanded the sound beyond the edges of the soundbar and created a nice, subtle sense of envelopment without introducing artificial-sounding artifacts.
While we all wish JBL had toned down the treble some, and we all think the SB400 is a little pricey, we think its performance is above average for a 2.1 soundbar.
Test Bench
JBL Cinema SB400, left (purple) +2.88/–2.32 dB from 200 Hz to 10 kHz; –3 dB @ 164 Hz, –6 dB @ 140 Hz.
Subwoofer (blue) Normalized to level @ 80 Hz: lower –3 dB @ 43 Hz, lower –6 dB @ 38 Hz; upper –3 dB @ 187 Hz; upper –6 dB @ 137 Hz. —MJP
Info
Price: $550
JBL
(800) 336-4525
jbl.com