Sony Bravia XBR-84X900 3D LCD Ultra HDTV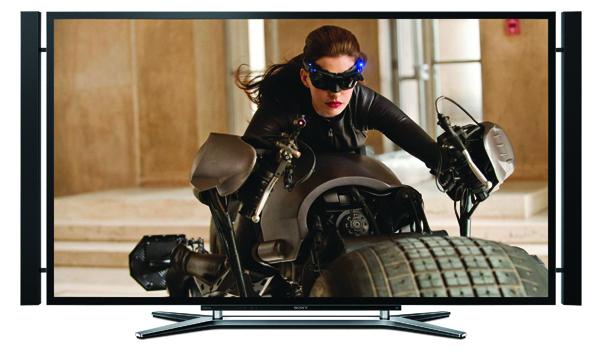 Price
: $25,000

At A Glance
: Stunning resolution • Superb color • Glorious 2D and 3D performance
With 4K-resolution Ultra HD the latest and greatest star in the consumer electronics galaxy, we ink- and pixel-stained wretches of the press were all champing at the bit to lay hands on one. But at a massive 84 inches diagonal, 216 pounds with its floor stand, priced high enough to put you in a nice new car as long as your tastes aren't too posh, and still limited in availability, Sony's new 4K flagship made the company understandably reluctant to ship review samples to all the usual suspects.
The company therefore invited the press to spend individual time with the set at either its East or West Coast headquarters. So if (you know who) won't come to the mountain, the mountain must come to (you know who). Or vice versa. This arrangement wasn't equal to the extended review process we prefer, but the product was too important to ignore. So I schlepped all of our test gear to Sony San Diego. The facilities were fine, the windowless room could be darkened, and apart from a morning briefing on my arrival and assistance when needed, Sony's techs left me alone to work on the set.
For those still unfamiliar, Ultra HD is the latest moniker for the consumer version of the "4K" high-resolution video format that comes out of the digital cinema realm. (See "4K: What, Why, and When?" sidebar). Technically speaking, Ultra HDTVs offer 3840 x 2160 pixel resolution, or exactly four times the number of pixels present in the existing 1080p standard, otherwise known as full HD. While plans are afoot to crank up development and home delivery of native 4K content to watch on the new displays, for the present and probably near future, most of the program material will be upconverted from 1920 x 1080 pixels. So a huge concern for reviewers and consumers alike is whether traditional HD can be scaled from 2K to 4K in a way that truly challenges the quality of native 4K, thus giving a buyer of this set and others enough source material to make the investment worthwhile. That was the $640,000 question that I hoped to answer going into this review. So what did I find? Read on…
Features
In most respects, the XBR-84X900 mimics the features found in Sony's XBR-55HX950. The remote and XMB (XrossMediaBar) menus are similar. There are full White Balance adjustments here for tuning the gray scale but, typical of Sony sets in general, no color management system (CMS) for adjusting the primary or secondary color points from which all the other colors derive.
But the XBR-84X900 also differs from previous Sony flat-screen sets in important ways, chief among them its 4K capability. It accepts native 4K material and upscales lower-resolution sources to 4K employing a new processing chip that microanalyses individual aspects of each image to emulate a native 4K picture. In addition, with the use of special glasses, two-player SimulView PlayStation games can be played with each player viewing only his or her own full screen (not split-screen) part of the action. As for native 4K, the set's HDMI 1.4a inputs will accept 4K sources up to a 30p frame rate.
Unlike the full backlighting LED array of the XBR-55HX950, the XBR-84X900 is top and bottom edge-lit. Both sets feature Sony's LED Dynamic Control (local dimming). This can work well, and does here (more on that later), but edge-lit local dimming is nevertheless less effective than full-array backlit local dimming that individually modulates dozens of LED clusters located behind the screen. Also unlike the XBR-55HX950, the XBR-84X900 does not use Corning's tough Gorilla Glass for its screen surface. That's a big, wonking sheet of very reflective, expensive glass, so no playing catch, shooting hoops, or practicing your golf swing in the TV room. Time to move the kid's Wii console into the playroom and let the foam bats, fake swords, and untethered control wands take flight at some cheaper screen.
The XBR-84X900 uses an IPS (In Plane Switching) LCD panel. As far as we know, this is a first for Sony. IPS provides off-axis performance superior to other LCD designs, and that was clearly visible here. Even when I moved 45 degrees to the side, I saw none of the color desaturation and loss of contrast epidemic among LCDs in that situation. But IPS typically has poor contrast, an issue that Sony's LED Dynamic Dimming deals with effectively here.
Unlike all previous, 3D-capable Sony sets, the XBR-84X900's 3D is passive, not active. Passive 3D reduces a set's vertical resolution to half of its native vertical pixel count. In a typical 3D HDTV, this results in a less than full HD resolution of 1920 x 540 at each eye. It also produces a grid of black horizontal lines in the image that, depending on the size of the screen, can be visible at normal viewing distances. With a 4K set, however, these issues disappear. The horizontal lines are gone, and while the vertical resolution presented to each eye is still reduced by half, with a 4K display the overall 3D resolution seen by each eye becomes 3840 x 1080, vertically equivalent to full HD. The passive glasses are also lighter and (usually) cheaper than the active variety, and without the alternate masking of the left and right eyepieces (required for 3D using active glasses), the 3D image is brighter and there's far less chance of 3D crosstalk (ghosting).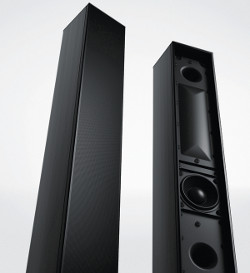 The set's audio is produced via removable speakers on either side of the screen. There's no denying that the Sony's sound is a step up from what you get from most flat-screen HDTVs. But from what I heard—making allowances for the large, live room and a placement not conducive to the best sound—it's certainly no substitute for full surround sound and, as with every flat-screen set we've tested, unlikely to challenge the audio from even a modest outboard two-channel system.
Features not tested here, due to time limitations, were Motionflow and Smooth Gradation (Sony's motion smoothing features—left off for the entire review) and the set's Internet functionality.