Sony and LG Prevail in Annual TV Shootout for the Second Year in a Row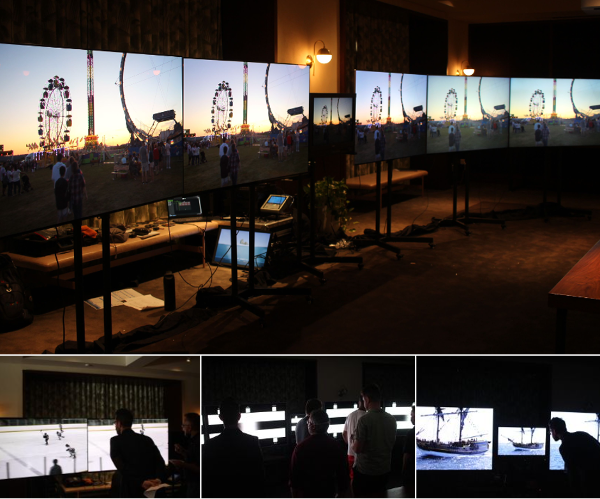 The results of the Value Electronics 18th Annual TV Shootout held in New York City over the weekend are in and it's Sony and LG by a hair in the 4K and 8K test categories, respectively. For each brand, the win is a repeat performance of last year's Shootout when Sony was crowned king of 4K TV and LG king of 8K TV.
Hosted by Scarsdale, NY-based AV retailer Value Electronics, the 2022 Shootout confirmed that competing TV brands are breathing down each other's bezels with scoring margins tighter than ever before. Five 4K sets, each a 65-incher, competed on Day One and three 8K sets, 85- to 88-inches in size, put on their Sunday best for Day Two.
Sony's XR65A95K Master Series QD OLED TV was crowned the winner in the 4K category with an overall score of 8.9 out of 10. (Sony's XR-65A90J OLED TV was last year's winning model.) Samsung's QN65S95B Quantum Dot OLED TV came in second with an overall 8.3 rating. LG's OLED65G2PUA Gallery Series OLED TV, Sound & Vision's most recent TV Top Pick, came in third with an overall score of 7.9.
Though the top three 4K sets each incorporate OLED panels, not far behind were two televisions based on Mini-LED LCD technology. Sony's XR-65X95K came in fourth with a combined 7.5 score followed by Samsung's QN65QN95B with an overall 7.4 rating.
The top winner in the 8K category was LG's OLED88Z2PUA Signature Series 8K OLED with an overall score of 8.2 out of 10. (LG's ZX Series OLED TV was last year's winning model.) It was followed by Sony's XR-85Z9K Master Series 8K MiniLED TV in second place with a combined 7.8 rating and, in third place, Samsung's QN85QN900B Quantum Dot 8K LCD/MiniLED TV with an overall score of 7.5.
The Testing
The panel of judges, technical experts who work for companies like Warner Bros. Discovery and Criterion and make movies look their best from theatrical release to streaming, compared the TV sets using test patterns and carefully selected video content, including scenes movies such as Black Panther, Gemini Man, and Darkest Hour and video shot specifically to stretch the performance limitations of TV panels and video processors. Sometimes the window shades were shut tight, so the judges couldn't help but bump into each other as they walked from screen to screen. Other times, the shades were left open so they could determine how well the TVs held up in ambient light.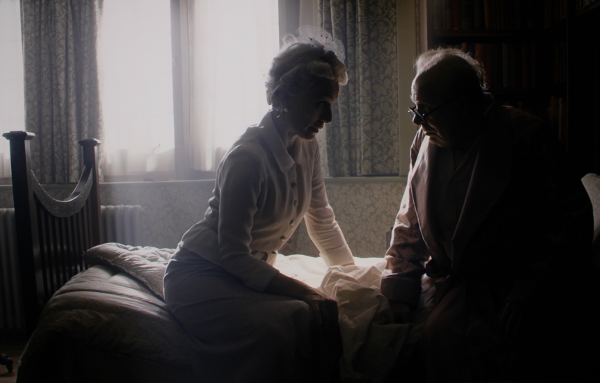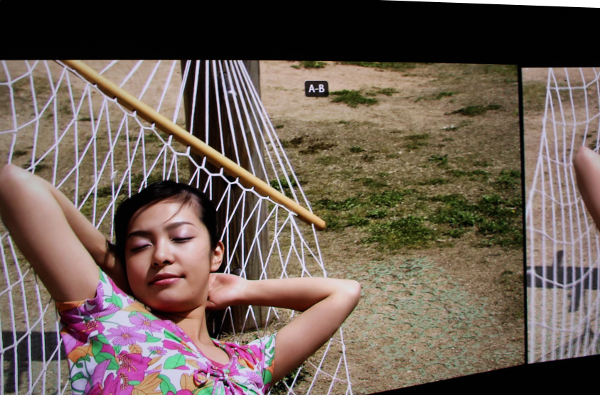 The 4K and 8K TVs underwent the same groups of tests. Under the umbrella of Standard Dynamic Range (SDR) Day Mode, they were evaluated for motion/dirty screen effect, peak lumens, and upscaling performance. Under SDR Reference Mode, they were evaluated for black level/shadow detail, color accuracy/skin tones, and motion resolution. Finally, under High Dynamic Range (HDR) Reference Mode, they were tested for black level/shadow detail, peak lumens, color accuracy/skin tones, color saturation/color volume, motion resolution, Ultra High Definition (UHD) detail/sharpness, high APL (Average Picture Level), and 4,000 nit tone mapping. (A "nit" is unit of brightness derived from the Latin word nitere, meaning "to shine;" 1 nit equals 0.291 foot-Lamberts).
The overall score for each TV in the competition is the average of the scores in each of the three umbrella categories outlined above, a total of 14 individual scores: three in SDR Day Mode (Best 4K Living Room TV), three in SDR Reference Mode (Best 4K Home Theater TV), and eight in HDR Reference Mode (Best 4K HDR TV). For a deep dive into the individual scores achieved by each of the TVs in the various tests, go to: valueelectronics.com.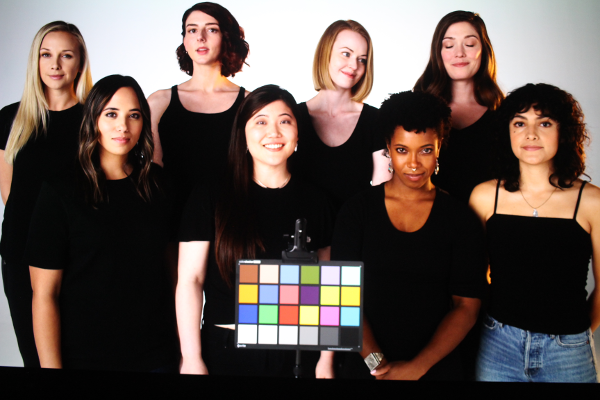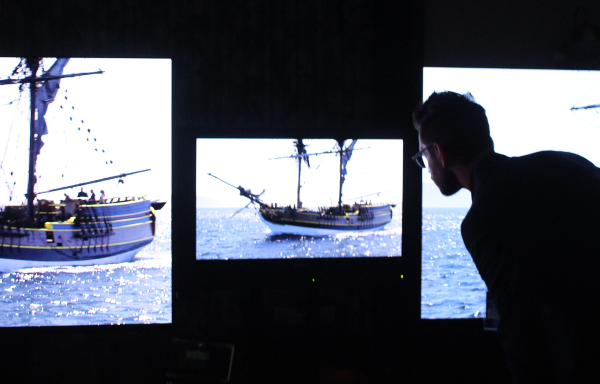 Placed in the middle of the contestants was a 32-inch reference monitor, the Sony BVX310, an LCD that costs nearly $35,000 and has a resolution of 4K. That meant it had to down convert native 8K content during a portion of the stunning 8K TV competition. Jason Dustal, head of training for the measurement equipment maker Murideo, who spent most of his time on the floor behind the TVs switching between test patterns and movie content, explained, "They don't make an 8K reference monitor."
Commenting on the 4K competition, Robert Zohn, president of Value Electronics, who created the TV Shootout in 2004, said: "It's important to stress how close this voting was. The [top] three TVs are seriously very accurate and very close to each other. But one must edge out the others by a little bit. I have never seen in my 18 years of doing this that it would come out this close. So, these really are the three very best TVs in the industry right now. This is by far the best advancement in picture quality that we've seen in probably a decade."
Price is not factored into the evaluation or voting by the judges, Zohn added.
How much something costs, nevertheless, is a consideration for the average consumer. So, the MSRP prices for the 4K OLEDs are as follows: the Sony XR-A95K goes for $3,999; the Samsung S95B, $2,999; and the LG G2, $2,999. As for the LED-LCD TVs, the Sony XR-X95K is $2,499 and the Samsung QN95B is $3,000.
In the 8K category, there was a much wider variation between the two LED-LCD TVs and the OLED model. While Samsung's QN900B TV is $7,999 and Sony's XR-Z9K is $9,999, LG's winning Z2 OLED TV is priced at a whopping $25,000. As for screen size, the Sony and Samsung TVs each measure 85 inches, while the LG is 88 inches.
David Park, senior product marketing manager at LG Electronics, North America, said he was proud that his company's entry had won the 8K category but conceded that because of its price, the set was not for everyone. He expected that 8K OLED technology would be much more affordable within five years.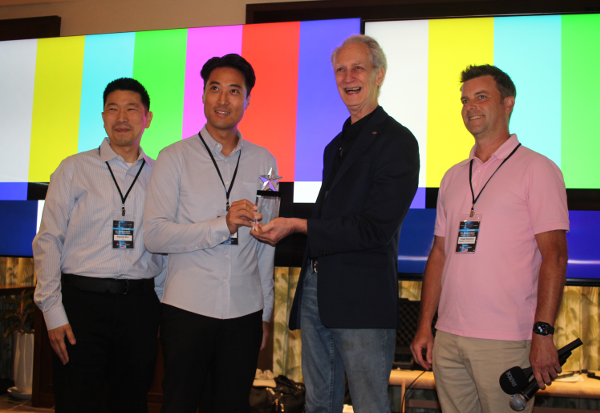 In reacting to Sony's win in the 4K category, Rob Brennan, technology manager for home entertainment and sound at Sony Electronics, said, "We're obviously very thrilled and excited to have a television that's recognized by our peers. Ultimately, the goal we have every year is to recreate as faithfully as possible the intent of whatever content consumers enjoy. To have that validated feels fantastic. Certainly, the competition is becoming more and more fierce every year. The margins are getting razor thin, but we're super thrilled about it."
In remarks after the 4K winner was announced, Zohn said: "It's a remarkable model year to buy a new TV. We're seeing people who [normally] buy moderate TVs going up to the flagship TVs because picture quality is way up, and prices are very reasonable."
8K Beckons
In a panel discussion Sunday afternoon, Murideo's Dustal said he was enthusiastic that the public will soon be getting ATSC 3.0 tuners. [TVs with built-in ATSC 3.0, or NextGen TV, tuners can receive standard HDTV and, where available, 4K Ultra HDTV signals broadcast over the air]. "We'll be able to yank some of this great content straight out of the air," he said. "The picture quality is getting better. The bandwidth is getting higher. The frame rates are getting better. The color gamuts are getting bigger. More pixels, of course. Less compressed color. Higher bit depths. We're getting to a point where we look at a handful of TVs, and they're all excellent. If you think about what happened yesterday [referring to the 4K contest], the spread between first and second place was miniscule. It wasn't like that years ago. There were huge point differences. You really can't go wrong today."
Zohn suggested that people who say they can't tell the difference between high resolution and higher resolution should pay attention to circles and curves in the picture. "The processing in 8K TVs fill in all the pixels in a stunning way, especially when blown up on a large screen." Beyond upscaling, he says, there's native 8K content available on YouTube and even content you can shoot yourself from some cameras and even cellphones.
Recordings of the two-day live stream are available on the YouTube SpareChange channel: Click here for Day 1: 2022 Value Electronics 4K TV Shootout, and here for Day 2: 2022 Value Electronics 8K TV Shootout.
All the competing TVs were professionally calibrated prior to the shootout but will be reset to their factory settings and retested at the Value Electronics store in Scarsdale, NY, according to Zohn. The reason? To judge which manufacturers are most likely to ship models that approach their sets' ideal settings right out of the box.