Solus Audio Entré II Loudspeaker Review Page 2
Associated equipment included a Denon AVR-X7200W A/V receiver, Oppo BDP-83SE universal disc player, Windows 10 laptop, Moon Neo 230HAD serving as USB DAC, Micro Seiki BL-51 turntable, Shure M97xE cartridge, and Denon PRA-S10 stereo preamp serving as phono preamp. The Denon AVR was set to output a full-range two-channel signal (speakers large, subwoofer off). The Oppo was set to default to the stereo soundtracks of multichannel discs.
Not Just All About That Bass
The Entré II is a bookshelf speaker, not a subwoofer, so bass response isn't its only attraction. Thanks to the planar tweeter, it has a wideopen top end that allowed me to shift in my seat without hearing the soundstage collapse. Imaging was solid, and ambience was deep, extending in front of and slightly behind the pair of speakers. Midrange was discernibly warm—not a distortion-induced coloration, but decidedly a voicing-induced personality. My AVR sounded like a tube amp but with better dynamics. And the bass? It was extended but not forceful. The speaker presents it on a silver platter but doesn't bludgeon you with it. Again: a speaker, not a sub.
We might as well skip ahead to the Saint-Saëns Organ Symphony—in this case, with Charles Munch leading the Boston Symphony Orchestra in the RCA Living Stereo recording. If you're worried about the organ's pedals being restricted by LP mastering, this was the HDtracks download (FLAC 176.4/24). The initial entry of the organ, in the first movement, is not a roar but a low murmur, providing a bass counterpoint to melodies rendered mainly by the strings. It was suitably restrained but tangibly present via the Entré II speakers, and as linear as my room would allow; the notes were differently weighted, but none of them slipped away. The anthemic last movement steps up the bass volume, but the thundering low organ notes didn't collapse the soundstage; although the speakers are lower in sensitivity than most we review, they were efficient enough not to unduly tax the top-of-the-line AVR. On the whole, this was as good as I've ever heard the Organ Symphony sound in a demo. The balance and overall feel were just right. The only better experience was live, with the Munich Philharmonic performing in its native hall.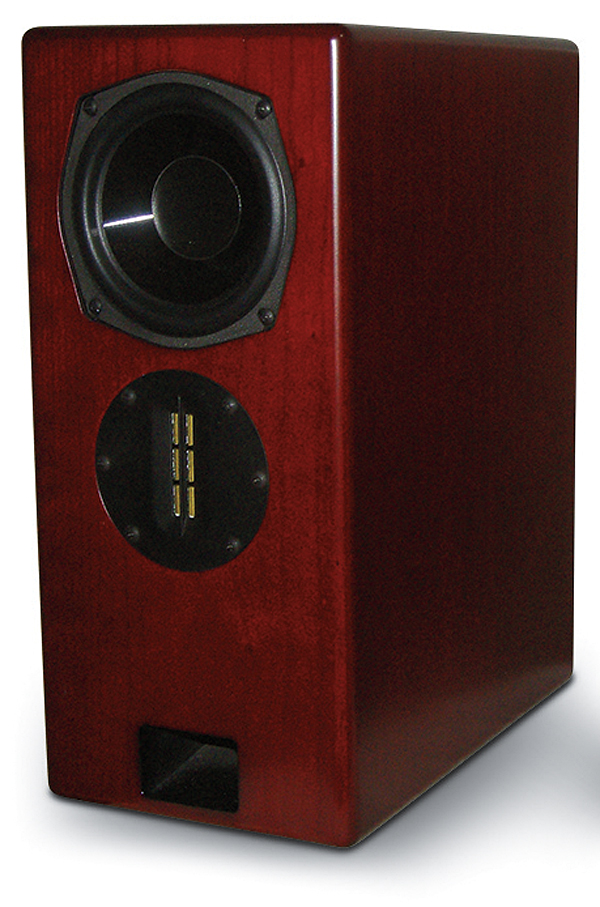 Having recently watched the timpanists during a live performance of Holst's The Planets, I couldn't resist playing the new Chandos release by Edward Gardner and the National Youth Orchestra of Great Britain on hybrid SACD. I didn't need a visual correlative to enjoy the stately timpanic rolls in "Mars, the Bringer of War," but it sure didn't hurt. A more subtle beneficiary of I-PAShd was the solo cello in "Venus, the Bringer of Peace." It was sweet, well imaged, and timbrally natural. Of course, the sorrowing basses in "Saturn, the Bringer of Old Age" were well served by the speakers, but so were the shimmering choral vocals of "Neptune, the Mystic." Again, this was a balanced approach. The bass parts were always in tight proportion to the rest of the music, and every member of the orchestra got some love.
I've had the Dave Brubeck Quartet's Time Out in heavy rotation as a headphone demo track, but here I treated myself to the entire album (FLAC 176.4/24) to get a fix on Eugene Wright's always eloquent but often undermixed string bass—just as I had done in my review of Atlantic's AT-2 speaker. When playback gear has limited bass, Wright's instrument flits in and out. But the Solus pair enabled me to keep tabs on it throughout the album, getting a better sense of its subtle dynamics (soft and softer) and its variations in intonation (which I often felt I was hearing for the first time). And in the drum solo on "Take Five," Joe Morello's isolated bass-drum hits smacked hard, then exhibited a stately decay.
Pink Floyd's Meddle is an album I collect obsessively, and here I randomly chose a U.S. LP pressing (not unlike the one I grew up with and then rashly discarded after buying the first-generation CD). "One of These Days," featuring interlocking bass lines played by Roger Waters and David Gilmour, gave I-PAShd a chance to demonstrate its grip on low-frequency intonation, especially in the aggressive backward-bass middle section. There are also some random bass-drum thumps that evoke a monster pounding on your door. They were suitably menacing; a large and well-tuned sub might have been more forceful, but not necessarily more appropriate. In the sidelong "Echoes," the planar tweeter enabled Gilmour's screaming-seagull slide guitar to wail definitively. It's supposed to be strong and piercing, but it's not supposed to hurt. Mission accomplished.
Solus Audio's Entré II is a well-rounded loudspeaker masquerading as a one-trick pony. It does that trick—producing carefully proportionate amounts of extended bass—handily. Yet it also sings in the midrange and top end, and it can give you the feeling of being in a good hall with an orchestra. Is this the speaker that'll enable you to divorce your subwoofers? For two-channel applications in all but the largest rooms, maybe. Five of these running full-range in a multichannel setup, with a great muscle amp and no sub, might be fun, though I wasn't able to test that theory. If you're running an AVR with action movies at visceral volumes, you might still need one or more subs. This is a speaker for your listening room, not for your home theater in the basement. And in terms of sheer musical pleasure, living with the Entré II was a unique and gratifying experience.