Solus Audio Entré II Loudspeaker Review
PRICE
$1,795/pr
AT A GLANCE
Plus
I-PAShd cabinet design
Planar magnetic folded tweeter
Minus
Bass extended but not slammin'
No matching center speaker
Low rated sensitivity
THE VERDICT
The Solus Audio Entré II is a well-rounded performer whose special attribute is an elaborate bass-enhancing enclosure.
Life has a way of setting us up for disappointment. So we develop a hard shell of skepticism and rote responses: There is no free lunch. You can't get blood from a stone. If it seems too good to be true, it probably is. There's no such thing as an honest politician. Don't order the fish on a Monday. And to that list, add: You can't get big bass out of a small speaker. Little speakers that try to sound big just end up with a bloated bass hump and a turbulent, chuffing port.
I'm not going to argue that Phil Clements of Solus Audio has repealed the laws of physics. But he has tenaciously experimented with ways of channeling pressure within a speaker enclosure to produce unusually extended bass, confounding the expectations of expert listeners. His elaborately ducted cabinet designs are to conventional speaker ports what the human digestive tract is to a pea-shooter. His method of pressurizing and accelerating low-frequency backwaves involves a multichambered structure with painstakingly calculated ratios between the bass driver and cabinet segments.
If you can get big bass out of a small speaker, you might be asking, why haven't other manufacturers done it? In fact, the Hybrid-Pressure Acceleration System (H-PAS) devised by Clements has been licensed by Atlantic Technology for tower, monitor, soundbar, and soundbase models (all of which we've reviewed) and more recently by Monoprice for their budget-conscious K-BAS monitor. Meanwhile, Clements offers two models, tower and monitor, under his own Solus Audio brand. The latter is reviewed here.
Entré I versus Entré II
Phil Clements started designing and marketing loudspeakers in 1976. Since then, he has sold and bought back both the Clements and Solus brands. The Solus line includes in-wall, in-ceiling, and outdoor speakers. For home theater use, he offers a soundbar, a couple of subwoofers, and the Stream AV ($5,995), a desk-size 5.2-channel console that can support Dolby Atmos with 5.2.2 channels if rear speakers are added. But his most ingenious designs are the David tower ($2,850/pair) and the Entré monitor ($1,595/pair). The latter has now been replaced by the Entré II ($1,795/pair), which features a new tweeter and other refinements.
The Entré II is a tall standmount speaker with a slim profile. Its enclosure, finished in either black satin or cherry wood veneer, has rounded edges, making it a pleasure to handle. Behind the tightly attached magnetic grille, you'll find the 5.25-inch woofer on top and the 1.25 x 3-inch planar magnetic tweeter in the center. Below them, unconcealed by the grille, is the 2.25 x 1.5-inch rectangular port. This rectangular tweeter replaces the original Entré's 1-inch titanium dome. In addition to offering excellent horizontal dispersion, the new driver reduces vertical dispersion, for good or ill—possibly the former if ceiling or floor reflections are a problem in your room. The Entré II's woofer also has an upgraded voice coil. It's said to have lower distortion and the ability to play cleaner and louder.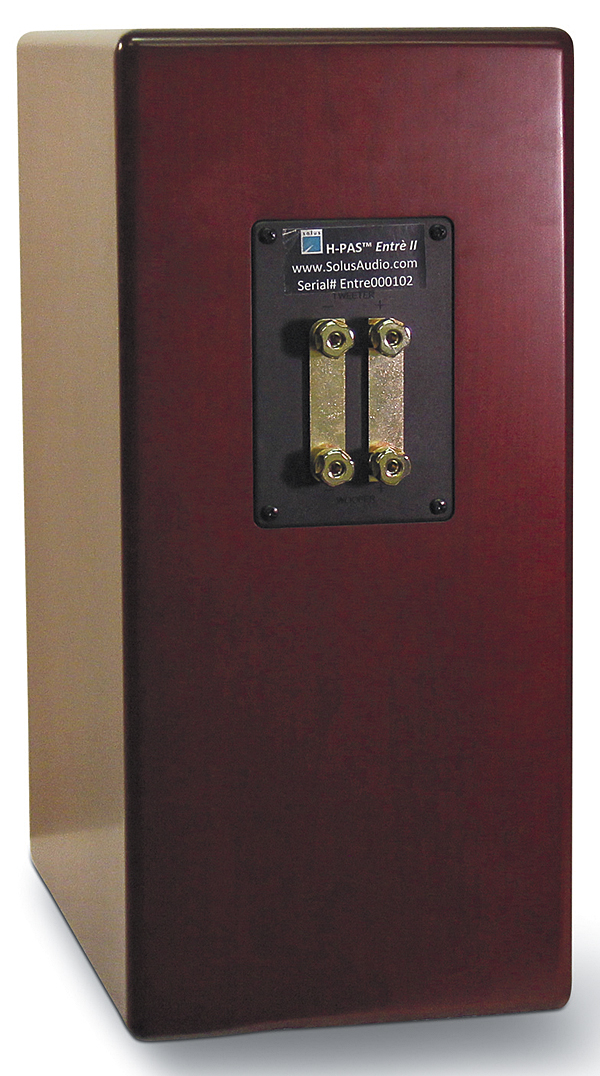 For this speaker, Clements has rechristened H-PAS as I-PAShd. (The original H-PAS trademark is now owned by Atlantic Technology.) Note that the H (for Hybrid) has been changed to an I (for Integrated). The subscript hd refers to the use of an internal chamber Clements refers to as an "acoustic bass trap" (contrary to what most think of as bass traps, which are external room treatments). The benefit, says Clements, is "to reduce shorter wavelengths that represent unwanted harmonics of low and midbass frequencies."
Ask Clements, and he'll tell you that the design is a mix of sorts that relies on a combination of principles drawn from acoustic suspension, bass reflex and/or transmission line, and inverse-horn cabinet designs. In any event, the result is a speaker with rated sensitivity of 84 to 85 decibels and rated frequency response of 38 hertz to 20 kilohertz ±3 dB. Low-frequency response is –3 dB at 38 Hz and –6 dB at 35 Hz. See our Test Bench measurements. [Editor's Note: Our –3-dB number was considerably higher than spec'd, but with some explanation.—RS]