Solo: A Star Wars Story
Solo: A Star Wars Story
is simply a terrific movie. Fans of Harrison Ford's timeless take on the flawed-but-gallant smuggler should rightly rejoice as Han has been handily rejuvenated by newcomer Alden Ehrenreich in this well-conceived "origin" story. We learn all of the things we never knew we wanted to know about him, like where he got his name, his furry co-pilot, and of course the keys to the fastest hunk of junk in the galaxy back when it was shiny and new. To survive in an unforgiving world, he must resort to a life of crime at an early age. But despite the trademark swagger, he's not quite as clever as he thinks he is, and soon finds himself on the run from the oppressive Empire and in deep with a nasty crime syndicate.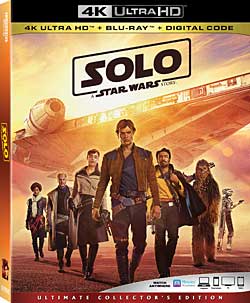 Han believes that one big score will make his dreams come true—and save his neck—so yes, Solo is a heist flick, but one steeped in the classic look and feel of the franchise. Having previously co-written three official Episodes (including two thirds of The Original Trilogy), Lawrence Kasdan is the second most expert expert in this subject matter after George Lucas himself. This time he's created a thoroughly entertaining tale of a descent infused with hope, one that respectfully shines light on an enigmatic good guy who's somehow convinced himself he's the bad guy.
Echoing these dark times in the Star Wars universe, director of photography Bradford Young's cinematography is deliberately murky, with scenes that are frequently shadowy, misty, smoky, or muddy. This restrained use of light is well-served by the 4K/HDR10 presentation, which maintains extremely crisp detail plus punchy colors when appropriate, such as the scenes with dandy Lando Calrissian (Donald Glover). HDR highlights can be very bright, notably the illuminated bits on the Millennium Falcon.
Like most good Star Wars movies, Solo has a kickass soundtrack. I'm not just referring to the music, which includes a brand-new hero theme by the one and only John Williams to supplement the original compositions by John Powell, but the familiar sound effects that help to define this world. The sprawling Dolby Atmos mix uses discrete cues here and there to put us in the middle of the action, with ample low-frequency boom adding to the excitement.
A movie-only Blu-ray is also supplied, along with a a second Blu-ray containing an above-average assortment of featurettes plus deleted scenes.
4K Ultra HD Blu-ray
Studio: Walt Disney, 2018
Aspect Ratio: 2.39:1
HDR Format: HDR10
Audio Format: Dolby Atmos with TrueHD 7.1 core
Length: 135 mins.
Director: Ron Howard
Starring: Alden Ehrenreich, Woody Harrelson, Emilia Clarke, Donald Glover, Paul Bettany, Thandie Newton