Sisu
Writer/director Jalmari Helander's Sisu spins a thrilling, uberviolent work of fiction into something uniquely original by combining two bits of Finnish history — their gold rush plus the Germans' retreat across the country in 1944. A particularly nasty squad of Nazis crosses paths with lone miner Aatami (Jorma Tommila) who is more than what he seems, and when their arrogance and greed incur his wrath, the bodies begin to pile up.
The title is a Finnish word that loosely translates to a sort of superhuman courage, and we soon see that our hero has that to spare. He doesn't talk much, rather the lines etched in his deadly serious face say it all. There's an undeniable purity to the storytelling here, nothing is wasted, and at only about an hour and a half, it's quite tight, undeniably drawing inspiration from John Wick, Jaws and more.
The movie was shot digitally, yielding a 2160p master that's been graded for Dolby Vision HDR. The highlights bring an enticing glow to Aatami's gold, and the entire production looks to have taken advantage of the ample natural sunlight at various times of day, to lovely effect. Patches of color bring life to the bleak landscape, and there's deep red blood... well, pretty much everywhere before the end credits roll. Shadows are wonderfully nuanced, and image detail is excellent, as on the filth clinging to the soldiers' faces. Slow motion shots seem to reveal a slight telltale video harshness.
The 5.1-channel audio is thoughtfully designed, beginning with the impressive phasing of German planes overhead during a camera move, efficiently and realistically incorporating the surrounds. We can only imagine what the mixer could have done with a full Atmos canvas to explore. There's plenty of action here, alive with shouts and wails and gunshots and explosions, powerfully underscored by Juri Seppä and Tuomas Wäinölä's musical score. Atmospherics are generously dispersed across the rears, although low end could have been exploited with greater gusto.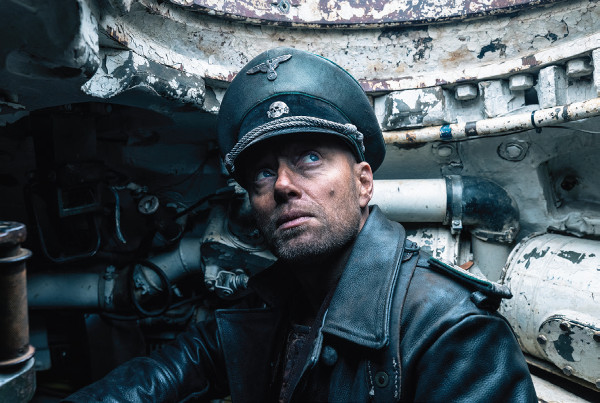 The "making of" segment is comprised of an engaging array of filmmaker interviews, while the visual effects featurette is a testament to the seamless work performed by these artisans. The movie and its extras are spread across a triple-layer BD-100 platter. An HD Blu-ray and a printed code for a single-vendor 4K digital copy are supplied.
Initially released last year and finding its way to our shores this past spring, Sisu could have easily slipped through the cracks but is definitely worth seeking out, especially in Lionsgate's fine Ultra HD edition.
ULTRA HD 4K BLU-RAY
STUDIO: Lionsgate, 2022
ASPECT RATIO: 2.39:1
HDR FORMAT: Dolby Vision, HDR10
AUDIO FORMAT: Dolby TrueHD 5.1
LENGTH: 91 mins., R
DIRECTOR: Jalmari Helander
STARRING: Jorma Tommila, Aksel Hennie, Jack Doolan, Mimosa Willamo, Onni Tommila, Tatu Sinisalo