Shazam!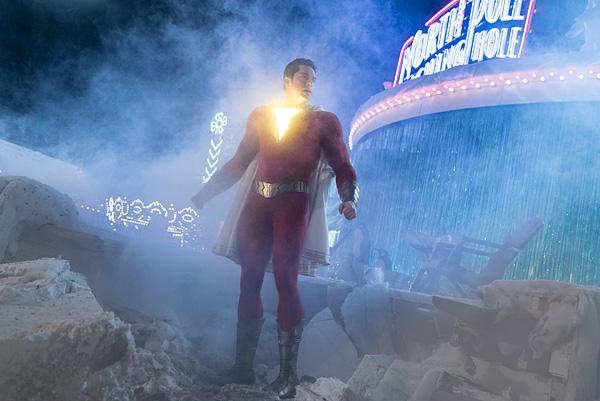 Shazam!
, the latest effort from rival DC, feels clichéd, and not just by superhero standards. Good young protagonists facing adversity, otherworldly forces granting extraordinary abilities, bullies who ultimately get theirs— it's all here.
Shazam!
even borders on outright theft with an end credit sequence straight out of
Spider-Man: Homecoming.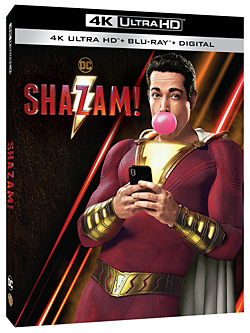 A wizard has been seeking someone pure of heart to carry his mantle and serve as champion, collecting the best qualities of Solomon, Hercules, Atlas, Zeus, Achilles, and Mercury. He settles upon young loner Billy Batson, who, with one magic word and a bolt of lightning, transforms into a dude in a big red suit (formerly known as "Captain Marvel" but...lawyers) destined to do battle with an evil scientist wielding the seven deadly sins themselves. In the plus column, Shazam! is less dreary than recent Superman/Batman outings, and Zac Levi is his usual charming self as "adult" Billy.
Shazam! was captured digitally and has been upscaled for 4K Ultra HD. I noted some telltale video harshness in an early flashback sequence, but mostly the 2.4:1 picture is crisp and clear, revealing strong detail down to the fine texture of the various costumes while occasionally exposing some not-so-special effects. The use of Dolby Vision high dynamic range is just okay until the climactic nighttime carnival sequence where highlights really start to pop: the rides, the Philadelphia backdrop, and, of course, the glowing yellow accents on the crimson costume. This scene is where the film's creative use of color finally impressed me as well.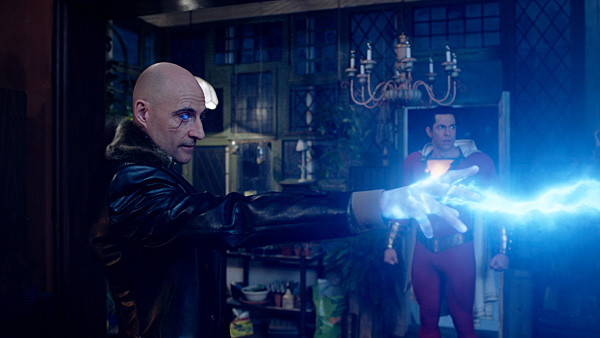 Since magic is in abundance here, there are ample moments of 360-degree surround activity. The various environments are sonically well-established, and when some- thing supernatural occurs, it's typically backed by palpable LFE to enhance the wonder. The action set pieces are perhaps not as grandiose as those in similar movies, but the Dolby Atmos sound mix—here and on the supplied regular Blu-ray—nonetheless renders them in exciting three-dimensional space with plentiful overhead activity. Extras on the regular Blu-ray include more than a dozen deleted/ alternate scenes with director audio intros that offer a glimpse into the challenge of finding Shazam!'s ultimate screen story. Among the featurettes is a more substantive "making of." A 4K Movies Anywhere digital copy includes these same extras.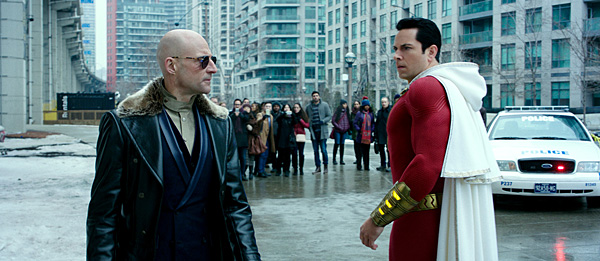 ULTRA HD BLU-RAY
STUDIO: Warner, 2019
ASPECT RATIO: 2.40:1
HDR FORMAT: Dolby Vision and HDR10
AUDIO FORMAT: Dolby Atmos with TrueHD 7.1 core
LENGTH: 132 mins.
DIRECTOR: David F. Sandberg
STARRING: Zachary Levi, Mark Strong, Asher Angel, Jack Dylan Grazer, Djimon Hounsou, Grace Fulton
Marvel has undeniably defined the modern comic book movie universe. As a consequence, much of