Sharp XV-Z2000 DLP Projector
Sharp's XV-Z2000 front DLP projector raised more than a few eyebrows when it first appeared at CEDIA Expo 2004. Was this indeed the first 1280x720 HD2+ DLP projector for less than $5000? If so, it would represent a seismic but long overdue change in DLP projector pricing, which has typically kept the MSRPs of 720p models above $7000—and, by extension, non-competitive with 720p LCD projectors that retail for half of that price or less.
Once the XV-Z2000 arrived at my studio, it didn't take long to figure out why the price was so low. The XV-Z2000 has "simple" written all over it. This is really a bare-bones DLP projector, one with which you should use video signals that have already been processed and optimized. There's no Faroudja/Genesis DCDi chipset, no sophisticated de-interlacing, no fancy processing of any kind. Of course, input signals are de-interlaced and scaled to 1280x720, but these functions are rudimentary with no user controls.
Out of the Box
The XV-Z2000's housing is a sleek design with a minimal button layout on the top cover. The lens has no mechanical shifting options, although it does offer motorized zoom and focus. There are no audio connections because there are no internal speakers.
The connector complement is certainly practical, with one composite and one S-video input, two YPbPr analog component inputs, and a DVI-I jack that serves double duty as a digital interface or component analog input (RGB PC or YPbPr video). If you want to connect analog signals to that DVI-I port, you'll need Sharp's AN-A1DV adapter cable. An RS-232C port for remote control rounds out the connections.
Sharp's remote control is one of my favorites because it has a super-simple button layout, large buttons (and not too many of them), plus direct access to any video input. It has excellent range, too. It also provides direct access to the motorized zoom and focus, image resizing (aspect ratio) adjustments, and five picture-memory presets.
The zoom lens has a focal length of 1.5:1, and it incorporates a substantial—and fixed—vertical picture offset, such that the bottom of any projected image is above the top plane of the projector (about 50% higher than a normal on-axis image). Sharp clearly intends this projector to be ceiling-mounted, and that much lens shift usually gets you around any keystoning problems that can result from such an installation.
Menus and Adjustments
The menus and controls in this projector are reminiscent of older Sharp business projectors. You'll find the usual image tweaks (contrast, brightness, color saturation, hue, and sharpness; what I like to call the "Big 5") and some extra bells and whistles. Three pre-set gamma curves are included and identified as Cinema 1, 2, and 3. (No, you can't adjust them.)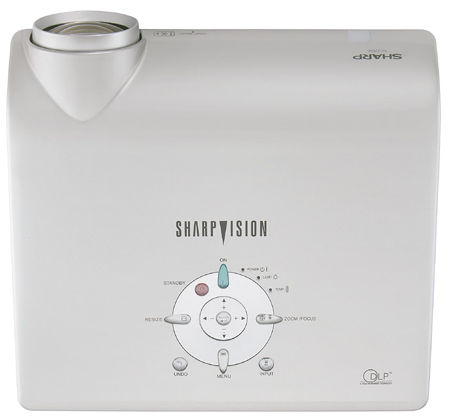 There are also six different color-temperature presets to choose from, and some of them are head-scratchers. D5500, D6500, and D9300 (PC) make sense, but why would anyone want D7500, D8500, and D10500 white-balance presets in a home theater projector? You can fine-tune the grayscale tracking with any of these presets, but only overall red and blue gain controls are provided; there's no green channel gain control, nor are there separate adjustments for the top and bottom of the brightness range.
There are also several brightness modes. Sharp has incorporated a two-position iris into the XV-Z2000. In High Brightness mode, the iris is wide open. In High Contrast mode, it reduces the light output by about 25%. Two other settings further affect the brightness: Economy mode and Bright Boost. The former affects the lamp's light output, while the latter engages a white segment in the color wheel by activating the DMD as that segment passes by. (If Bright Boost is turned off, the DMD shuts off during the white segment's transit.)