Seen at CEDIA 2010 Page 4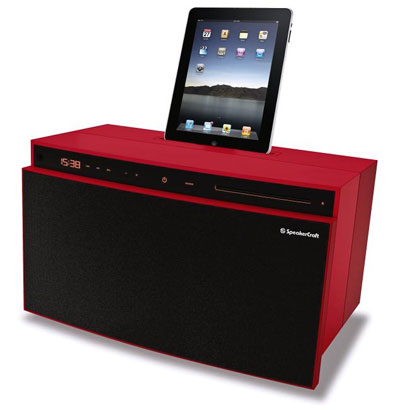 It's a Pad, Pad, Pad, Pad World
The industry has embraced the iPad in short order. Not only does an iPad offer more screen real estate than all but the largest (and most expensive) touchscreens, it has shattered pricing barriers and opened up high-end control options to an entirely new market. Apps are already available for virtually every control system, including Savant, Crestron, Control4, AMX, Elan, and HAI. And new on-wall, in-wall, and tabletop docking solutions only add to the iPad's ascension.

SpeakerCraft president Jeremy Burkhardt said he was so "blown away by how amazing" the iPad is that he decided to stop development on a touchscreen controller for the company's upcoming Nirv system. SpeakerCraft revealed its new FloBox ($999), FloBox Mini ($399), and Vital 250 ($699) iPad docking audio systems at the show. The FloBoxes are all-in-one models, while the Vital 250 allows customers to add their own speakers and sub to the package. Also cool is that these models can tie into and become part of a housewide SpeakerCraft audio system. Added Burkhardt, "There's an entire generation that's missed out on high- performance audio reproduction because of MP3 music delivered through cheap headphones and mediocre electronics. We want them to experience a room filled with sound that completely changes their opinion of what music can sound like."

Crestron's ingenious iPaneL ($575; available in early 2011) makes the iPad an even better controller than it already is. Along with the iPaneL is a frame that transforms any iPad running the company's Mobile Pro G app into a full touchpanel controller by adding 13 easily accessible hard buttons for tasks such as volume up/down control and menu/guide navigation.

VidaBox demonstrated its new, very sexy-cool-looking v.Automation 2.0 system for its VidaBox LiivController ($2,500; available in early 2011). This iPad-friendly system offers eight audio zones, a terrific GUI for A/V system control, and automatic integration with VidaBox's existing lineup of media servers.