Working With a Custom Installer, Part 1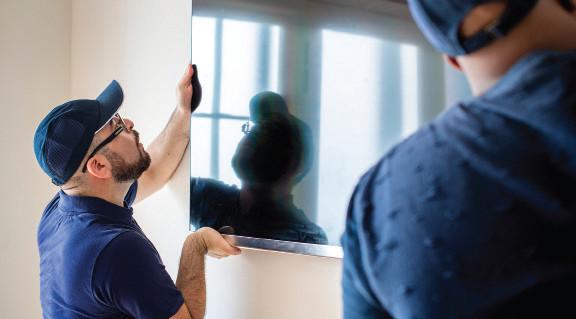 As the old saying goes, "The more things change, the more they stay the same." Throughout my years as a custom installer, I routinely encounter some of the same client-related issues. A lot of it boils down to people being new to working with an installation company and not understanding our process or what we'll be doing, but other things crop up even with people we've worked with for years.
If you're looking to hire an installer for a job — or really have any trade come and work in your home — here are some suggestions for making the project go smoother for everyone, starting with things you should do and be aware of leading up to installation day.
TIME IS MONEY. Installation is often billed by the hour, so if you have several installers standing around waiting for an answer or trying to find something, you're wasting money. Whatever you can do to proactively speed up the process to make it faster/easier for them will also make it cheaper for you.
DON'T DISAPPEAR. Everything goes smoother when the client is there. Inevitably there will be questions about the project when the crew is on site, and you will probably want to be shown how everything works when they are done. Being there and available to answer questions — not locked away on a phone call — is always a plus. While this might seem obvious, it is probably one of our biggest issues.
SEND PICTURES. If a site visit isn't possible, sending pictures is often the next best thing. Doing so will give the crew a good idea of what to expect and avoid surprises by making sure they arrive with the parts and tools they need to complete the job. Pictures can also prompt important questions like, "Is there power nearby?" or "Is that cabinet big enough?" or "Are they going to want to connect that device?"
UNDERSTAND THE SCOPE. Make sure you have a clear understanding of the scope of work that is being performed. Something "simple" like a TV installation can be complicated by expectations such as "I need it wired to my surround system" or "I want to be able to pull this TV out 30 inches from the wall." Also, sentences that begin with "I thought…" or "I assumed…" most likely mean something needs to be clarified, and if you have special requests or important "will I be able to do this?" questions, address these things up front.
BYO GEAR. If you are providing any gear — especially if it has been used previously — confirm that it works before the techs arrive, especially if it's a component that has been packed, moved, stored, and shipped. Over the years, we've encountered broken TVs, devices that won't power up, components missing crucial cabling or parts, or just the wrong piece of gear. Also, make sure your BYO gear is unpacked and available. I can't tell you how many times we've been told a crucial component is packed away in a box somewhere, on a moving truck, or at another location, meaning someone has to go and get it.
ADDRESS THE HOT BUTTONS. If there are any hot-button issues between you and your significant other — such as where something is going, the size and look of speakers, the mounting height or location of a TV, etc. — get these things sorted out before we arrive. It is super awkward to have a couple actively bickering about particulars of the installation while we are in the house, so please don't put us in the middle of your argument. While you want us to do our job quickly and efficiently, you don't want us to feel like, "We need to get the heck out of here!" and rush to finish the job. Nothing good can come of that.
CLEAR THE SPACE. While techs are generally okay with having to move a few things out of the way to get to where they need to work, we're not furniture movers. If there is anything extremely heavy or delicate, like a China cabinet or a treasured painting, having it moved out of the way prior to our arrival will be appreciated. Also, while we understand that moving can be chaotic, if a room we're working in is cluttered with boxes and stuff, it's going to slow down the process. Again, you know the old saying: time is money!
CANCELLATIONS. We get it; things happen and sometimes a cancellation is unavoidable. We've received day-of "someone died and I had to leave town" calls more than once and that is certainly not something anyone can plan for. But if you have to cancel, do so as early as possible. Most companies have a tight schedule, so having a crew load up a van with equipment and drive to your house only to find that you aren't ready — or there — really wrecks everyone's day.
Next time, I'll discuss what to expect on the day of the install.
The Author
For the past 20 years, John Sciacca has worked as a custom installer in South Carolina. In his free time, he enjoys drinking craft beer and watching movies on his 7.2.6 surround system.