Big-Screen Duality: A 2-in-1 TV/Projection Solution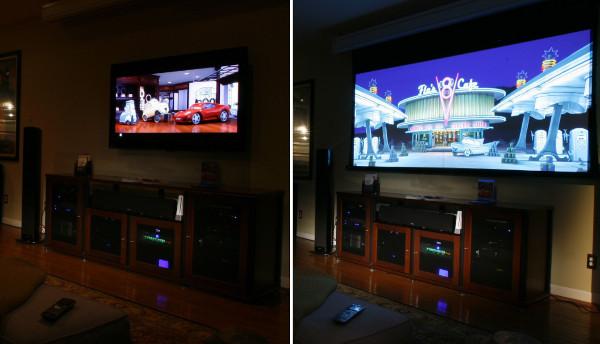 When I began this series of columns earlier this year, I had no idea it would turn into a four-part, treatise on the evolution and current state of choosing a big-screen TV for your media room or home theater. For those who have hung with me, a sincere thank you, and I hope you found the journey worthwhile!
For the rest, here's a lightning recap of those previous columns to catch you up. Part one, Big Screen Decisions, dealt with the emergence of larger and more affordable big-screen displays and recent advances in performance that have resulted in 85-inch-and-larger sets being not only affordable but commonplace. Part two, Big Screen Design: You've Got to Hide Your Screen Away, discussed ways to incorporate these new giant flat-panel displays into your room and offered tips on how to avoid having a décor-killing black-hole up on the wall when the TV's not in use. Part three, Big Screen Dilemma: TV or Video Projector?, addressed the seemingly eternal quandary of whether a direct-view display or a projection system is the right choice for you.
Concluding this tetralogy, I am going to address two additional solutions that straddle the divide between wanting a fantastic, cinematic experience in a non-dedicated/light-controlled room — options that don't require the wallet melting budget you would need to buy a new MicroLED video display like Samsung's The Wall or Sony's Crystal LED.
Option 1: The Dual Display
This solution is close to my heart as it's what I did in my home 14 years ago and I've never regretted it! Say you're like me; you're dead-set on having a large, cinematic sized experience, but just don't have a room for it. In my case, a large family room totally open to other rooms with an entire wall of windows. Going with a dual display system — a large, direct view TV for regular "day" viewing and a separate cinematic projection screen that rolls down for event viewing — gives the best of both worlds.
In my home, I have a wall-mounted 65-inch OLED that is used for 90% of our viewing. It is bright enough to compete with ambient light during the day and big enough for an enjoyable movie experience, but not so big that it dominates the wall. But, when we want to enjoy a movie at night or host an event like a Super Bowl party, we have a video projection system with a motorized 115-inch screen concealed behind a valance that rolls down in front of the OLED.
The projection experience always feels more special and cinematic because of the significant jump in screen size. Further, having a "regular" display means I don't sweat lamp hours on my projector or power cycling if my 6-year-old wants to watch YouTube, my 15-year-old wants to play Xbox, or if I just want to flip on the set to check the news or weather.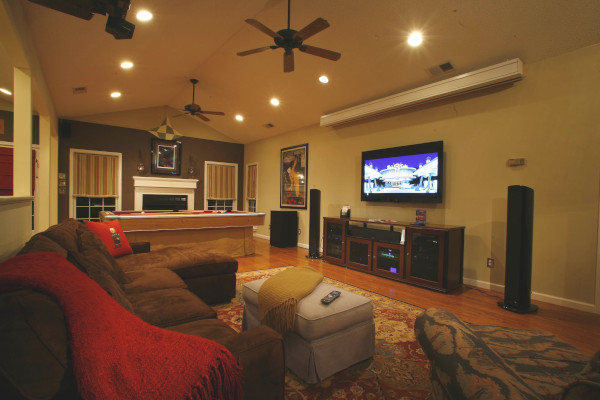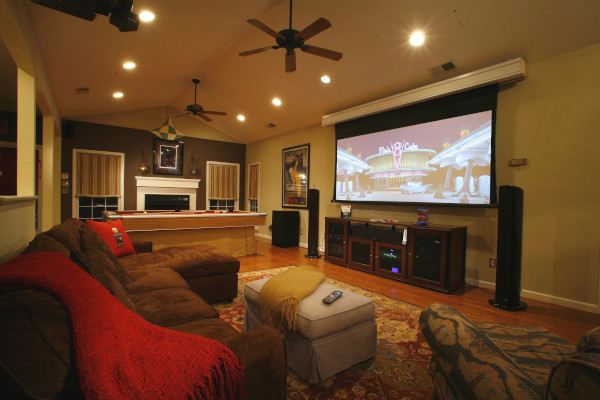 Another bonus with this option is that you only need one audio setup for both systems. So instead of having to double your audio budget to assemble two systems — or seriously compromise one of the two — you can invest in one really good system and enjoy the best sound regardless of which display you're using. Of course, having a receiver or processor that can handle dual display outputs (preferably both in 4K HDR) greatly simplifies connections and operation and, fortunately, it's a feature that's becoming more common.
The downside, of course, is you are buying two video displays. But, for those want to have their cake and eat it too, it's a terrific option. To quote Ferris Bueller, "It is so choice. If you have the means, I highly recommend picking one up."
Option 2: Ultra-Short Throw Projection
Ultra-short throw (UST) projection is a relatively new option in the world of home theater, but one that has been steadily gaining traction. And with well-known projector manufacturers such as Hisense, Samsung, LG, Sony, BenQ, Epson, Optoma, and Xgimi offering models, there are plenty of price and performance options to choose from, including cutting-edge features like high-dynamic range (HDR) and powerful laser-light sources.
UST projectors have specially designed optics and lenses that enable them to project a 100-inch (diagonal) or larger image from a position that is very close to the screen — usually less than a foot away. In a typical setup, the projector sits below the screen and fires nearly straight up. To maximize picture quality, UST projectors are often paired with a screen that uses a special type of ambient-light-rejecting (ALR) material with a lenticular surface to ensure a bright image, even in sunlit rooms with no light control. The screens usually have lower gains (below 1.0) to avoid hotspotting and tend to deliver nice black levels. Higher performing specialty screens are also available and include Stewart Filmscreen's BlackHawk UST and Screen Innovations' Short Throw.
Because of the unique installation, A/V cabinet manufacturers have developed innovative options that open up some unique and exciting possibilities. Salamander Designs, for example, has cabinets built to work with specific UST models that conceal the projector and all of your electronics in an attractive piece of furniture. Aegis AV takes this idea one step further with its highly configurable Andromeda solution that conceals everything — including a motorized projection screen up to 120 inches diagonal — in a customizable cabinet.
And for those wanting to eliminate as much wall clutter as possible, companies like Vividstorm and Elite Screens have developed motorized screens that rise up from the floor. A screen up to 120-inches (diagonal) with tab-tensioning to ensure a flat viewing surface, ascends magically like a genie, ready to grant your wishes for a terrific theater experience, and then disappears when the movie is over!
The Author
For the past 20 years, John Sciacca has worked as a custom installer in South Carolina. In his free time, he enjoys drinking craft beer and watching movies on his 7.2.6 surround system.