Evolution of the App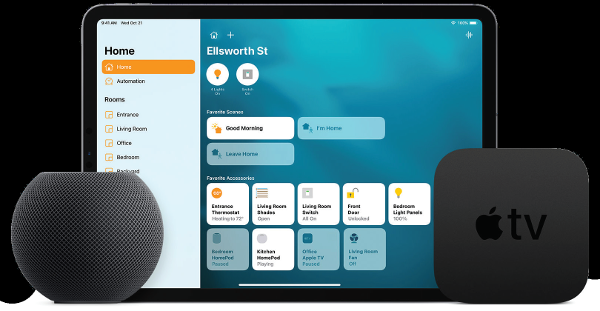 The introduction of the iPhone in 2007 — or, more specifically, Apple opening its App Store to third-party developers in 2008 — turned out to be one of the most consequential developments ever to hit the home automation market. I remember seeing an iPhone control a home entertainment system for the first time at the CEDIA tradeshow in 2008. It was mind-blowing to watch this small, handheld device being used as a full-blown system controller to operate all manner of equipment. Noting that A/V control wasn't even its primary function, and that it cost hundreds (even thousands in some cases) of dollars less than the dedicated touchscreen controllers home automation system manufacturers were selling at the time, it became clear to me that this was a game-changing technology that manufacturers needed to embrace.
Now that tablets, smartphones, and even smartwatches have become ubiquitous, app-based control is growing exponentially, and so is the number of smart devices that can be controlled. And since most smart devices offer networked communication, you'll get the same access and information whether you're at home, outside your home, or traveling around the globe.
Here are some key categories where app-based control has made an impact.
Music Streaming
With an almost unlimited library of music available from services like Tidal, Qobuz, Apple Music, Spotify, Pandora, and others, you'll never want for something new to listen to, and chances are you've got at least one streaming music app on your smartphone. You can use Bluetooth, AirPlay, or Chromecast to wirelessly send that music from your device to a capable speaker, A/V receiver, or TV. And to hear it in multiple rooms, products from brands like Sonos and Bluesound, and others that support protocols including HEOS and Play-Fi, offer terrific whole-house distributed audio solutions encompassing powered speakers, soundbars, and other components, all with intuitive control apps that make it easy to select music and choose where to play it.
System Control
Instead of hunting for a remote control, you can navigate menus and adjust settings with your smart device. AVRs offering app-based control let you adjust volume and channel levels, switch inputs and surround modes, and much more. I frequently pull up my Marantz pre-pro's AVR Remote app to check which surround mode is active and adjust the volume level of my Atmos overhead speakers. Streamers like Apple TV, Roku, and Amazon's Fire TV Stick can all be controlled from your phone, with the benefit of the phone's onscreen keyboard for fast searching.
A subwoofer might not seem like a "smart" device, but companies like SVS, Paradigm/MartinLogan, and Bowers & Wilkins are in the app-game as well. Using an app to control your sub is surprisingly beneficial, letting you make level and EQ tweaks from your seat so you can easily assess the effects of any changes.
Energy
Have you ever left home and then wondered if you left the lights on? Or wish you could turn them on as you pull up in the driveway so you don't have to enter a dark house? What about checking the temperature inside your home during a hot or cold spell to confirm that the pets are okay? These are just a few functions app-controlled lights and thermostats make possible. Both product categories have expanded to the point where you can now find them in the aisles of stores like Lowe's and Home Depot, and they serve as great smart home control entry points since they can typically be DIY-installed.
Apps let you create schedules, turning lights automatically on/off at certain times like sunrise or sunset and adjusting the temperature to save energy overnight or when you're not at home. Smart thermostats can also be set to send out push notifications. For example, mine is set to send out a notification if the temperature drops below 60 degrees or rises above 80, thus alerting me to a likely problem. To really get an idea about energy consumption, consider a monitor like the Sense, which analyzes use at the electrical panel in real-time and identifies energy hogs around the home.
Security
Security devices like smart doorbells, surveillance cameras, and door locks have also exploded with the Internet of Things. These make it easy to check on your home from anywhere in the world and provide a record to share with authorities in the event of a problem. Many monitored alarm systems also offer app-based control, letting you not only arm/disarm the system, but also see a history of all sensor activity. One of the most widely used security apps is Alarm.com, which can also integrate with and control other devices like thermostats and lighting.
App-based control is a fantastic development, but with most devices requiring their own control apps, they can generate app-bloat on your phone. For my next blog, I'll discuss how automation systems manage all of these sub-systems under one umbrella, making it easy to get all the devices in your home working together.
The Author
For the past 20 years, John Sciacca has worked as a custom installer in South Carolina. In his free time, he enjoys drinking craft beer and watching movies on his 7.2.6 surround system.