Creating an Audio Oasis in Your Backyard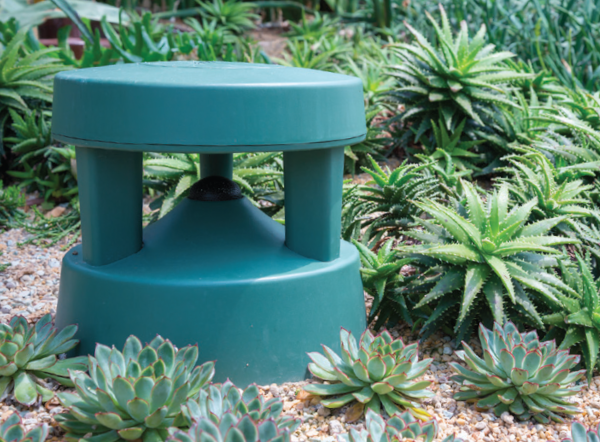 When you think of "entertaining" with your AV system, chances are the first thing that comes to mind is your home theater or media room. And while having friends over for dinner and a movie is a great use of your system, it's really just the tip of the iceberg.
While distributed audio and video systems, along with killer automation can make for a fun and entertaining home, it's important to remember the spaces outside your walls, and that when it comes to summer and fall entertaining, the outdoors often sees the most action.
Nowhere is outdoor entertaining more prevalent than the backyard. This is where barbecues happen, where lounging by the pool happens, where hanging out with some cold ones around the grille happens. If there's gonna be a summertime party, chances are it's going down in the backyard, and that means you'll need some A/V gear that's up to the task.
But beyond just the vague "backyard," now we have gazebos, outdoor kitchens, fire pits, outdoor dining areas, and other elaborate spaces that make entertaining in the great outdoors even greater. And while there are a ton of great options available for making these spaces more fun, adding A/V to the outdoors is a different animal. First, you are dealing with elements like sun, water, humidity, wind which can affect system performance and longevity.
You also have much larger and open spaces that don't do so well at containing the sound and concerns like bothering neighbors are far more real. With that in mind, here are some things you need to consider to make sure your outdoor audio system not only performs up to expectations, but that it will last more than a single season!
Backyard Audio Options
While there are tons of different system configuration possibilities, there are basically three tiers to outdoor audio: Portable/temporary speaker, rock/surface mount speakers, and a landscape audio system.
At a minimum, your outdoor audio should include a portable speaker like a Sonos Move or a JBL Flip 6. These splash-resistant, battery-powered speakers can easily be carried around to provide decent tunes for a small area. Also, since you'll be Bluetooth-ing to it from your phone, there aren't any wiring concerns, making it a fast and easy solution. But the sound really isn't that impressive or useful for group listening, and we Sound & Vision readers should definitely aim a little higher.
With outdoor audio, one simple rule of thumb is, "More is better." More speakers, more wattage, more coverage. The tricky thing with outdoor audio systems can be the wiring, as nearly any system requires speaker wiring pulled from each speaker back to electronics that should be kept in a weatherproof and climate-controlled area. (Pro tip: Pull any landscape audio wiring in conduit if possible, as it will save you from weed-eater accidents, and use wiring with a direct burial rated jacket.)
A "simple" outdoor audio system consists of a source, say something capable of streaming like a Sonos Port, and an amplifier. By adding a speaker selector, you can easily (and safely) connect up to six pairs of speakers to one two-channel amp allowing you to easily expand the system. For better sound, you could step up to a multichannel amplifier that would deliver more power to each speaker.
With the above and some porch mounted all-weather speakers coupled with some rock speakers around the pool or yard, you'll enjoy decent audio, volume, and sound quality throughout the listening area. This is also a permanent solution designed to live outside year-round. And unlike portable speakers, there are no worries about misplacing them or charging their batteries. (Another Pro tip: With speakers often spaced wide apart, mono is often better than stereo for outdoor areas. Try sending every speaker the same mono signal and it often results in better overall sound.)
Despite the merits of these systems, they still have limitations, such as lackluster bass performance and uneven sound coverage that can be too loud in some spots and too quiet in others.
For the premium in outdoor audio, you'll want to step up to a landscape audio system. Available from a variety of manufacturers like James Loudspeaker, Sonance, Klipsch, Origin Acoustics, and Ambisonic Systems, these systems offer the most impressive outdoor audio solution available. By combining multiple speakers (usually a minimum of eight) that resemble landscape lighting and often placed discretely amongst landscaping, along with in- or above-ground subwoofers, these systems provide even sound coverage throughout a large area, while also delivering actual bass.
A well-designed landscape audio system can remind you of an outdoor amphitheater experience in your backyard, with full-range sound that seems to come from everywhere. Also, due to the nature of these systems, they are very scalable, letting you add speakers and subwoofers as needed to cover even the largest areas. And since all the audio is focused back towards the listening areas — and not firing out towards your neighbors — you are also far less likely to bother anyone should the party get a little too festive. In my next blog, I'll explore ideas for outdoor video systems and discuss factors to consider when combining audio and video for an immersive outdoor theater experience!
The Author
For the past 20 years, John Sciacca has worked as a custom installer in South Carolina. In his free time, he enjoys drinking craft beer and watching movies on his 7.2.6 surround system.