You've Got to Hide Your Screen Away
My
previous post
dealt with the emergence of larger, more affordable big-screen displays in recent years. A flat-panel TV larger than 80 inches used to be a luxury purchase, but today they are commonplace. For example, just last week I saw someone wheeling around an 83-inch LG OLED TV on a cart…at Costco! You can now also buy a 98-inch Samsung or a 100-inch Sony LCD TV at Best Buy. For someone who sold one of the first plasma displays — a 60-inch model from Zenith — for just under $18,000, all I can say is, "We've come a long way, baby!
Of course, technology never stands still, and since I wrote that blog CES 2022 brought about even more changes. Whether it was LG's 97-inch OLED and 136-inch MicroLED, Samsung's expanded range of MicroLEDs, or TCL's ultra-slim 85-inch 8K Mini-LED, the show was filled with larger displays featuring new technologies capable of delivering pictures that would shame your local cineplex.
But no matter how large and thin these screens get, or how good they look while you're watching, you'll still have the equivalent of a giant black hole on the wall when they're turned off. For people looking to install a big screen in a non-dedicated room where they don't want the TV to be the focal point, that situation can pose a serious design challenge. Fortunately, there are solutions!
Digital Canvas
Instead of trying to hide the screen away, why not embrace and use it? If you keep up with the latest art world trends, you're likely familiar with NFTs, aka non-fungible tokens. NFTs provide a platform to trade unique, content-protected digital files like photos or videos where the ownership and authenticity can be verified. Some high-profile NFTs have sold for millions of dollars. People who purchase these files want to view them in the highest possible quality, which has premium display companies like Barco embracing the idea of producing digital canvasses dedicated to displaying works of art.
Of course, you don't have to dabble in NFTs to turn your TV into "art," as all modern flat-panel sets have the ability to display high-resolution images. But certain models from Samsung, Sony, LG, and Sony provide picture modes like Ambient, Art, and Gallery that display content when the TV is "off," with built-in sensors in some cases used to automatically adjust screen brightness in response to changing room light. Satellite service provider Dish even launched a Gallery channel that displays a non-stop, revolving stream of nature scenes, fine art, and original images on its customers' TVs.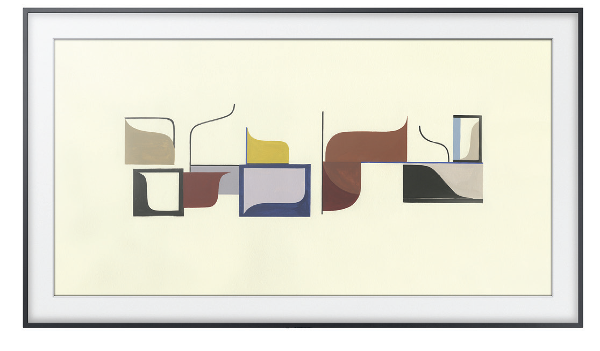 Frame It
One way to make a TV look less like a TV is by making it look more like a work of art. Perhaps the best known example of this solution is The Frame from Samsung (shown in opening photo and now available in sizes up to 85 inches), which was designed with equal emphasis on how the TV looks when turned off as when on. The Frame TVs can be customized with a wide range of bezel finishes and custom "digital mattes" can be added when a photo or artwork is displayed. Of course, the set also functions as a regular smart TV, switching to displaying 4K/HDR video at the flick of a button on the remote.
Cover It
To display art on regular TVs, you could use something like the Edge Media Frame from Leon Speakers. The frame is available in a variety of wood finishes to give the display a finished look that better blends with your decor and will accommodate a soundbar. But the screen will still be visible when not in use with this solution. To solve that, companies like Media Décor — a division of Leon — and Vision Art Galleries offer frames that conceal the display behind actual art. Offered in a variety of styles, these are custom-fabricated for each TV and display high-quality giclée print artwork when the set isn't in use. You can even supply your own image. When it's time to watch, the art rolls up and disappears inside the frame.
Lift It
Whether you want to tuck it under a bed, slide it into a wall, conceal it behind artwork, pop it out of the floor, drop it out of the ceiling, or raise it out of a cabinet, if you want to hide away a TV on-command, custom lift manufacturers like Nexus 21 and Future Automation can easily design and build something that meets your needs. Having visited Future Automation's factory in Bedford, England, I can assure you the company designs and manufactures truly bespoke TV lift solutions, and there is virtually nothing they can't automate.
Roll It Up
Another big-screen option that won't detract from your home's decor is LG's new Signature OLED R "rollable" TV. Yes, the screen here is "only" 65 inches diagonal, and yes, this technological marvel will currently set you back six figures. (I didn't say that these TV-concealing solutions would be cheap!) But, if you have a gorgeous all-window view of the Manhattan skyline or of glorious sunsets over the Pacific Ocean, then maybe it's a trade-off worth making. With a screen that completely disappears inside of a stylish, sculptural casing when not in use — or rolls up into a minimalist "Line view" for music, artwork, or other "mood" displays — the Signature OLED R absolutely makes a statement but remains completely discreet when not in use. Its price may be prohibitive today, but LG's rollable TV points the way toward what is possible, and what type of TV designs we can expect to see in the future.
The Author
For the past 20 years, John Sciacca has worked as a custom installer in South Carolina. In his free time, he enjoys drinking craft beer and watching movies on his 7.2.6 surround system.