Samsung QN95C 65" 4K Neo-QLED TV Review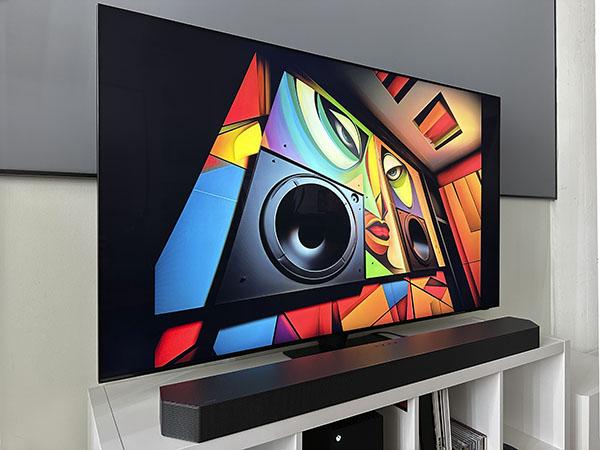 PRICE
$3,300
AT A GLANCE
Plus
One of the brightest TVs you can buy
Deep gaming functionality
Relatively wide viewing angles
Mounts flat on a wall
Excellent cable management
Minus
65" model is pricey
Still no Dolby Vision
Quantum-dot OLED has its own charms
THE VERDICT
This sublime ultra-premium multi-use 4K TV has a modern minimalist design and delivers impressive imagery thanks to the use of mini-LED, quantum dots and advanced picture processing. Its premium performance comes at a price but it delivers the goods when it comes to image fidelity.

For the past ten years we've watched 4K LCD and OLED TVs compete in the wake of plasma's demise. There was the death of 3D. And for a while, we even had curved screens to contend with. At first OLED had a distinct picture quality advantage over LCDs, thanks to its use of emissive pixels that can fully shut off individually and deliver true blacks. However LED-lit LCD keeps evolving and keeping pace while offering a different set of benefits.
Samsung's name for mini-LED FALD LCD panels featuring quantum dots is Neo QLED, with the QN95C being the king of the 4K Neo QLEDs. This type of TV employs a transmissive LCD panel. These TVs are capable of very high brightness, with double or even triple the light output of what OLEDs can achieve. They rely on the modulation of the backlight array to render deeper blacks than the panel's native contrast allows.
Although FALD backlights yielded imperfect results for many years, the introduction of mini-LED FALD arrays with hundreds or even thousands of zones—combined with improvements in processing—has revolutionized the field.
The results speak for themselves, with this TV you get both deep blacks and brilliant highlights. The intensity can be blinding! Of course the hardware has a lot to do with it. But the processor also contributes by optimizing picture quality and maximizing color fidelity. In culinary terms, the hardware is the ingredients needed to make an exceptional dish, while the software is the chef's expertise in delicately balancing and harmonizing flavors.
The QN95Cs capabilities do not come cheap. But it's worth remembering the way things work with TVs, especially premium models. Historically speaking when they first launch the prices are considerably higher than the sale price on Black Friday. This is why you can still pick up its predecessor—the QN95B—for half the price of this TV. That economic reality is no different than any other year; you have to pay a premium to be an early adopter. But with a bit of patience you can also count on the annual pricing cycles to work in your favor.
Features
This review covers the 65-inch version of the QN95C. It is also available in 75-inch and 85-inch sizes. It comes with a pedestal stand. To maintain its slab-like, flat and slim profile, this TV relies on efficient and clever cable management. It builds on the looks and accomplishments of 2022's QN95B model and sports what Samsung refers to as the Infinity One Design.
It is wall-mountable and sits nearly perfectly flush with a wall due to its flat back panel.
Support for HDR includes standard HDR10, HDR10+, and HLG. As has always been the case with Samsung, Dolby Vision is nowhere to be found. Instead Samsung offers its own dynamic tone mapping feature that users can toggle on or off. Also, with HDR, it's worth noting that powerful TVs, like this one, can achieve very high peak luminance. As a result, tone mapping becomes unnecessary for the vast majority of content. Therefore the benefit of dynamic tone mapping—fitting the peak brightness within the capabilities of a particular display—essentially becomes irrelevant.
But with great brightness comes great responsibility to prevent artifacts. Samsung calls its mini-LED FALD technology "Ultimate UHD Dimming Pro" and this is what sets it above the QN90C, which is missing the "Pro" designation.
Samsung leaves nothing on the table when it comes to gaming. With its HDMI 2.1 inputs this TV offers variable refresh rate at speeds up to 144Hz, even in 4K. This is above and beyond the 120 Hz QN90C. The result is ultra-low input lag and incredibly smooth performance that takes full advantage of not only the latest gaming consoles but also whatever graphics a high-powered gaming PC can dish out.
Software algorithms challenge hardware advancements in improving picture quality. Samsung's Neural Quantum Processor 4K handles various picture processing tasks such as noise reduction, motion interpolation, tone mapping, and color correction without missing a beat.
For audio, you get Dolby Atmos support as well as Samsung's Object Tracking Sound+ which use an array of speakers located on each side of the rear panel and six ultra-slim woofers arranged in a row near the bottom of the rear. You also get Samsung's Q-Symphony feature that allows the TV to become one cohesive system when used with compatible Samsung soundbars like the 11.1.4-channel Q990C ($1499) featured in this review.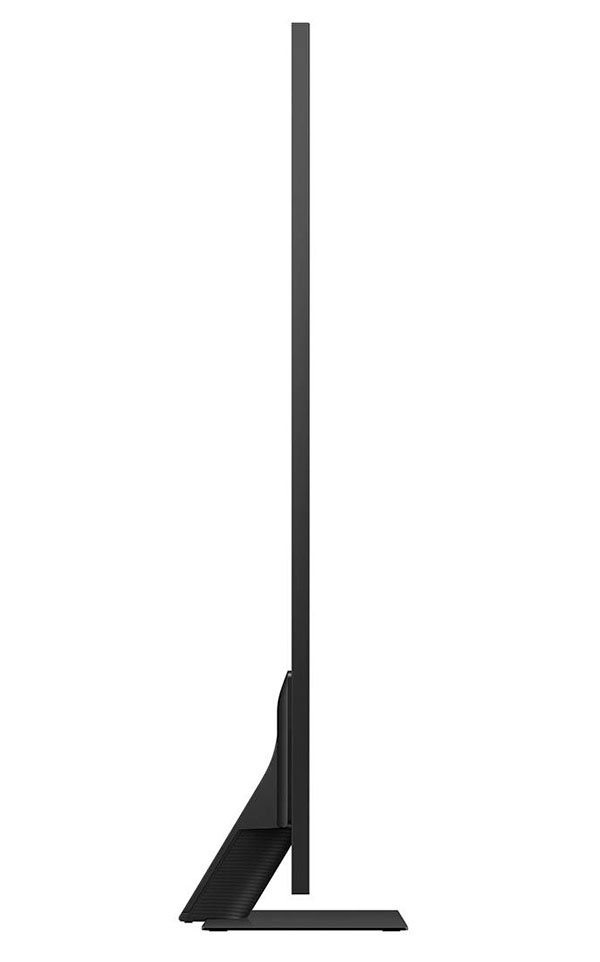 This TV's smart feature set is incredibly deep. It can stream movies, shows and even live TV in 4K HDR. You can also pair a gaming controller and stream video games.
Setup
Setup is typical for a Samsung TV. Assembly is pretty easy and once together, you are best off using an app to get online. Once connected there's a ton of smart features to dig through along with too many adjustable options to list here.
The main thing to do with any TV when you first get it is to choose an optimal primary picture mode. And with Samsung the two non-gaming modes of note are Movie and Filmmaker. Both modes are highly accurate without any further adjustment. I find Filmmaker mode to sometimes be a little too conservative, and that the Movie mode presents the most compelling and visually appealing image (even if it's not technically the absolute closest to match to whatever mastering display was used). Out of personal preference, I use Movie mode.
For this review I added Samsung's top-of-the-line Q990C soundbar. It is designed to pair seamlessly by leveraging the TV's Q-Symphony audio feature, which combines the output of the speakers on the sound bar with the built in speakers. You also get the benefit of unified remote control, you can adjust the soundbar with the TV remote.
My sources include an Apple TV 4K, an Xbox Series X, and a Sony UDP-X700 Ultra HD Blu-ray Player. And in order to push the TV to its limits, I hooked up a gaming PC featuring graphics powered by a NVIDIA RTX 3080 Ti. The TV's built in apps also got a workout.
Hands-On
This TV offers exquisite picture quality right out of the box. Choosing a picture mode that matches your usage scenario is all you need to do. Game and Movie modes wound up being the most useful to me but I am open minded and can see some viewers liking the punchy, somewhat processed look of the Standard mode, especially for TV content.
A common trope in TV reviews is that LCD picture quality is getting that much closer to OLED, ever playing catch-up. But I don't think it's fair to pigeonhole this TV in such a manner. There are many cases where the QN95C matches or exceeds the performance of an OLED TV. Certainly, in any situation where you've got a lot of ambient light, it is able to outshine an OLED and deliver a more vibrant image with more than twice the full screen brightness of an OLED, as well as far brighter peak highlights.
Where you'll find the emissive pixels of OLED enjoying an advantage is on a scene such as a starfield where the peak brightness needs to be focused in an extremely fine pinpoint area and then transition directly to pure black. This TV won't match an OLED when it comes to that particular task. But if you feed it a wide variety of scenes wherein the overall brightness is an advantage, for example a nature documentary or sports, this TV literally outshines the OLED.
A consistent trend among TV makers is improved accuracy with out-of-the-box settings, particularly with movie or cinema modes. The Filmmaker mode found in this TV is a perfect example. Moreover, if you have a compatible phone, Samsung lets you use it to further refine color accuracy with its Smart Calibration function. I know from experience that it is very rare for anyone to have their TV professionally calibrated. That is why I am more interested in what degree of accuracy it offers by default, and what users can achieve on their own.
The Harry Potter Test
The hardware and the processing shows its worth in a challenging scene from Harry Potter and the Deathly Hallows Part II with Voldemort and his followers on a mountain at night, preparing to attack. The scene stumps many televisions and projectors, often resulting in an overly dark rendition, lost shadow detail, or a low-contrast appearance. And each year I watch as displays get better and better at handling this scene. And now I think it's fair to say that its challenges have been conquered.
Perhaps not everybody agrees, but one of the remarkable developments of 2023 is how 4K streaming has begun to look practically identical to Ultra HD Blu-ray Disc. For example, movies like Avatar: The Way of Water and John Wick: Chapter 4 look essentially flawless when streamed – and they sound good too. On this TV these movies look hyperreal. Yes, I have an OLED in the same room to compare and the QN95C looks intense, often exhibiting more apparent contrast than the OLED!
There is no free lunch, and the cost of this exceptional brightness and contrast is that if you set it up the wrong way, for example by using the Standard picture mode to watch movies in a dark room, you might well see FALD artifacts such as blooming and non-uniformity. But this only tends to happen when running the TV at its brightest and with local dimming maxed out. Otherwise this TV works hard to keep FALD artifacts under the visible threshold. Instead what you see is its undeniable brilliance.
In both Movie and Filmmaker modes, the TV's local dimming performed flawlessly. I did not see any distracting artifacts, and even the shadows were rendered with a notably high degree of color, contrast and detail. The deepest blacks frequently had that inky darkness that you would typically associate with OLED.
The other thing to know is if you are in a bright room and do have the TV running at full brightness, you do not see the artifacts I just mentioned. What you will notice is how the image retains its pop, even when compared to an OLED. Even the Harry Potter scene looks great during the daytime in a sunlit room when seen on this TV, a feat that requires considerable firepower to achieve.
Going Vertical for Art
This TV works in both horizontal and vertical orientations. That, combined with its flat slab-like design inspired me to mount it on an easel and create an art show "movie" in vertical 4K. Although Samsung also makes The Frame—which is a TV designed to show off art—the S95C fooled people into thinking they were seeing some sort of giant glossy photo print.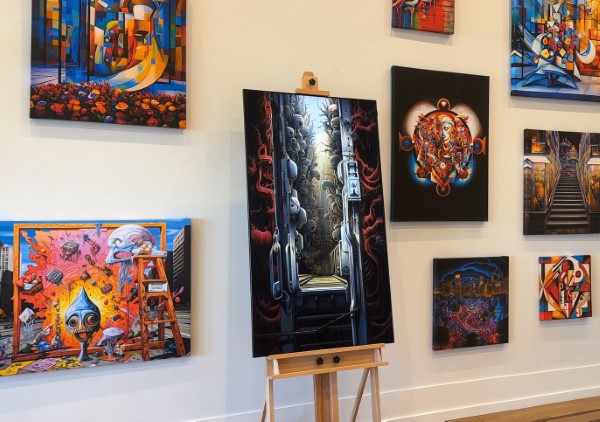 The artwork is both colorful and intricately detailed. I put the TV in an art gallery where I held a show of my AI art, and it held up even with bright sunlight and the gallery lights making for a very challenging environment. This TVs high brightness, wide viewing angles, vivid yet accurate color, effective anti-reflective coating, and excellent contrast all came into play. It can hold its own in an art gallery.
A Gaming Champion
For gaming, the impact of the QN95C's brightness, contrast, and color reproduction capabilities stand out. With Microsoft Flight Simulator running on my PC I was able to hit 144 Hz in 4K and HDR. The realism is breathtaking and with midday clear skies dialed in, it's bright enough to make you squint if you look at the sun!
If I'm playing video games, I'm playing Grand Theft Auto Online on Xbox Series X. During the nighttime, Los Santos has a Technicolor film noir glow. Streetlights, car headlights, and lit up buildings have depth and detail that you intuitively interpret as representative of reality. My retinas physiologically recognize it as more authentic.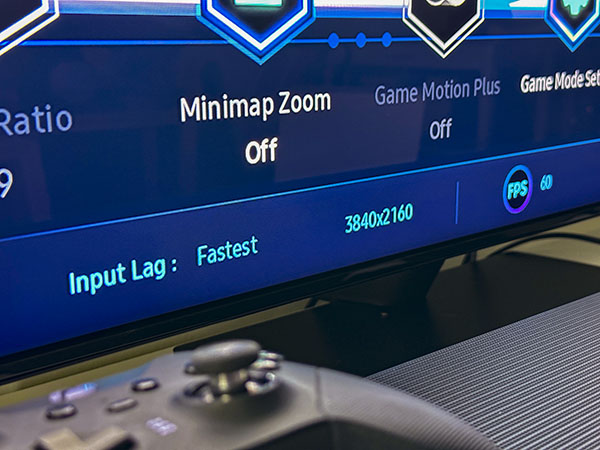 You don't even need a gaming console or PC; with the Gaming Hub, you can pair an Xbox or PS5 controller and stream games directly using various services (subscriptions required) such as Xbox Cloud Gaming, Nvidia GeForce Now, Google Stadia, Amazon Luna, Utomik, Antstream Arcade, and Blacknut Cloud Gaming.
I have gigabit Internet service and live close to a data center, so my positive experience with these services may not be a reflection of what you'd get. For those gamers, a console or PC is the way to go. Also, this TV's capabilities mean that only a PC equipped with the latest/greatest video card and truly leverage what it offers.
Q Symphony Sound
While its picture quality always blew me away, I was not all that impressed with the QN95C's built-in sound, at least not taken on its own. Sure, it's a bit better than your typical TV. It touts Dolby Atmos support, after all. But it's still no match for a high quality soundbar, much less an AVR-based system. To its credit, it sounds great for a TV that is all screen and sports such a slim profile. But physics is physics.
Once you add the Q990C Atmos soundbar to the mix and activate the Q Symphony 3.0 feature, the TV and Soundbar combo becomes something greater than the sum of its parts, and delivers an enveloping spatial audio listening experience that is genuinely cinematic in nature. It's not the exact claimed channel count that matters, but the cohesive bubble of sound that impresses.
The key to Q Symphony's effectiveness lies in the TV's speakers, located on the edges of the bezel. And they fire out the sides as well as out the top of the TV. These speakers allow the TV to focus sounds within the screen's area. Meanwhile, the speakers on top elevate vocals so they appear to come from the center of the screen, rather than from the soundbar beneath.
Does it fully replace an AVR-based system? Not really, but it does deliver an elevated level of performance for a premium soundbar system. This is especially true for dialogue, which the TV manages to render as if it's coming from the center of the screen with the help of the TV's built-in speakers.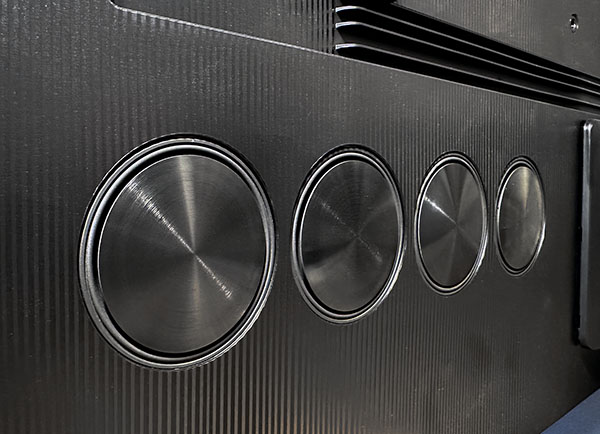 Calibration Insights
If you are a perfectionist who plans to have this TV calibrated, then you will be pleased to know that it can achieve a very high degree of accuracy. If you don't plan to have it professionally calibrated, you might be happy to know that you can run a calibration at home using your phone and potentially achieve an improvement. Running the routine only takes a minute or two so it's worth a try.
The takeaway from profiling this TV's various picture modes is that if you use the Movie or Filmmaker mode, or apply similar settings to the Game mode, the picture's accuracy will be close enough to calibrated that most owners will see no need to go further. A professional calibration is simply not necessary unless your intention is to use this TV for professional color mastering or color correction.
Conclusion
Over the past decade I've seen 4K TVs evolve from relatively dumb and inaccurate SDR displays into the powerful, smart HDR screens of today. 4K is here to stay, so don't worry too much about 8K or 16K or whatever comes after that. There are more than enough pixels on this TV for typical home uses. What matters more is how those pixels are delivered to the viewer.
With its QN95C, Samsung offers up a TV that is powerful enough to deliver an uncompromised HDR viewing experience, even when it is in its Movie Mode, which features highly accurate color tuning and relatively toned-down processing as compared to some of the other Picture Modes. This is a TV that can make movies and shows look great whether viewed with all the lights out or in a sunny room. Concurrently, it is a gamer's dream that combines lightning-fast performance with impressive picture quality.
It is a premium product and priced accordingly. But there is a catch: Samsung's S95C quantum-dot OLED offers an objectively superior viewing experience when the lights are out and costs the same. On the other hand, you can get the QN95C in an 85" screen size, which is larger than any Samsung OLED. The key thing is the QN95C is a TV that can handle anything you throw at it, even in the brightest living spaces.
When paired with the Q990C soundbar, you get a system that offers audio fidelity to match its picture quality. With minimal fuss and cable mess, Samsung's flagship 4K TV and Atmos soundbar combine to create a compelling home entertainment system that is easy to install, easy to use, and unquestionably state-of-the-art in capability.
Specs
Product Type
QLED
Series
Series 9
Design

Design Type: Infinity One
Stand Type: Round Neck Square
Bezel Type: 4 Bezel-less
Slim Type: Ultra Slim
Stand Color: Titan Black
Front Color: Titan Black
Video
Color: 100% Color Volume with Quantum Dot
HDR (High-Dynamic Range): Neo Quantum HDR+
Viewing Angle: Ultra Viewing Angle
Film Mode: Yes
Adaptive Picture: Optimized/EyeComfort
HLG (Hybrid Log Gamma): Yes
Contrast: Quantum Matrix Technology
Micro Dimming: Ultimate UHD Dimming Pro
Contrast Enhancer: Real Depth Enhancer
HDR10+: Yes (ADAPTIVE/ GAMING)
Picture Engine: Neural Quantum Processor 4K
Motion Technology: Motion Xcelerator Turbo Pro
One Billion Color: Yes
Auto HDR Remastering: Yes
Picture Clarity: Yes
Expert Calibration: Yes
Smart Calibration: Basic/Professional
AI Upscale: Yes
Filmmaker Mode: Yes
Brightness/Color Detection: Brightness/Color Detection
Audio
Dolby Atmos: Yes
Sound Output (RMS): 70W
Woofer: Yes
Speaker Type: 4.2.2CH
Multiroom Link: Yes
Q-Symphony: Yes
Active Voice Amplifier: Yes
Bluetooth Audio: Yes
Dual Audio support (Bluetooth): Yes
Dolby Decoder: MS12 5.1ch
Object Tracking Sound: OTS+
Adaptive Sound: Adaptive Sound+
Buds Auto switch: Yes
Features
Caption (Subtitle): Yes
Embedded POP: Yes
EPG: Yes
IP Control: Yes
OSD Language: English, Spanish, French
V-Chip: Yes
MBR Support: Yes
9:16 Screen Support: Yes (Need Auto Rotating Accessory, Compatible Model Only)
ConnectShare™: Yes
System
Digital Broadcasting: ATSC 1.0/3.0, (NEXTGEN TV) ATSC/ClearQAM
Analog Tuner: Yes
DTV Sound System: Dolby
Accessory

Remote Controller Model: TM2360E
Mini Wall Mount Support: Yes
VESA Wall Mount Support: Yes
Slim Fit Wall-mount Support: Yes
Zigbee / Thread Module: Built-in
Full Motion Slim Wall Mount (Y22) Support: Yes
SlimFit Cam Support: Support
Studio Stand Support: Yes
Auto Rotating Wall Mount Support: Yes