Samsung QN65Q90R LCD Ultra HDTV Review Page 2
During setup, one frustrating issue I had with the set's color calibration controls was that the adjustment menus sit just below the pattern used to take a reading. This dramatically affected the measurement result, particularly with HDR, forcing me to drop into and out of the menu each time I wanted to see the effect of an adjustment. Ultimately, I was forced to settle for a result that was good enough for human color sensitivity, rather than an obsessively ADD-perfect calibration.
HD and Standard Dynamic Range Performance
While I did watch some streamed programs using the set's built-in apps, all of my serious viewing was from Blu-rays (HD and UHD) played on an Oppo UDP-203 Ultra HD Blu-ray player.
A favorite Blu-ray disc in my collection, The New Year's Concert 2014, features the Vienna Philharmonic playing at the Musikverein in Vienna, also known as the Golden Hall. The shots of the glittering hall itself, and close-ups of both the musicians and their instruments, particularly the glistening brass, looked breathtaking on the Samsung. Apart from a shortage of deep bass, and perhaps an excess of Strauss, the Samsung TV's built-in audio performance here was surprisingly good.
Kung Fu Panda 2 is one of the best-looking animated releases ever to come from DreamWorks (or from any other studio, including Disney). From the two-dimensional but stylish animation at the beginning, to the more intricate animation that follows, the images looked as close to real 3D as anything short of true 3D (which, in common with all current TVs we know of, the Q90R doesn't offer).
UHD 4K and High Dynamic Range Performance
With its Movie picture mode selected, the Samsung made a positive impression out of the box. With either 4K UHD HDR or HD/SDR, banding (posterization) was never a concern. That's not to say it might never occur, only that in perhaps 100 hours of viewing I never saw it once. Ditto with screen uniformity, which was good throughout.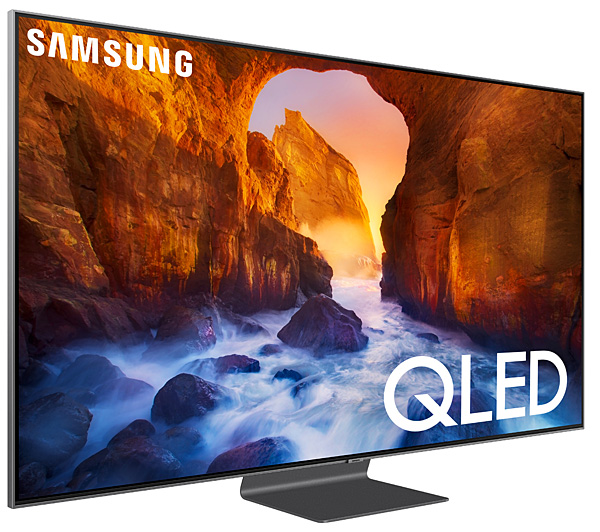 My measurements indicated that the Samsung's PQ curve (gamma for HDR) was brighter than the EOTF luminance standard above 50 percent. The real-world effect of this was an uncomfortably bright image, particularly when viewed in a dark room. Lowering Contrast from the set's default setting of maximum (50) to between 39 and 42 brought the EOTF back in line. Following a few more tweaks plus a color calibration, the Q90R was a standout performer. The Greatest Showman looked superb, from its opening scenes with the youthful Barnum, to later ones where the eye-candy increases exponentially. The final scenes capped everything off with a rousing circus number that looked as colorful on the Samsung as I could possibly want, with loads of detail and potent HDR. The maximum brightness from this disc is 1,000 nits, and the Samsung's available peak light output handily exceeded that with no sign of white clipping.
The Great Wall may have been a box office flop, but the movie has drop-dead gorgeous cinematography and is a standout on Ultra HD Blu-ray. Both the film's dark and light scenes were handled beautifully by the Q90R. The only oddity I encountered was a fireside scene late in chapter one where the fire-lit faces of the actors showed a bit of glare against the deep black background surrounding them. As with The Greatest Showman, I saw no sign of peak white clipping.
At the recent September CEDIA EXPO, projector-maker Epson put on a knockout demo that used Guardians of the Galaxy Vol.2. On the Samsung it looked even better, with the set more than compensating for the lack of true bigscreen impact with brilliant color, punchier HDR, and deep blacks. Thanks to its effective full-array local dimming, black depth with Samsung's LCD TV nearly matched the best experiences I've had with OLED models from Sony and LG. I still saw a bit of haloing, but it was mostly on specialized test patterns and on white lettering against solid black backgrounds, such as movie end titles. The black bars on letterboxed films occasionally showed signs of this as well, but it was subtle and never bothered me, even when I was specifically looking for it. More often than not the letterbox bars were totally black, as were full-black screens on fadeouts between scenes—even in a fully darkened room where compromised blacks are easy to spot.
Comparison: UHD/HDR
A viable candidate to face-off against a set under review isn't always on hand hereabouts, but this time the Sony XBR-65A9G OLED I reviewed in the October/November issue was still hanging around. At $3,800, the Sony is pricier than the Samsung, but flagship OLED sets are typically more expensive than similarly positioned LCDs.
I set up a direct comparison between the Samsung Q90R and the Sony A9G, driving both sets simultaneously through a 4K-capable splitter from AVPro. After calibrating each set as accurately as possible, I made small picture-setting tweaks to visually match the sets as closely as possible.
With roughly twice the peak luminance capability of Sony's OLED, the Q90R's brightness advantage was often evident on highlights, but it wasn't as dramatic as you might imagine. That's because the eye doesn't respond linearly to brightness; if it did, we'd all go blind when stepping outside on a sunny day. And while the Sony sometimes didn't fade to total black on scene transitions like the Samsung, this likely had more to do with how each manufacturer chose to handle the transition from the darkest gray to full black—not a trivial issue—than to any inherent flaw.
Overall, I found it hard to choose a winner here. While a starfield pattern on the Spears & Munsil UHD HDR Benchmark test disc clearly showed the Sony OLED's superior contrast, with 90 percent of material I watched it was largely a wash. There were slight color differences, but nothing that would concern even the fussiest viewer. I used Ultra HD Blu-rays of The Greatest Showman, Oblivion, Lucy, and The Great Wall as test fodder, and both sets were standouts with all of those reference-quality discs.
The same result applied when I compared HD/SDR, though here I had to make more adjustments (primarily, I had to raise Contrast on the Samsung) to visually match the two sets. That done, the match was nearly spot on. With The Life of Pi, the Sony displayed marginally warmer flesh tones and slightly deeper reds, but the differences were barely noticeable. Overall, I give the Sony a slight edge on this disc. The most startling difference came in a shot of Pi's face in chapter 21. Compared with the Sony, it was clearly too dark on the Samsung, but this was a rare exception.
Harry Potter and the Deathly Hallows Part 2is a very dark movie, with challenging scenes in every chapter. In the cave tunnel scene at 31:30, both sets did a good job in bringing out the tunnel's shadow detail without graying out the surrounding darkness. Similarly, at 34:60, the shadow detail in Snape's black robes was equally visible on both sets. On the dark hilltop scene in chapter 12 where Voldemort's minions gather, however, the Sony was marginally more effective, with the individual faces standing out a little better from the surrounding gloom. I did give the edge here to the pricier Sony, though only by a nose. I could live happily with either set.
Conclusion
I wasn't surprised by the excellent showing of Samsung's Q90R. Having recently reviewed the less expensive but nearly as good Q80R, it's clear to me that the company has taken a significant step forward with its latest generation of premier LCD sets. Samsung's superb Q90R deserves a serious look from anyone shopping for a high-end Ultra HDTV.