Samsung QN65Q9 LCD Ultra HDTV Review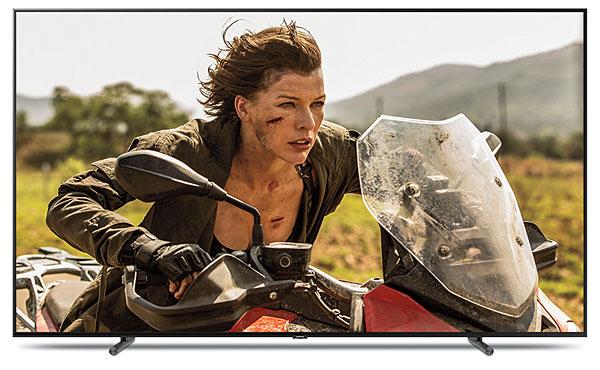 PRICE
$6,000
AT A GLANCE
Plus
Bright and punchy HDR
Excellent resolution
Stunning color
Minus
No Dolby Vision
Edge-lit instead of full-array backlight dimming
THE VERDICT
Samsung's new top-of-the-line QLED flagship brings first-rate brightness, brilliant color, and crisp resolution to the Ultra HD party, but enthusiasts might notice its lack of a full-array, localdimming backlight.
Now that we're awash in high dynamic range (HDR) material on Ultra HD Blu-ray, Samsung is determined to make the most of it with two new TVs, the 65-inch QN65Q9 reviewed here and the 75-inch QN75Q9 for buyers who prefer a bigger (and, at $10,000, pricier) set. Each has a screen that's flat, not curved.
Samsung's top sets this year have been dubbed QLED. If this looks awfully close to OLED in print, separated only by a tiny squiggle, it isn't in practice. Samsung doesn't market OLED sets and would be the first to emphasize the advantages of LCD TVs for Ultra HD, particularly for HDR. LCD sets can go significantly brighter than current OLED models, and there are major technical obstacles to OLED's matching them in that respect—at least anytime soon. [Ed. Note: The OLED camp's response, not surprisingly, is to point out OLED's inevitably deeper blacks and therefore wider dynamic range, despite lower peak brightness; for now, the jury remains out on whether brighter highlights (in the absence of pure black) present any clearly discernible advantage for display of HDR.—RS]
In this case, the Q is meant to stand for Samsung's latest incarnation of quantum dot, an LCD backlight technology that uses nanocrystals, which, when exposed to blue LED light, can emit relatively pure red or green light required to fill out the traditional RGB primaries for full color composition. One advantage is said to be the ability to keep color consistent as the image gets brighter—also a desirable trait for HDR reproduction (and about which I'll say more later). Some other manufacturers also use quantum dot film of their own or third-party design in their LCD backlights. In an interesting turn, Samsung has even begun encouraging other manufacturers to use "QLED" to describe their own quantum dot sets in the hopes of creating a common marketing term and raising quantum dot's profile (presumably as a competitor to OLED).

The Q9 has a simplistic but elegant design featuring an almost bezel-free framed screen and a pair of widely spaced cylindrical legs that accommodate wire management for a power cord and umbilical cable from the company's low-profile One Connect box. As with all of Samsung's premium models from recent years, all of the connections for the TV (apart from power) are made to this box that sits separate from the display itself. In this new 2017 model, the box connects to the screen through a thin, almost invisible, 5-meter (16.4 feet) fiber-optic cable. (A 15-meter/ 49.2-foot version is an option.) It's paintable and so unobtrusive that Samsung even promotes the idea that it can hang exposed when the set is mounted on a wall; you don't have to bury the cable inside the wall cavity. And speaking of wallmounting: The Q9 is the first of Samsung's TVs to offer the ability to add an optional "no-gap wall mount" that fits into a recess behind the set to allow it to hang virtually flush against the wall. It's a clever mount design that even integrates some modest tilt and the ability to perfectly level the set after mounting, reducing the precision required to hang the wall plate. The combination of these two features, Samsung hopes, will encourage more consumers to perform a DIY wall-mount of their television.

The new Q9 sets support HDR10 only. They do not (as of this writing) support HLG (Hybrid Log-Gamma, a metadata-free form of HDR intended primarily for broadcasts and streaming), but Samsung has said that their HDR models from 2016 and beyond will eventually be firmware-upgradeable for it. More critically, Samsung has no plans to add Dolby Vision, the primary (and more technically advanced, dynamic-metadata-enabled) competition to HDR10. But that doesn't mean you can't watch a Dolby Vision-equipped Ultra HD Blu-ray on the QN65Q9. All such Blu-rays (there are, as of this writing, only a few) must use a core HDR10 layer; the dynamic metadata is sent to the display to convert this to Dolby Vision if a set is equipped for it. The Samsung will simply ignore this added metadata and show the source in HDR10.
Samsung also has recently announced its own dynamic version of HDR10, called HDR10+, but (as of midyear 2017) no one we are aware of has used it. Its main advantage over Dolby Vision is that, like HDR10, its use is free for any content provider, whereas Dolby charges a licensing fee for Dolby Vision.
Unlike recent top sets from Samsung in prior years, the Q9s don't use full-array, local-dimming (FALD) backlights. Instead, they employ edge-lit local dimming at the left and right sides of the screen with three control options: Low, Standard, and High (there's no "Off"). The QN65Q9 is said to offer class-challenging brightness, particularly in HDR, together with a 10-bit color depth and expanded color. While no consumer TV can yet fully reproduce the widest specified UHD color gamut (BT.2020), Samsung states that this set will do all of P3—a slightly smaller color gamut used in digital cinema and, to our knowledge, the gamut found on all or most of the Ultra HD Blu-rays currently on the market. Samsung also claims that, thanks to its QLED quantum dot technology, the TV will maintain full color saturation up to the highest brightness levels, arguing that the competition (i.e., OLED) can't. The company has even assisted the development of test clips to help demonstrate this capability of more fully realized "color volume." That's a phrase you're likely to see more of in our reviews, particularly as our tools become more sophisticated at measuring color volume along with the location points of the color primaries traditionally used to define the boundaries of color gamut.
There are four selectable picture modes. I used Movie for all of my SDR (standard dynamic range) and HDR viewing. You can dial in separate settings for HDR and SDR for any of the modes, and the set will switch between them automatically in response to the input signal type.
The QN65Q9 provides 2- and 20-point White Balance controls, a Custom Color Space (full color-management system, or CMS) selection, and multiple gamma settings. Samsung's motion-smoothing Auto Motion Plus includes a Custom option with separate adjustments for Blur and Judder. An HDR+ feature simulates HDR with SDR sources. Its algorithm derives a string of dynamic, frame-by-frame HDR metadata based on the SDR content. Some might find its picture compelling, but to me it looked punched up and artificial. As with Auto Motion Plus, I didn't use it after simply checking it out.
A feature called HDMI UHD Color must be engaged separately, and manually, for each HDMI input you plan to use for Ultra HD. Without it, that input will display only 8-bit color. This control is, unfortunately, easy to miss; it's hidden under External Device Manager in the General menu.
Samsung's non-backlit OneRemote is a small metal wand that's been designed with minimal buttons to encourage use of the set's onscreen Q Smart interface. It was, at first, a nuisance. The major offender was the Home button, located just below the down navigation control. I lost count of the number of times I pushed the wrong one. The remote is also very thin and consistently sought the comfort of the warm recesses between seat cushions.

The remote's voice recognition feature made up for this. If you hold down the voice recognition button and speak into the remote with a brief request such as "Gamma," the set shows the current setting of that control at the bottom of the screen or goes directly to that feature in the menu. It can even make simple adjustments by voice, such as "Menu Off," "Contrast nine five," or "Brightness to two." The more cryptic your verbal request, the better. The feature responded to the word "Brightness" by showing the control setting but was puzzled by the words "Brightness control." It also turned ornery on occasion—as when, several times in succession, it thought it heard me say "camera" when I said "Gamma." Or when, after I responded, "Yes" to its query, it brought up four links to dresses. It did recognize my voice without difficulty, though the results might be interesting if you speak with a heavy accent like Brad Pitt's character in Snatch.
The only downside to this feature may be that it supposedly requires you to register for a Samsung account (though it worked for me immediately, and I didn't think I had an account). More ominously for the paranoid owner, the onscreen manual states, "To use the voice text input function and smart search function, you must consent to provisions allowing third parties to collect and use your voice data."
The Samsung's Q Smart platform and graphic interface does just about everything expected of a smart TV. This latest version allows both source inputs and apps for stream-ing services to be integrated in the same horizontal scroll of most-used functions to speed your access. And like prior versions, it'll recognize many source components by their HDMI con= nection and be able to automatically control them through the Samsung remote via HDMI-CEC or infrared blaster as needed; this includes your cable or satellite set-top box. It can mirror your computer, smartphone, or tablet screen. I had no problem getting the hub to wirelessly stream material from sites like YouTube and Netflix. The set can also interact with SmartThings, Samsung's "smart device–based home monitoring system that gives you centralized control of everything from outlets to locks to speakers." This requires "the SmartThings Extend USB Adapter, a dongle that lets you control your entire home from your Samsung smart TV." Smart home automation buffs may recognize this as a derivative of the technology that Samsung acquired when the company bought out the makers of the SmartThings automation platform in 2014. But its testing is beyond the scope of this review.
The TV's sound wasn't anything special to begin with, and soon after I began my testing, it started to distort in the left channel. This continued throughout the review and was clearly a sample failure. Fortunately, the QN65Q9 passes a full 5.1 DTS or Dolby Digital signal presented at its HDMI inputs to its Toslink optical output, to better feed multichannel soundbars or other outboard systems.
While the picture quality on most LCD TVs starts to deteriorate when you sit more than 20 to 25 degrees off center, the QN65Q9 can do a bit better, up to an estimated 40 degrees. The critical viewer, however, will still want to grab the center seat.
Samsung, along with the other major flat-panel TV makers, has now dropped 3D from this and other Ultra HDTVs. Sorry, 3D fans.
HD/SDR
The QN65Q9 performed well on most of our standard HD video tests. It failed the 3:2 SD test, flickering on the test pattern I use for this, but there were no similar or related artifacts visible on regular 3:2 SD material. The set also clipped below-black signals, which means that it filters out any information in the signal below digital level 16. This is rarely visible on normal program sources but can make it more difficult to properly set the Brightness (black level) control. Above-white clipping, which the Q9 does not suffer from, may sometimes filter out white-area details occasionally found in some content.