Samsung Adds Apple TV App, AirPlay 2 to 2019 TVs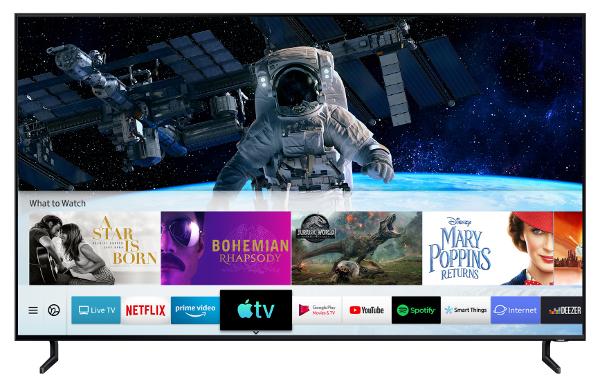 Samsung today announced an automatic firmware update that brings Apple's AirPlay 2 wireless streaming platform and the Apple TV app to all of its 2019 smart TVs and some 2018 models.
The update marks the first time a TV maker has integrated both of the Apple platforms, which provide ready access to Apple TV channels as well as iTunes movies and TV shows.
Owners of updated TVs will now be able to access movies and TV shows in their iTunes library and browse through 100,000 movies and TV shows available to buy or rent through iTunes by simply selecting the Apple TV app icon on the TV screen. Upwards of 500 titles featuring 4K resolution, many with HDR10 or Dolby Vision high dynamic range (HDR) are available.
Owners of the updated Samsung smart TVs can subscribe to Apple TV channels within the Apple TV app, paying for only the ones they want, and watch on-demand content directly in the app. They will also be able to access the Apple TV+ video subscription service when it launches this fall.
With AirPlay 2, owners of updated Samsung smart TV owners will be able to stream videos and other content from iPhones, iPads, and Mac PCs directly to the TV.
The Apple TV app is said to work seamlessly with Samsung smart TV services such as Universal Guide and the Bixby virtual assistant. Apple TV search results will also be integrated into searches done via the TV.
For more information, visit samsung.com.

SPONSORED VIDEO