Apple Reveals Details of Apple TV Plus, New Apple TV App and More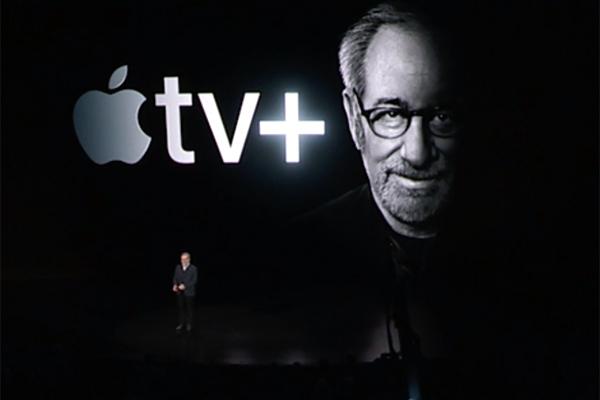 In a star-studded event at the Steve Jobs Theater at Apple Park in Cupertino, CA, Apple yesterday announced plans for a revamped Apple TV app, a new streaming service, and original content it is producing in cooperation with a slew of A-list Hollywood directors and actors.
The new Apple TV app, which is slated for release in May, will aggregate subscription streaming services, live TV, and a user's Apple movies and TV library so it's easy to find content without having to bounce around from app to app. Apple also announced a new streaming service called Apple TV Plus that will launch this fall.
The big news about the new Apple TV app is an expanded list of streaming service partners and the addition of live TV. Over the past few months, some speculated that Apple would offer its own streaming live TV service. Apple is touting that the new app will allow users to "only pay for the channels you want." While this makes it appear that the Apple TV app will include its own live TV service, the app actually aggregates content from a user's live TV provider. Charter Spectrum, Canal+, DirecTV Now, PlayStation Vue, Hulu live TV, and Fubo TV will initially be integrated into the Apple TV app. Optimum and Suddenlink from Altice will be added later this year.
The other "channels" to which users will be able to subscribe are premium streaming channels. Similar to the way Amazon offers direct subscriptions to HBO and Showtime, users will be able to subscribe to these services directly from the Apple TV app. Because these channels are integrated into the app, playback features like skipping the intro and credits of a show will be possible.
When the live TV and expanded list of streaming partners are added to the current offering, the Apple TV app will be all-encompassing, providing access to content from 150 streaming apps. It will allow users to quickly find shows and movies from a single screen, regardless of the source. Content delivered through the Apple TV app will also be available offline.
While the expansion of aggregated content is something to celebrate, many of the features announced for the new Apple TV app are already available in the existing app — including sports scores, favorite team notifications, and news channels. Current users can also access content from Hulu, CBS All Access, HBO, Starz, and Amazon Prime. Apple presented "Up Next" like it was a new feature but the current app already tracks what you watched last and displays the next available episode in an Up Next list that makes it easy to get to the next episode of a show. What's different is the Up Next list in new app will include many more content sources.
The new Apple TV app will be available on all Apple devices — including iPhone, iPad, and Apple TV — and an app for Mac users will be added. The app can be shared with up to six family members. And, as previously announced, Apple is reaching beyond its own ecosystem to share with others. The revamped Apple TV app will be available on Samsung TVs this spring and on select LG, Sony, and Vizio TVs later this year. Surprisingly, Apple announced that the app will also be coming to both Roku and Amazon Fire TV streaming devices in the future.
New Original TV Series Will Debut on Apple TV Plus
Apple closed the event with a parade of movie stars and producers who are involved in a number of original series currently in production. The series will be included in the Apple TV Plus subscription service that launches this fall.
Steven Spielberg took the stage to discuss the resurrection of Amazing Stories, the Twilight-Zone-esque series he created that aired in the mid-1980s. The series is based on a science-fiction magazine from the 1920s that inspired him to become a director.
Spielberg was followed onstage by Reese Witherspoon, Jennifer Anniston, and a very funny in-character Steve Carell, who talked about the The Morning Show series they will star in. The show explores the complex relationships between men and women at work as seen through the eyes of two ambitious women.
Jason Momoa (Aquaman) and Alfre Woodard described the sci-fi series See they will star in as taking place in a post-apocalyptic world in which survivors had gone blind 20 years earlier with people who are starting to question whether a visual world ever really existed.
A Sesame Street spinoff series that goes far beyond teaching children their ABCs was presented by Big Bird. The new show, Helpsters, will teach preschoolers how to code.
Little America, produced by Kumail Nanjiani and Emily V. Gordon, will be a half-hour anthology series inspired by true stories of immigrants. Nanjiani told the audience that the goal is to connect humanity in a powerful way to demonstrate that there is no such thing as "the other" but simply "us."
The last celebrity to take the stage was Oprah Winfrey, who is aiming to inspire change and deliver a message of optimism to Apple's multi-billion user platform through two documentary series. The first, tentatively entitled "Toxic Labor," will explore inequalities and injustices in the workplace. The second deal with mental health and the scourge of depression and anxiety that is prevalent in today's society.
Pricing for the subscription service was not announced.
Apple Arcade, News Plus, and an Apple Credit Card
The Apple announcement did not include any news about hardware. Instead, the theme of the day was "services," including the launch of Apple Arcade with "over 100 groundbreaking new games" and the Apple News Plus subscription service with more than 300 magazines, including Sound and Vision. For $9.99 per month (with a one-month free trial), users will be able to access digital versions of popular newspapers and magazines such as National Geographic, The New Yorker, Fortune, and Vogue. Sports, special interest, travel, and lifestyle publications will also be in the mix. Magazines can be read page by page in their entirety or perused via top stories. In a neat twist, magazine cover photos come to life as short videos while you browse the titles.
Apple said News Plus editors will curate the best articles based on what you have been reading. If you had recently done a search about traveling in Fiji, for example, articles from a cross section of publications about the South Pacific island country will be listed under the travel category.
Apple also announced Apple Card. That's right, come this summer, Apple will be offering its own virtual credit card in partnership with Goldman Sachs. The new card will have no fees or penalties and will offer daily cash back on all purchases. Apple will offer a physical, engraved titanium card for use at brick-and-mortar businesses that do not accept Apple Pay. The card will have a chip but will not display the account number nor have a signature.
If you use Apple Card to pay for an Apple TV Plus subscription, you get 3% cash back. Not a bad incentive.