Rotel RSP-1570 Surround Processor and RMB-1575 Amplifier
Price
: $4,998
At A Glance
: Superior surround processor sonics • Excellent ergonomics • Cool-running ICEpower amp lacks definition
The Ladder to the High End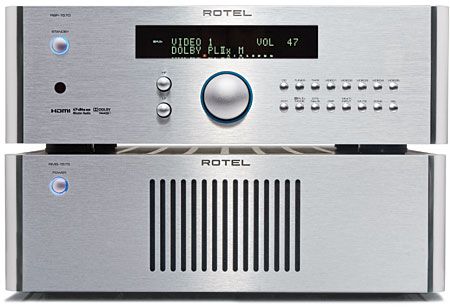 You've got to have sympathy for sound- and build-quality-oriented A/V electronics manufacturers like Rotel. You can go online, and for four hundred bucks and change buy a "630-watt" 7.1-channel AVR from a big-name manufacturer with all the latest lossless audio decoding from Dolby and DTS, video processing, 1080p HDMI switching, upconversion, and more. Since many people these days don't care about good sound and because they've never actually heard it, they think, "Everything sounds the same." And they think they should get it all for a pittance.
Worse, the vain and clueless affirm their own brilliance by writing rave "user reviews" of their recent purchases, accessible from the Website that sells the unit. That encourages more purchasers who think they too can reach audio nirvana for $400. That leaves companies like Rotel with a difficult job. On the other hand, I suppose we should be happy these folks buy anything with surround sound capabilities. They could just be content to listen to what passes for speakers supplied with today's flat-screen HDTVs. But people who want more from their home theater experience look to brands like Rotel.
Rotel's Long-Standing Market Niche
Rotel (not to be confused with Ro-Tel, the Texas company that cans exceptionally good spicy, chopped canned tomatoes) is a family-owned business. It's been producing excellent-sounding, well-made, reasonably priced audio gear for as long as I've been messing around with hi-fi, which is more than 40 years. Rotel has always stood comfortably on the lower rungs of audio's top ladder. It produces reasonably priced gear that's thoughtfully designed and well executed, using high-quality, relatively pricey name-brand parts (Vishay, Roederstein, Alps, etc.).
More often than not, the quality and care result in outstanding sound, with build quality that rivals the cost-no-object luxury brands. Never mind the skeptics who continue to claim that resistors, capacitors, circuit boards, internal wiring, and chassis rigidity don't have a sound. They do.
The RSP-1570 Sticks to the Basics
The RSP-1570 7.1-channel surround processor ($2,199) embodies Rotel's enduring philosophy. From the rigid chassis, to the parts quality, to the layout of the guts inside, the RSP-1570 is built to a standard that's considerably higher than that of much of the mainstream competition. Naturally, it costs more. It also offers fewer bells and whistles—a concept that's difficult for some people to grasp. In short, you won't get all the latest and greatest in auto setup and room EQ, or a lot of other things. Rotel's aim is pure sound quality, which is something that might be more important than ever in home theater due to Blu-ray's lossless audio.
The unit decodes virtually all of the legacy lossy and newfangled lossless audio codecs known to man from both Dolby and DTS. The only omission of a commonly included feature here is Dolby Headphone (there's no headphone jack). Four proprietary DSP settings let you turn your room into a small club or a stadium should you be inclined to turn perfectly good recordings into sonically underwater messes. The RSP-1570 can decode up to 24-bit/192-kilohertz digital. This is standard, even on inexpensive AVRs, although the chip quality and implementation varies. Rotel doesn't specify either the D/A or A/D converters it uses or the processing engine that drives operations.
Also omitted are an AM/FM tuner, connections for satellite radio, and an iPod dock. There's no microphone-based auto-equalization feature, although there are digital-domain HF and LF (bass and treble) knobs on the front panel. You can also adjust HF and LF via the remote control. Rotel includes minimal facilities for three remote zones (stereo analog, S-video, and composite video outputs plus remote triggers), so you'll need to run long analog audio cables and be content with standard-resolution video in your remote zones.

Video-switching provisions include a generous four HDMI 1.3 inputs but only one HDMI output, plus three component inputs and one output. In addition, there are three S-video and composite video inputs and two outputs for old-school recording, along with a dedicated S-video and composite video monitor output. As we approach the end of the first decade of the 21st century, a second HDMI monitor output would be more useful than all of those S-video and composite outputs. Many companies are doing away with S-video and composite video altogether. While the RSP-1570 includes a comprehensive built-in video-processing solution, Rotel doesn't disclose its provenance.