Review: Vulkano Flow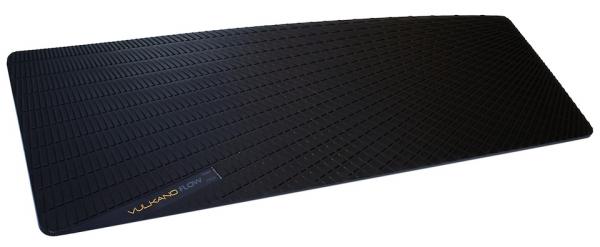 Last month we explored ways to break up with your cable provider. But what if you're in a long-term, loving relationship with your cable box? Or your satellite dish? So in love, in fact, that you can't stand to be apart from it? The Vulkano Flow ($99) lets you view the output of your cable set-top box or satellite receiver over the internet, on your laptop PC, Mac, or smartphone, from anywhere in the world with an internet connection. Never be away from the one you love!
The Vulkano Flow is the most basic Vulkano from Monsoon Multimedia. In a nutshell, it takes the output signal of your set top box and sends it out, either wirelessly or via Ethernet, to your home router. From there, you can control the box and watch its output from wherever you have a connection. Figure if you're going to pay for cable or satellite, you might as well be able to view it from anywhere. You can even watch programs recorded on your home DVR. Two other Vulkano products add either 4GB of Flash memory (the Lava at $199) or a 160GB hard drive (the Blast at $249), letting those devices work as DVRs themselves. Similar to a Slingbox but at a much more affordable price, the Flow offers more interesting features. The Flow has record functions, but it records on the device you're using, like your computer or phone, to view your programs on. It also has "TiVo"-esque controls; you can pause, rewind and fast-forward from your computer, iPhone, iPad, or Android device. It also has an electronic program guide so you can change channels or switch recorded content from your DVR. You can even use it to watch TV at home on an iPad in another room of the house.
Right out of the box, the Flow was impressive. It's an attractive box (16" x 5" x 1") with a sloping, vented top surface. Granted, this makes it hard to slip it into your equipment stack, but the vents do keep it cool. All of the connections are on the back: power, IR blaster, HD Video in/out and composite SD video and audio in/out. Alas, no HDMI. Hooking it up is a breeze – just run it in between the analog output of your STB and your TV, or if you want to maintain an HDMI connection to your TV, just run an alternate feed (if available) to the Flow.
My first nitpick with the Flow is that it does not include the necessary software to set up and run the system. It's all online, but it would have been nice not to have to download the 116MB file before it could be used. Connect the Flow via Ethernet to your computer for the initial setup; the Flow has built-in Wi-Fi, but until that connection is established, you have to hardwire it. Have the model number of your set top box handy, so it can get the appropriate program guide and remote control interface loaded, and then the rest is relatively simple. I had trouble getting it running with an older laptop running Windows XP, but nailed it with a new PC running Windows 7. Working through firewalls and port forwarding on the router wasn't exactly easy, but it worked.
Now for the fun part. Since the Flow takes over the channel selection of the set top box, you can control everything (Flow and STB) even when you're miles away from home. Awesome. On the downside, if someone at home changes the channel, then you're stuck watching whatever they're watching. But here's a clever workaround: if you purchase a dedicated STB just for the Flow, folks at home can watch whatever they want while you're on the road changing channels on your own feed. That way there's much less bloodshed when you get back home.
As with all alternative viewing options like the Flow, its level of success highly depends on your internet connection speed. In this case, you actually have two connections to worry about – the speed of your home connection and the speed of the connection where you're viewing it from. The former can be quite good, especially if you use the Ethernet connection into your router. On the road, well, your mileage may vary. I found that using a strong WiFi signal at a library gave me very satisfactory results. On a Blackberry with spotty coverage, not-so-much. With good connections, the picture and sound quality is just fine. But, there is a lag time - at times it was around 7 seconds, plus buffering- so channel surfing isn't as fun as it could be. One more thing: note that you have to purchase a $13 app to run Flow on a smartphone.
One other point that is not clear from the company's website or literature is the recording function. It's implied that you can schedule it to record a program to your computer or phone. In reality, you can start a recording immediately, and only schedule when the recording ends. I'm not sure why it's limited this way, but it is. If you want to record a show that starts relatively soon, you can record everything up until the show, but if it's hours of unwanted video, you might want to rethink how you capture it.
Like the Slingbox, the Vulkano Flow is yet another way of watching what you want, where and when you want. The setup was a bit cumbersome, but ultimately worth it especially for someone who travels a great deal. There's a comment on the company's website about someone who uses it to watch all her favorite channels from her brother's house in Brazil while she's in the US. Take note, all you weary and homesick road warriors. With the Vulkano Flow, it's almost like you're at home with the rest of the family watching the same TV shows with them. Almost.