Resident Evil: Vendetta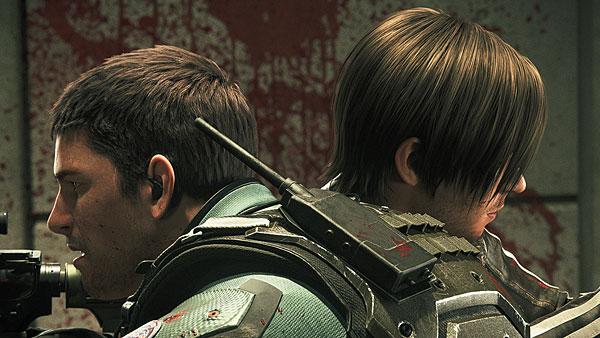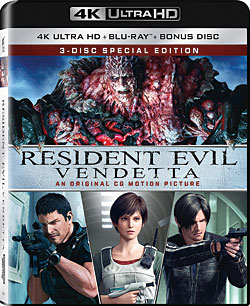 Resident Evil: Vendetta was created digitally, filmed with "3D" computer-generated animation that incorporates extensive use of live motion capture. It utilized a 2K DI in post-production and was mastered in Dolby Vision, arriving on 4K disc with an HEVC 2160p-encoded transfer framed at 1.78:1, also mastered in Dolby Vision, compatible with HDR10. I viewed the disc in Dolby Vision and have to say that it's one of the most fantastic-looking animated 4K discs yet released in the format. Inky shadows and bright, natural-looking LED flashlights on the ends of rifles in the same scene, a candelabra glowing bright amber on a table in a dark room: These are just a couple of examples where the Dolby Vision and wide color gamut really come into play. In comparison, the Blu-ray, while looking very solid and pristine, appears almost flat, with a raised gamma and less stark contrast between bright and shadow.
The Dolby Atmos track on the Ultra HD disc is a near-perfect ref- erence track. We hear a grandfather clock gong from overhead, the growl of zombies off to the sides and from behind us, and the atmospheric score spread across the soundstage. This involvement continues through the entire film, with the rumble of a Ducati, helicopters overhead, bullets flying around, and explosions that rock the floorboards. Dialogue remains clear and full.
Sony has apparently included everything except a Digital Copy or DVD, which seems like a striking lack of awareness these days. That said, we get an exhaustive audio commentary from director Takanori Tsujimoto, executive producer Takashi Shimizu, and writer Makoto Fukami. The 24-minute featurette "CGI to Reality" (in Japanese with English subtitles) is one you won't want to miss. Sony also includes a bonus Blu-ray with three brief featurettes including "Designing the World of Resident Evil: Vendetta," which should be rather self- explanatory.
Blu-Ray
Studio: Sony, 2017
Asepct Ratio: 1.78:1
Audio Format: Dolby Atmos (Dolby TrueHD 7.1/5.1-compatible)
Length: 97 mins.
MPAA Rating: R
Director: Takanori Tsujimoto
Starring: Kevin Dofrman, Matthew Mercer, Erin Cahill
Resident Evil: Vendetta picks up the mantle yet again for the Capcom strain of this popular video-game franchise. Sticking to the animé-oriented roots and offering some visceral action without the frenzied camera panning and ADD editing of the live-action The Final Chapter, the film brings together favorites from the franchise. Game characters Leon S. Kennedy (voiced my Matthew Mercer), Chris Redfield (Kevin Dorman), and Rebecca Chambers (Erin Cahill) battle wanted bioterrorist Glenn Arias (John DeMita), who plans to release a deadly virus in New York City as revenge for the government killing his wife.