RBH Unveils its First Powered Studio Monitor at CEDIA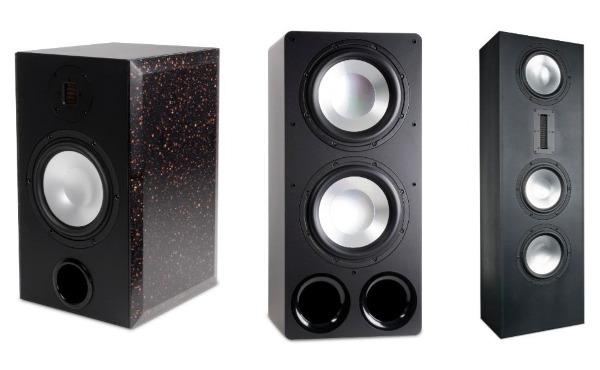 RBH Sound, the Utah-based speaker specialist, made a splash at CEDIA Expo 2019 with the introduction of its first powered studio monitor — a super high-end model that will sell for the "introductory suggested retail price" of $1,950 (each) when it ships in October.
The PM-8 (left in photo) is a two-way design that mates an 8-inch aluminum cone woofer and AMT (air motion transformer) tweeter with a powerful DSP engine/active crossover and dual-channel Class D amplifier in a compact MDF enclosure with extensive internal bracing to prevent cabinet resonance. The amp boasts a balanced XLR input and supplies 150 watts to the tweeter and 250 watts to the woofer.
The heart of the digital processor is a FIR (Finite Impulse Response) filter that corrects phase anomalies to improve the system's response. The processor also provides a level control and presets that optimize the speaker's output for near-field or far-field use.
"We developed the PM-8 for those who want the highest level of fidelity without an external amplifier," said RBH technical director Shane Rich. "The built-in DSP with active crossover provides greater flexibility and control than traditional passive networks," including the ability to deliver an "incredibly flat frequency response from 30 Hz to 35 kHz."
To further reduce cabinet vibration, the speaker's side panels are made of a high-density composite material that's available in a variety of colors.
The company also previewed two subwoofers it plans to ship in early 2020. The S1212N is a passive model designed for use in a custom-installed system where heat build-up is a concern, while the S-1212P boasts a 1,000-watt Class D amp. The S1212N is slated to ship in October at $1,000; pricing was not announced for the powered model.
Both subs feature dual 12-inch aluminum-cone drivers in an extensively braced enclosure with two ports and boast an app-controllable DSP module that allows bass to be fine-tuned from the listening position. Balanced XLR inputs are provided on both models in addition to line-level RCA and speaker-level inputs and a variable 40-150 Hz crossover, 0-180° phase control, and auto on/off.
RBH also unveiled the latest addition to its Signature Series of in-wall speakers. The SI-831R (right in photo) is an in-wall version of the company's freestanding SVTR tower that teams three 8-inch aluminum-cone woofers with an Aurum Cantus AMT Aero Striction tweeter designed to provide "incredible detail" in the upper-midrange and high-frequency range. The drivers are arranged in a woofer-tweeter-woofer-woofer line array, allowing the speaker to be used in left/right- or center-channel positions. The cabinet is 42 inches tall but only 9 inches deep and the speaker is rated down to 50 Hz (± 3 dB).
The SI-831R is shipping now with a retail price of $1,990 each.
For more information, visit rbhsound.com.