SIM2 Returns to CEDIA with a Bang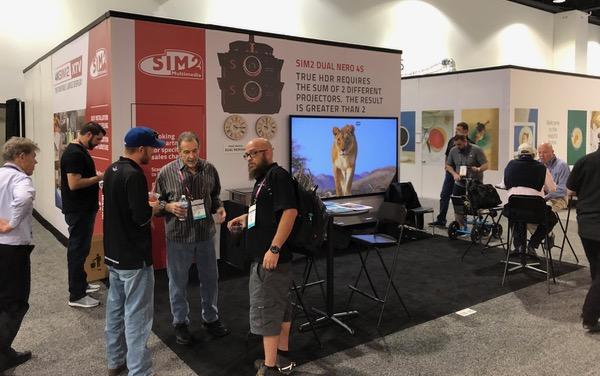 We've missed seeing Italy's SIM2 projector manufacturer at recent CEDIA EXPOs, as they've always showed something interesting. Well, the company returned this year with something that was more than just interesting.
The new Nero 4 Duo combines two Nero 4 projectors (each of them employing a single Texas Instruments' 0.64-inch DLP "wobble 4K" chip lit by a UHP lamp). One of the Nero 4s was set for a peak light output of 4500 ANSI Lumens, the other for 6000. The two projectors, with their images overlaid on each other, were said to optimize both darker and lighter scenes for improved HDR performance.
As seen on a Viewtech, 165-inch diagonal (about 152-inches wide), 2.4:1, unperforated projection screen, the result was one of the best projected images at the show (some attendees declared it to be the best),
The setup's $65,000 price includes the outboard distribution device needed to drive both projectors, and presumably to ensure that they're properly converged. The latter will not be an insignificant task, not to mention the inevitably uneven wear on the two projection lamps as they age. Laser lighting might be more consistent at this, but would add significantly to the Duo's already high cost.
WHERE TECHNOLOGY BECOMES ENTERTAINMENT