New Legend Series Revives Polk Legacy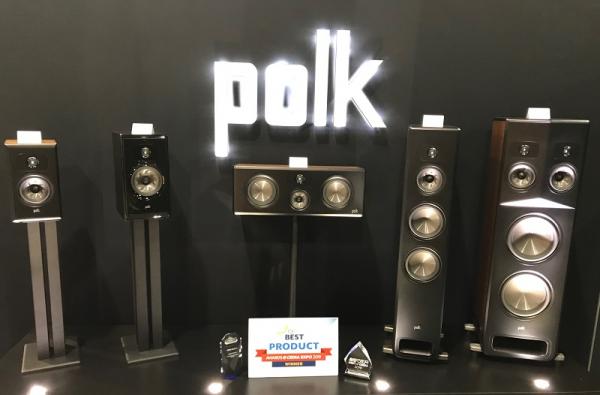 Founded in 1972, Polk Audio is a legend in this industry, and the company's new Legend Series is looking to capitalize on everything the company has learned over the years and push the performance boundaries in its newest series of flagship loudspeakers.
Over 3 years in development, the Legend Series is being described as "the best sounding speakers ever designed, engineered, and built by Polk." The line features all new driver technology, as well as the return and re-invention of one of Polk's most acclaimed audio technologies. Part of the innovations in the Legend Series include a new 1-inch Pinnacle Ring Radiator Tweeter created to deliver ultra-crisp highs while dramatically improving dispersion, along with a new Turbine Cone mid-range for increased damping and minimized resonance for more life-like audio reproduction. A newly designed Enhanced Power Port has been engineered to smooth airflow from the ports for tighter, louder and cleaner bass.
The Legend Series will be available in brown walnut or black ash finishes, and will include two bookshelves, the L100 and L200, the L400 center channel, and two towers, the L600 and flagship L800. A Dolby Atmos elevation speaker, the L900, will integrate seamlessly atop the L600 and L800 towers for a complete surround experience.
The most exciting feature of the line-up is found exclusively in the flagship L800 tower which sees a return of Polk's patented Stereo Dimensional Array (SDA) surround technology in the form of SDA-PRO True Stereo. A newly patented design employs a special "Head Shadow" filter to cancel out interaural crosstalk, along with the 15-degree angled baffles pointing drivers more precisely towards the listening position. The towers will feature two 1-inch Ring Radiator tweeters, four 5.25-inch mid-bass drivers, and dual 10-inch woofers and have a rated performance of 32Hz-38kHZ at -3dB.
While not being auditioned at CEDIA, I had the opportunity to listen to a pre-production sample of the L800's several months ago, and the width of the stereo image was phenomenal, seaming to come from 180-degrees around the listening position while still maintaining terrific center imaging.
The L100 ($1199/pair) and L200 ($1799/pair) bookshelf models and L400 center ($1799) are expected to begin shipping in October, with the L600 ($1999/each) and L800 ($2999/each) towers following in November. No pricing was available for the L900 elevation module.