IMAX Enhanced Expands Program and Content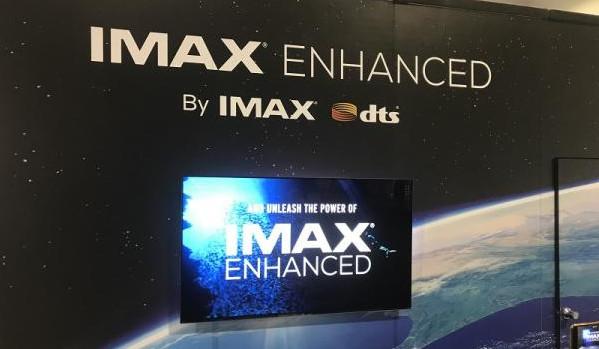 Launched a year ago at last year's CEDIA, IMAX Enhanced has been busy signing new device partners such as Anthem and Strom Audio, bringing their current number of certified television and A/V receiver partners to 14. However, there has been precious little in the way of Enhanced content available to watch save for a handful of IMAX documentaries. The company was at CEDIA to announce it has signed new streaming partners to deliver content as well as studios delivering titles on physical 4K Ultra HD Blu-ray disc.
In June of this year IMAX Enhanced launched on Privilege 4K exclusive to Sony IMAX Enhanced certified TVs, and this month FandangoNOW is expected to begin streaming titles. In order to be considered as a streaming partner, a service must be able to support a higher bitrate for 4K HDR streaming. Services must also be able to deliver the DTS digital audio bitstream which supports the IMAX Enhanced signature sound. The IMAX representative at the show told me that all certified IMAX Enhanced TVs can output the DTS bitstream via both Toslink optical and HDMI ARC, with the bitstream containing the IMAX Enhanced flag to trigger proper surround decoding in a certified receiver.
Amongst the first titles expected to be available are Bumblebee from Paramount Pictures, with Crawl, Pet Sematary (2019), and Rocketman expected to follow shortly after. Spider-Man: Far From Home will be the first streaming release from Sony Pictures Home Entertainment, which will also include 45 minutes of IMAX's exclusive expanded aspect ratio. Spider-Man will be followed by The Angry Birds Movie 2 and Jumanji: Welcome to the Jungle.
Sony Pictures Home Entertainment has also announced intention to release new titles on IMAX Enhanced physical 4K Ultra HD disc, beginning with The Angry Birds Movie 2. IMAX Enhanced plans to add an ever-increasing number of blockbuster titles to deliver uniquely differentiated content in 2019 and beyond.
The company also announced the expansion of its certification program to now include loudspeakers. This performance specification and standards program for passive loudspeakers is still being finalized, but expect it to require full range output at cinematic levels without distortion. The first two companies announced as part of this new speaker certification program are JBL Synthesis and Definitive Technology. While no specific speaker models have been announced yet, I was told to assume these would be flagship models from both companies.
At the show DTS released two new 4K Ultra HD demonstration discs which were given out to attendees, one entitled IMAX Enhanced: Demo Content Volume 1 that includes an explanation of the technology ("Introducing IMAX Enhanced") as well as seven film clips.