Ralph Breaks The Internet
While lacking a little of the charm and newness of the original Wreck it Ralph, this entry offers a big helping of sentiment along with gentle humor. The Internet as depicted here will certainly give rugrats some...uh...interesting ideas on how it looks and works—a multi-level, multi-colored world crammed with familiar sites such as Snapchat, Amazon, IMDB, and ebay, plus fictional ones like BuzzTube and Knowsmore. There's also Oh My Disney, providing the studio with endless opportunities to trumpet its Marvel, Disney, and Star Wars characters. The biggest laughs in the film, in fact, come from a hilarious send-up of Disney Princesses.
I viewed Ralph on an LG 65-inch OLED TV and a JVC projector (both 4K and HDR10 capable) and found the film's image quality and animation to be stunning. Much of the animation is groundbreaking, particularly in the action climax. The 4K image (upscaled from a 2K intermediate) is crisp and clear, the colors bright and deep, and the use of HDR (HDR10) exceptional, particularly in darker scenes that allow the many bright highlights to pop.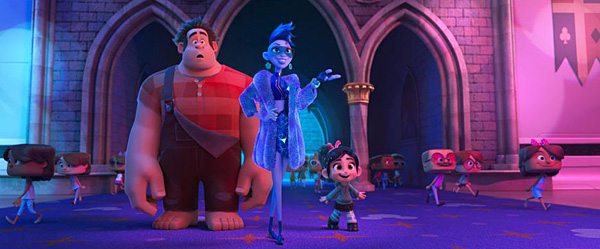 Those looking for a reference soundtrack here might be a little disappointed. The Dolby Atmos presentation is effective, but the audio was mastered at a relatively low level. There's little truly deep, powerful bass, and the overall dynamic range is limited in comparison to some of the best-sounding recent Ultra HD titles such as The Greatest Showman and Avengers: Infinity War.
The extras (found only on the accompanying HD Blu-ray disc) are extensive. Two trailers are included (for the upcoming, live-action Aladdin and Dumbo), plus a promotion for this summer's Toy Story 4 (it's not actually a trailer, though Buzz and Woody do show up). There's also a feature on the movie's many Easter Eggs to keep treasure hunters busy searching for more animated cat videos (!) plus excellent, extended shorts on the making of the film and the soundtrack music.
ULTRA HD BLU-RAY
STUDIO: Disney
ASPECT RATIO: 2.39:1
HDR FORMAT: HDR10
AUDIO FORMAT: Dolby Atmos with TrueHD 7.1 core
LENGTH: 113 mins.
DIRECTOR: Rich Moore, Phil Johnston
STARRING: John C. Reilly, Sarah Silverman, Phil Johnston

Wreck It Ralph and his new BFF Vanellope have settled into a familiar routine—starring in their arcade games by day, playing other games after work, and hanging out later at Tapper's (root) beer joint. But Vanellope's Sugar Rush game breaks, and to find the part needed to fix it they sneak into a new WIFI portal at Game Central Station. It takes them to the totally unfamiliar world of the Internet, where chaos is inevitable given Ralph's natural talent for wrecking things.