Pioneer Elite SC-37 A/V Receiver Page 2
To start, I plugged the setup microphone into the front panel and ran Full Auto MCACC, the best choice if you prefer a simple life. The SC-37 also has an Auto MCACC (or expert) setup, which asks you to make more detailed decisions. It can generate up to six presets for different seating positions and allows two extra reference points for detection of standing waves (or room-induced bass anomalies). For really determined tweakers, Manual MCACC setup lets you individually calibrate channel levels, standing-wave compensation, speaker distance (two methods), and equalization (also two methods). You can even connect a USB stick to the AVR, transfer MCACC data and parameters, and view them on a PC using a free application available on Pioneer's Website. I didn't venture into these waters.
It had been a few years since I'd run a Pioneer auto setup program, so Full Auto MCACC contained a few surprises. It told me what it was doing each step of the way, and the tones ran longer than in most other auto setups I've used. First, it did a quick environment check, looked at ambient noise, and made sure the microphone was working. Then came the surround analysis, which I'll translate from the original jargon: speaker type, channel level, speaker distance, standing wave, reverb, frequency response for each channel, phase control, and group delay.
A note on something that just slipped by: Pioneer considers its Phase Control significant enough to give it a large dedicated button on the remote. The SC-37 offers Full Band Phase Control in addition to the Phase Control in lower models. Pioneer opines that the standard speaker-design practice of routing different frequencies to different drivers within speakers and to the sub can result in group delay: when some groups (or bands) of frequencies arrive at the listener a fraction of a second sooner or later than other frequencies. As my contact explained, "Basic Phase Control aligns phase between your subwoofer and speakers. Full Band Phase Control compensates for crossover delays due to filtering within each speaker as well as the subwoofer." The remote's Phase Control button cycles among basic PC, FBPC, and off.
As with most auto setups, I had to set a few things manually. I specified that my surround speakers were placed on the side walls. When MCACC (correctly) detected my speakers as large, I changed them to small, as THX recommends—this improves overall dynamics by routing bass below the crossover to the subwoofer. The THX-approved sub crossover of 80 hertz was already selected. The AVR defaults to its THX Ultra2 Sub setting, but I don't have a THXcertified sub, so I fixed that. The SC-37 also defaults to THX Volume Plus. I'm a believer in low-volume listening modes and have spent enough column inches A/B-ing them in past reviews, so I left this one on.
The associated gear included five Paradigm Reference Studio 20 v.4 speakers and a Paradigm Seismic 110 sub. The latter, a 10-inch sub more potent than its size suggests, is a new addition to my reference system. In this case, I hadn't yet run Paradigm's Perfect Bass equalization program, leaving MCACC free to EQ the sub. The main signal source was an OPPO BDP-83SE universal disc player, assisted by a Rega Planar 25 turntable, Shure M97xE cartridge, and Bellari VP530 phono preamp.
Listening Modes
To the extent possible, I prefer to use the remote to switch listening modes, so I scoped out the possibilities. There were a half-dozen relevant buttons on the remote.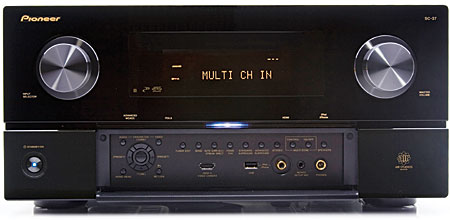 The Auto/ALC/Direct button cycles among Auto Surround, Auto Level Control (ALC), Direct, Pure, and Optimum Surround. Auto Surround presents whatever soundtrack it receives from the source component with minimal processing and displays the name of the codec (DTS-HD Master Audio, Dolby TrueHD, etc.). According to the manual, ALC equalizes playback sound levels. This seemed unnecessary, until I remembered that THX Volume Plus doesn't compress dynamic peaks. I didn't use it for movies, although the literature suggests that it may be useful for evening out levels among multiple sources. The Direct mode strips away all processing except the basic MCACC setup and the Phase Control. Pure Direct gets rid of all processing, period. You might prefer it for pristine stereo or discrete surround content. According to the manual, Optimum Surround "automatically optimizes sound balance in each channel based on actually set volume. The sound balance controls three major sound elements: dialogue, bass, and surround with original algorithm."
The remote's Standard button cycles among various Dolby Pro Logic II, DTS Neo:6, proprietary, and other listening modes for both stereo and multichannel content. Some of the more unusual ones include Dolby Pro Logic IIz, which operates a pair of front height speakers if you configure your system that way; plus Neural Surround and XM HD Surround. Pioneer also throws in a Wide Surround mode (for both movies and music), which operates a pair of front width channels in addition to the regular front left/right channels. This seems to be Pioneer's take on something similar to Audyssey's DSX width mode (not present here).
The remote's THX button also cycles among many of the above Dolby Pro Logic II and DTS Neo:6 modes, this time adding an overlay of THX processing. In addition, there are three THX Ultra2–specific modes (non-Dolby, non-DTS) for movies, music, and games. These operated only with multichannel signal sources.
The remote's Stereo button cycles among stereo and two Front Stage Sound Advance modes: Focus and Wide. The latter supposedly creates natural surround effects using just the front speakers and the sub.
The remote's Adv Surr button operates DSP junk modes such as Action, Drama, Sci-Fi, etc. I didn't use any of these.
The remote's PQLS button turns the Precision Quartz Lock System on or off. This circuit is designed to reduce jitter when you use it with a compatible AVR and disc player. Since I wasn't using a Pioneer disc player, I kept it off.
I had my listening work cut out for me.
Mixed by Committee
As a baseline, I always kept the following items on: MCACC, Full Band Phase Control, and THX Loudness Plus. With my standard five-speaker setup, I specifically refrained from using any height, width, or back-surround configurations. For movie demos, I cycled among three listening modes: Auto Surround, which delivers DTS-HD Master Audio or Dolby TrueHD soundtracks with no processing except the three items just mentioned; the THX Ultra2 Movie mode; and Pioneer's Optimum Surround mode.